Surf City Beach Patrol
Home Surf City Beach FAQ Pre-Season Testing/Training
Lifeguard Tryout FAQ Yearbooks Hall-Of-Fame Lifeguard-In-Training
Surf City 2002 "Year in Review"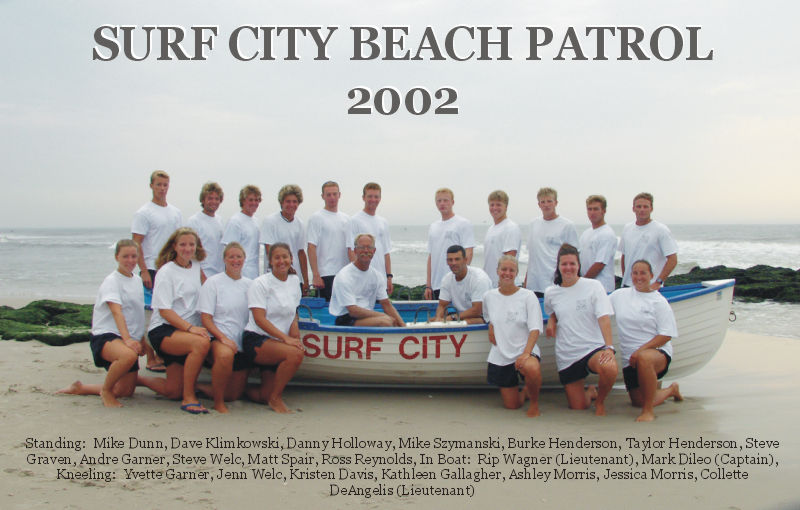 Right click on the photo and select "Save Picture As" option to download a high quality version.

The 2002 season got off to a great start. Raises, a new boat on order, and a full squad set the stage for a great season.

The patrol had a fun and safe season on the beach. Here are some of the final statistics:

Total rescues - 42
Missing persons recovered by the Patrol - 30
First Aid Responses - 7 (none were life threatening)
Total estimated beach population - 137,000 (that's 1900 people per day guarded on average)
Average water temperature - 70 degrees F (warmer than usual)

It was a successful summer; the patrol trained hard and was extremely proactive on the beach, as can be seen by the low number of rescues, helped of course by the calm water. As usual, the guards trained hard in hopes of competing in tournaments. Here's a brief rundown of our competitions.

Lavalette 6-Man tournament (July 22, 2002)
Well, we almost didn't make it to this one due to the truck overheating! Luckily we got there just as the first race started. Although this tournament was a lot of fun, we only scored points in the paddle relay. If I remember correctly it was Ross, Dave, Chris, and Mark. I remember Chris pushing me halfway to shore and yelling "Go!" Unbelievable I didn't fall off the board. If anyone has some good pictures of this tournament please e-mail a few to me.

Ship Bottom State Tournament (July 29, 2002)
Once again the Ship Bottom Patrol graciously invited us to their State Relay Tournament. As usual, the competition was tough. Compounding that with the fact that the North side buoys were out a good 100 feet farther than the North side and add in a 15 year old boat and you'll see why it was hard to be in the mix. Surf City did score some points thanks to the run relay.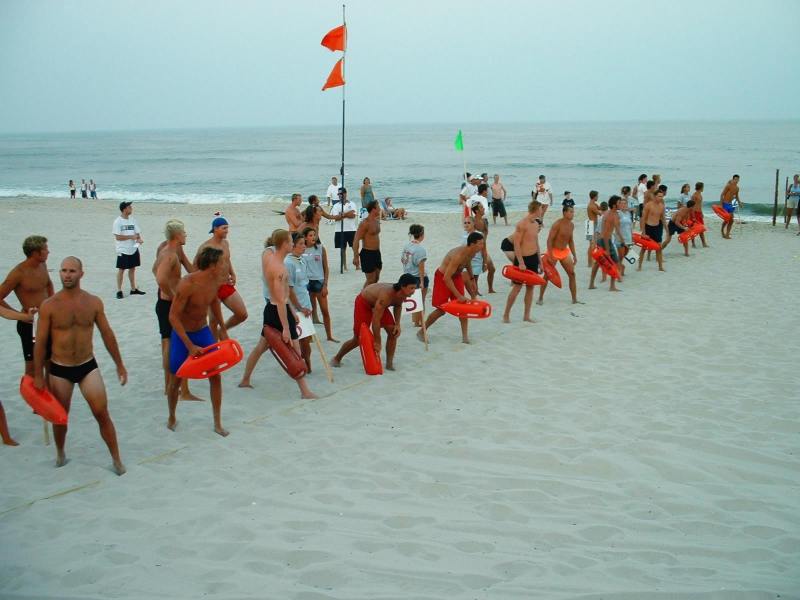 Just before the start of the run relay.

Island Beach Tournament (August 5th, 2002)
The highlight of the Island beach tournament was the rescue relay. I have to admit that for a while I was puzzled that we came in 3rd in this event but didn't place in any other event. You would think that if you came in 5th or 6th in a single swim, paddle, or row, you would do even worse when you stacked these events together, right? Well, I finally realized that the true strength of our squad is our depth and teamwork, some of the other squads had some superstars in one area or another, but we were solid everywhere. Maybe not strong enough to place in the individual events, but our overall strength showed in the giant relay race. I don't remember exactly but I think there was about a THIRD of our patrol competing in this event. I think our great finish here is a good indication of the quality of the lifeguards on ALL of the Surf City beaches.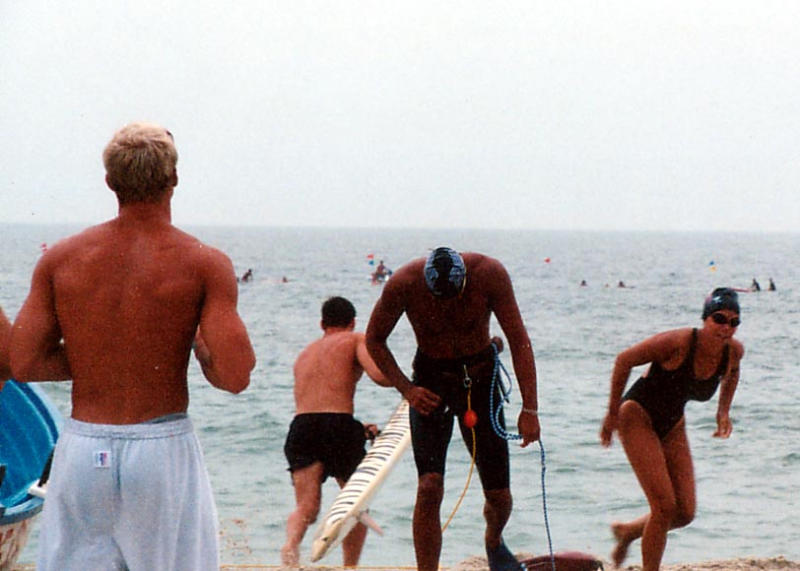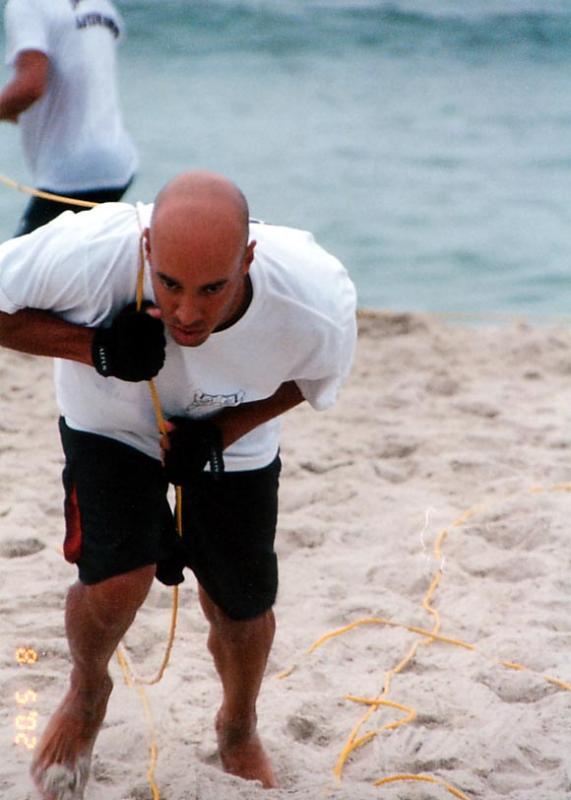 The first leg of this event was a grueling line pull where the pullers have to pull in not only a rescuer (Adam) but also a victim (Ashley). Adam had an amazing swim to the buoy and as usual Ashley provided little drag for the pullers. This part of event was the perfect combination of youth and age with line pull veterans Joe and Rip coming out of retirement for an outstanding pull!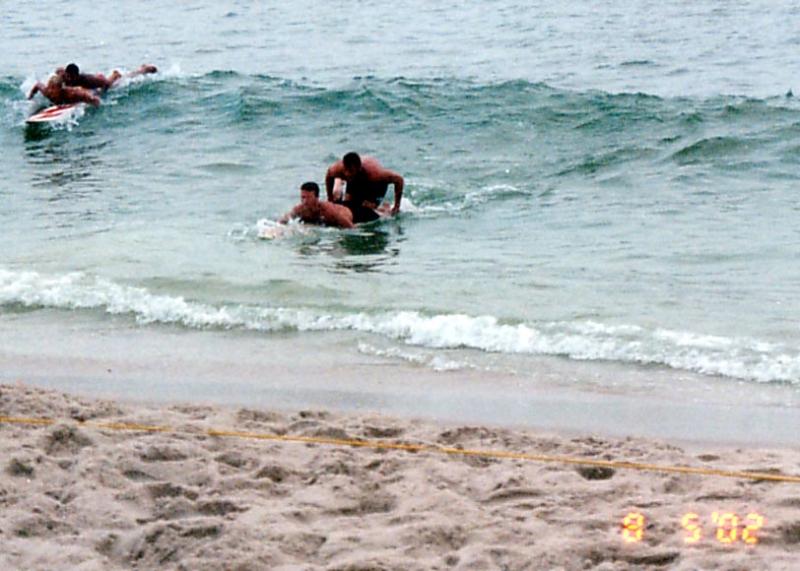 Next up was the paddle rescue. Ross and Taylor kept the team in third with a gutsy effort.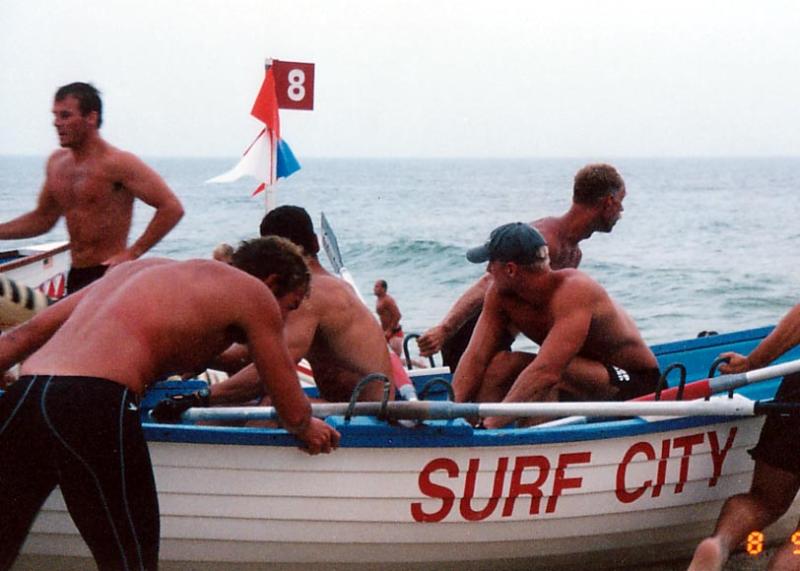 Next it was up to me and Dave. I had rowed with Dave in a few races before this event, but I have to say that this is the first time I really felt him "unload" with fury on those oars. Heavy, old boat or not, he decided we were not going lose a place!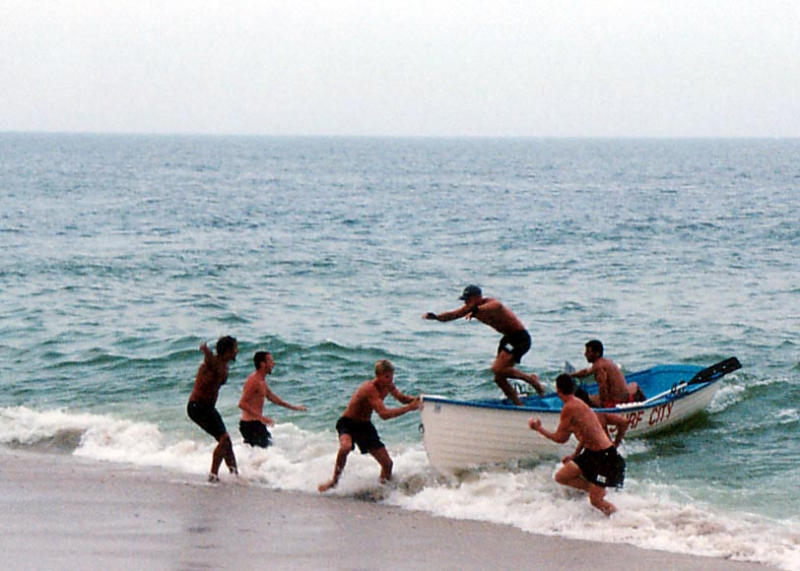 Dave taking off for flight across the finish line.

Lavalette Mixed Tournament (August 6th, 2002)
Surf City was fired up for the Lavalette tournament the next day. I knew the SCBP women were tough, and they proved it! Third place overall, an amazing finish, especially considering the heavy boat.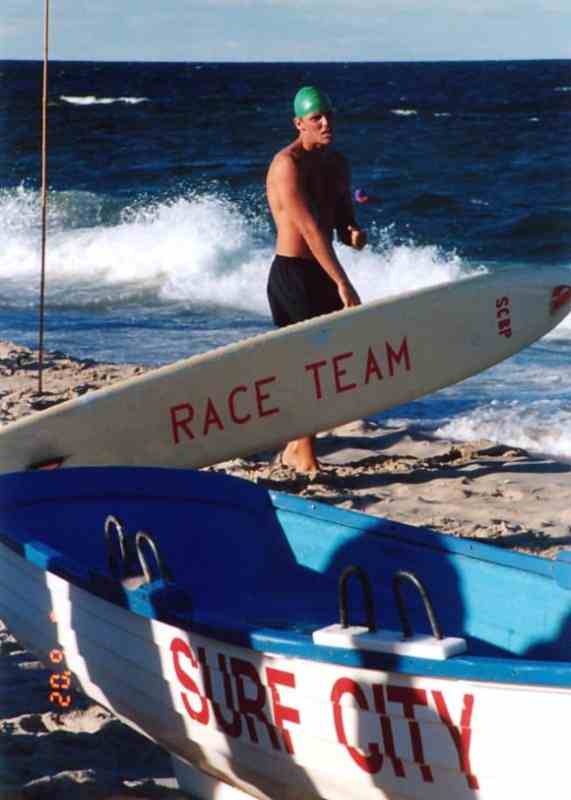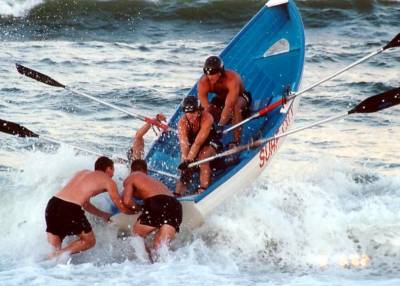 Look at Mike D with his shoulder/body on the boat. That's how you do it!!!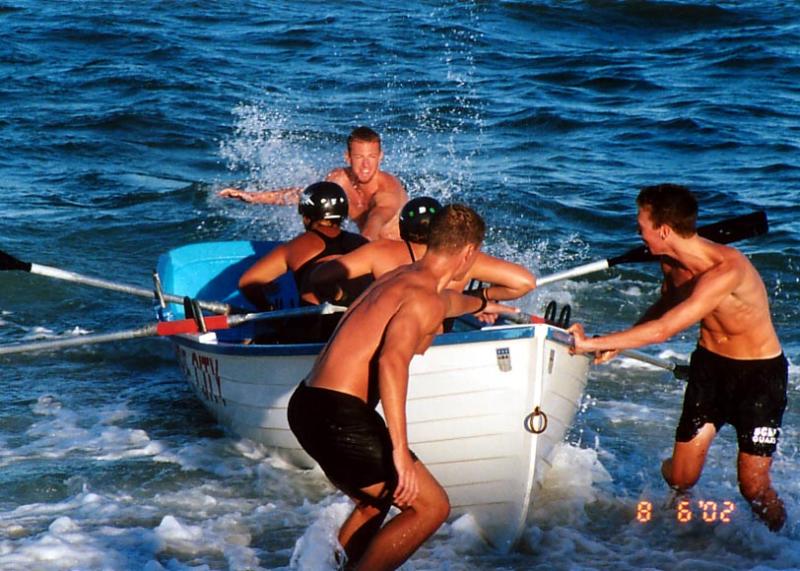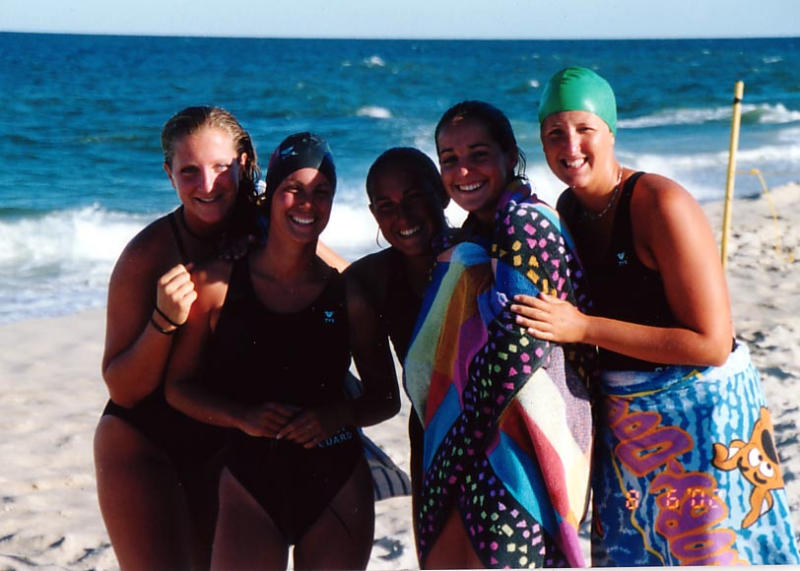 Surf City's women after earning our 3rd place.

4th Annual DeAngelis Pre-Race Pasta Party (August 12th, 2002)

For the 4th year in a row Collette's parents hosted a pasta party for the entire beach patrol. There was food and laughs a plenty. I know I had my fill of cupcakes! Thanks again go to the DeAngelis'. If anyone has some good pictures of this night please e-mail them to me.

Long Beach Island Beach Patrol Association Tournament (August 13th/14th, 2002)

The culminating event of the season for most Long Beach Island lifeguards is the "Island" Tournament. This is where the weight room and nightclub talk stops and the action starts. After an unusual last place finish in 2001, Surf City came prepared.

Thankfully, a generous Ship Bottom squad let us borrow one of their boats. The following are the result in the boating events: 1st place Mile Row (Dave and Mark), 1st place Women's Doubles Row (Jenn and Collette), 3rd place boat rescue (Adam and Rip), 3rd place Iron Man (Ross), 1st place Open doubles row (Rip and Chris), 2nd place Men's singles row (Dave), and 2nd place Mixed doubles row (Mark and Collette). In the seven events involving boats Surf City won 3, placed second in 2, and third in the other 2. Not since 1990 (5 golds and a silver) has Surf City so dominated the rowing events.

Surf City also put the experience learned from the other preseason races to work in the line pull 3rd place (Kyle, Joe, Steve G.), paddle rescue 3rd place (Chris, Taylor) and Buoy rescue 3rd place (Kyle, Ashley). In addition, thanks to Jessica, Mike, Burke, Leah, and Steve W. Surf City earned a THIRD place overall in this year's tournament! In fact, unlike most years when the tournament is a race between Barnegat Light and Long Beach Township, this year it was a three team race with Surf City vying for second until the final event!

Congratulations to everyone on the patrol! It truly was a team effort. Jenn - Thanks for the pictures. If I left anyone out or got anything wrong just drop me a line and let me know. Take care - Mark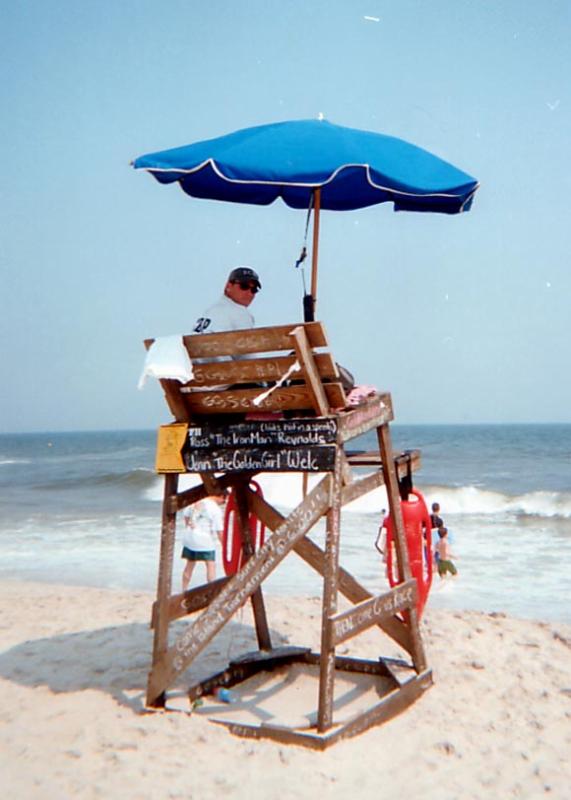 Jenn titled this picture she took "Pumped to Race."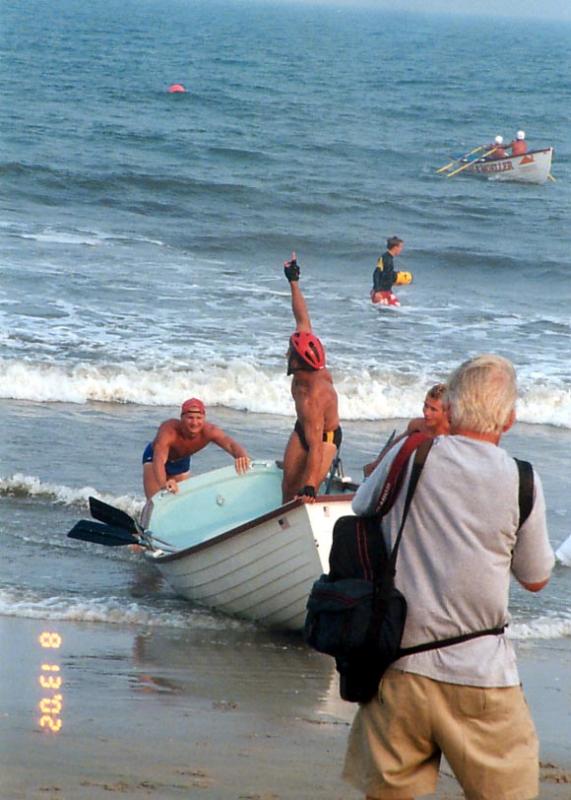 The Mile Row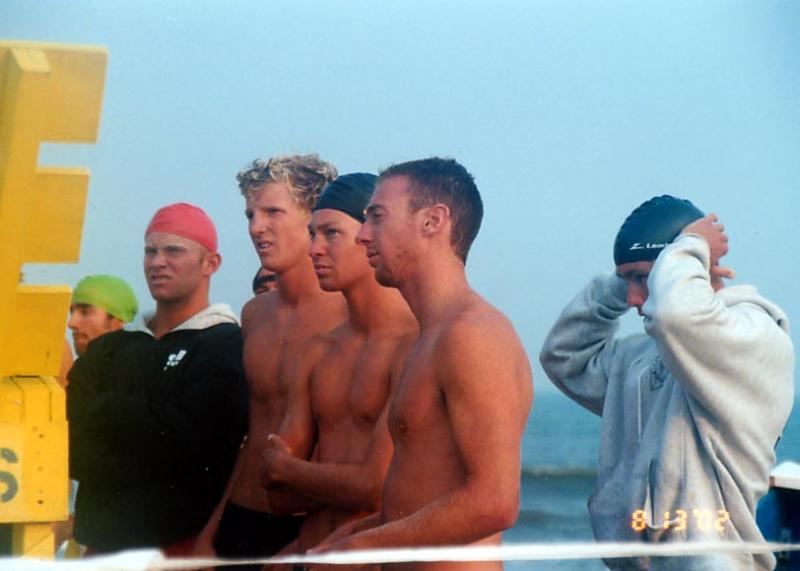 Paddle relay at the race meeting.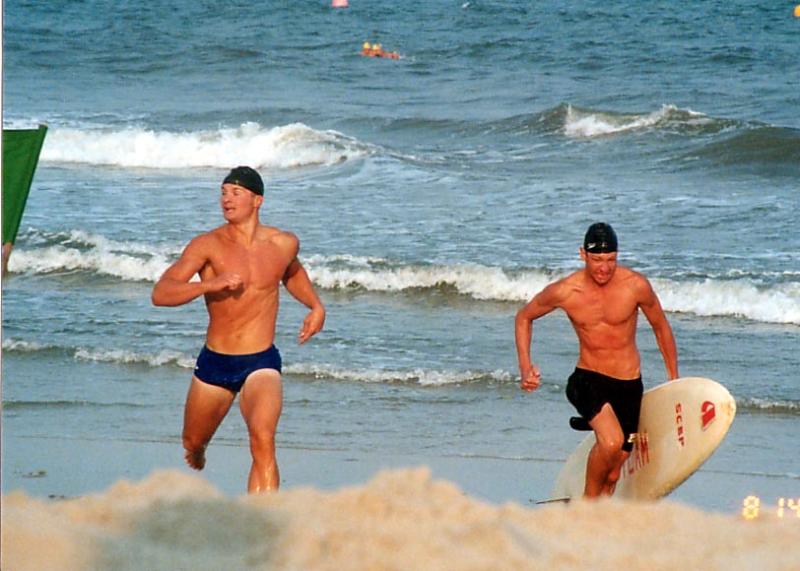 Chris and Taylor on their way across the line. Taylor's nose would start bleeding profusely a few seconds later.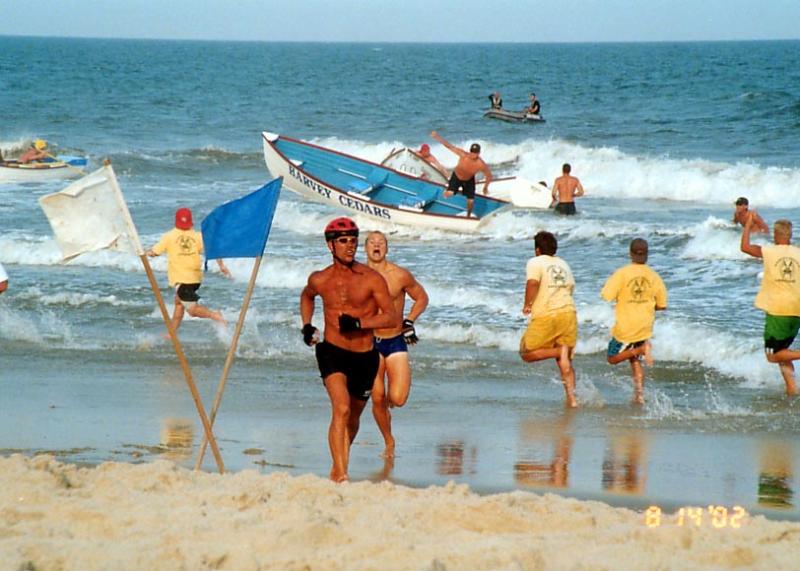 Rip and Chris run from the melee behind to a 1st place finish.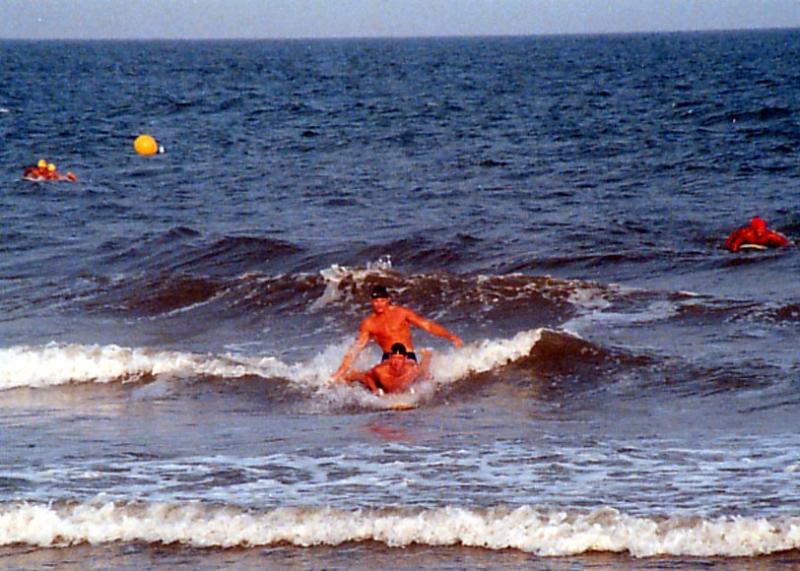 Chris and Taylor catch a wave in the paddle rescue.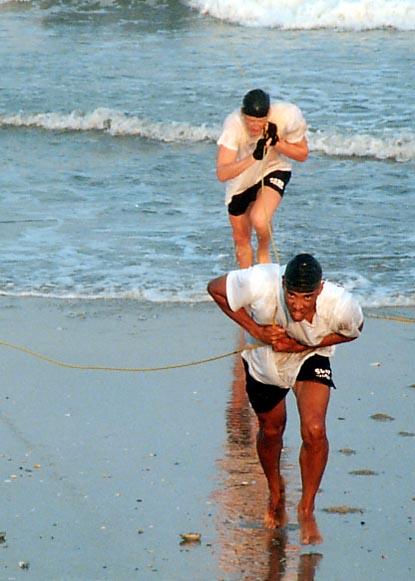 Joe and Steve on the line. "Lean!"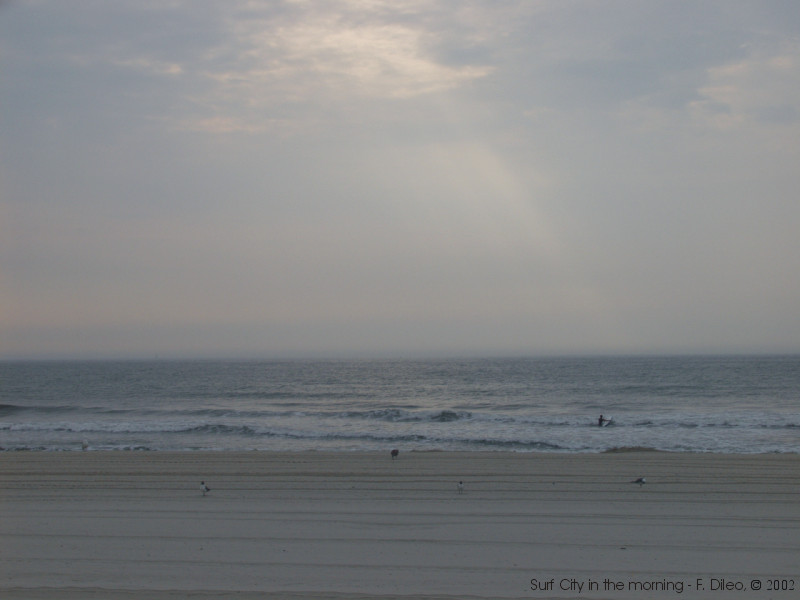 Surf City Beach Patrol, 813 Long Beach Boulevard, Surf City, NJ 08008
Surf City Borough Hall (609) 494-3064 dileomd1@gmail.com