Surf City Beach Patrol
Home Surf City Beach FAQ Pre-Season Testing/Training
Lifeguard Tryout FAQ Yearbooks Hall-Of-Fame Lifeguard-In-Training
Surf City 2004 "Year in Review"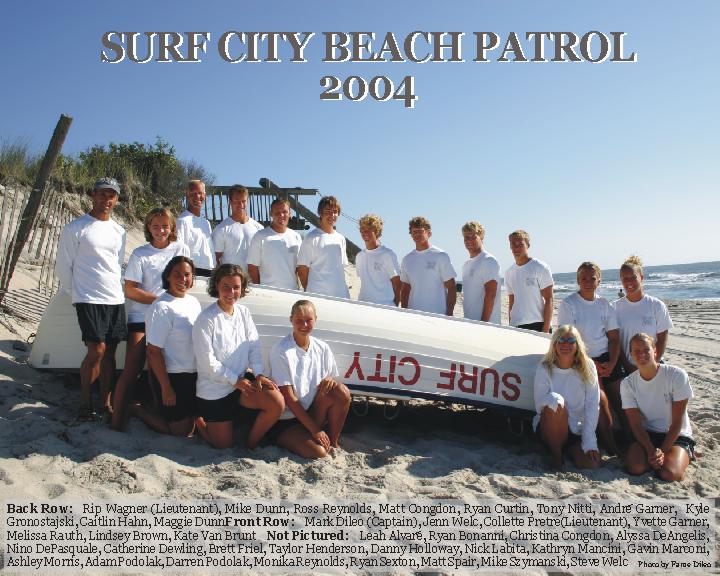 To download high quality version click desired aspect ratio: 10x8, 5x7, 4x6-1, 4x6-2
You can also check out the other photos we took that day here: "Dude" "Guys and Gals 1" "Guys and Gals 2" "Kyle on Boat" "Right of Boat" "Vulcan"
Here are the 2004 Surf City Beach Patrol season statistics:
Total Rescues – 60
Missing Persons Recovered by the Patrol – 11
First Aid Responses – 5 (none were life-threatening)
Total Estimated Beach Population – 119,200
Average Water Temperature – 68 degrees Fahrenheit (4 degrees warmer than last year)
Once again the Surf City Beach Patrol provided a safe and friendly environment for beach patrons in Surf City. Thanks for making that happen!
- Mark
Lifeguard Try-Outs - Saturday, May 29th, 2004
Although the lifeguard test attendance has been growing over the years, the 2004 test was beyond expectations. The entire roster was filled with qualified applicants by the end of the day. As usual, the test is a fun time as returning lifeguards catch up with each other, meet the new applicants, and start thinking about which beach they'd like to guard.
Epic Lifeguard Tournament - Thursday, July 8, 2004 - A Good Start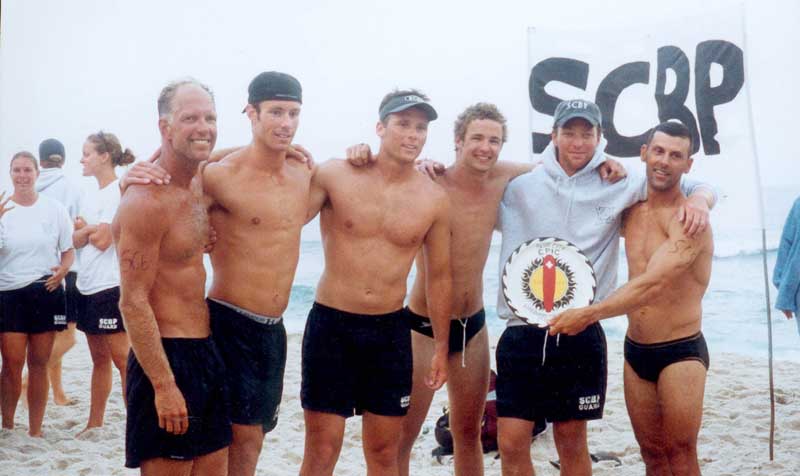 For the first time since 1989 Surf City hosted its own lifeguard tournament. But unlike the 1989 tournament, which was a paddling only tournament, the Epic involved running, swimming, rowing, and paddling. For a while it looked as though the weather wasn't going to cooperate; it was blowing hard out of the South. So hard I had doubts that the marks were going to hold. But, we decided to go on with the show and proceeded to set up the course. Luckily the wind calmed down and it turned out to be a great night for a tournament. I know I've mentioned this quite a few times, but I want to thank everyone on the squad for running/competing in the Epic tournament. Everyone did a fantastic job and the group effort made the tournament a great success.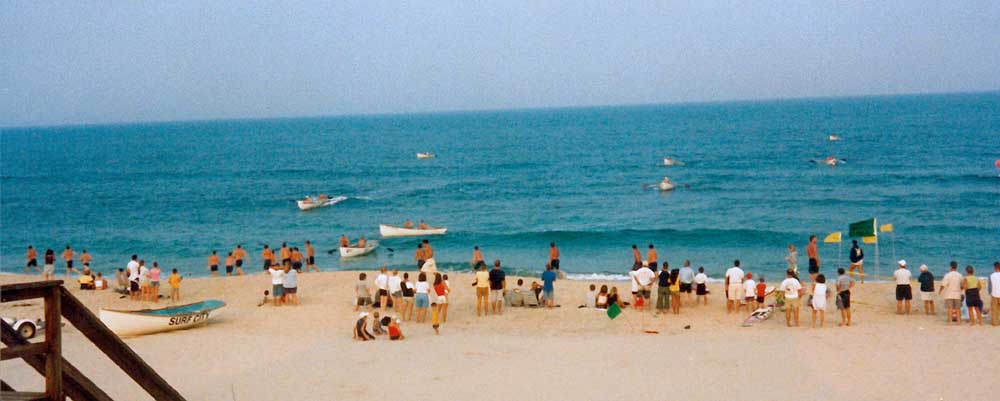 As you all know, the name "Epic" was coined by Lt. Mike Nitti many years ago. "Back in the day," as us older guys like to say, workouts generally consisted of a soft sand run from 6th street to the North Beach jetty, hard sand run to the 15th street jetty, a two jetty swim to the 7th street jetty, and a final run to the 6th street stand. Mike began to refer to this workout as "the Epic" and the name kind of stuck. Actually, I remember he used to ask before workouts, "Are we going to do that epic workout again?" For you Epic historians out there (Tony Nitti), the "Super Epic" extends the Epic with a run down to the first jetty in Ship Bottom and adds another jetty to the swim to make it 3 jetties. In those days, workouts were at 8:30 so everyone could train in the same Epic.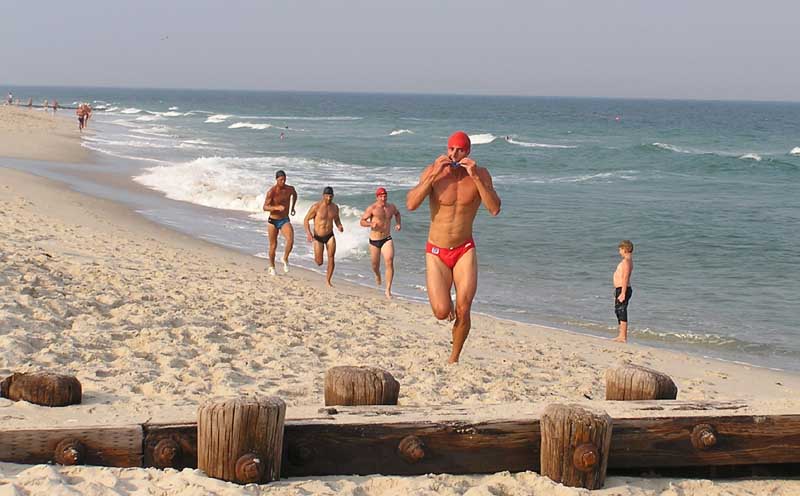 All of the island teams attended the tournament, as well as Ortley beach, which always has a strong competition team. The first event of the tournament was its namesake, the Epic. Rip and I took on this event and quite literally got worked by the competition. Jared from Harvey Cedars was untouchable while the boys from LBT were strong taking 2nd and 3rd in the event. After the cross-country type scoring was calculated Surf City was in 5th place.
Darren Podolak, Mike Dunn, and Taylor Henderson went out hard in the surf dash relay and came in 4th place, putting Surf City in 4th place overall. Next up was Ross, Taylor, and Mike in the paddle relay. They'd been working hard on the long paddle course and it paid off with a 2nd place finish. While our overall place remained at 4th, these points put us in the hunt with the first three teams.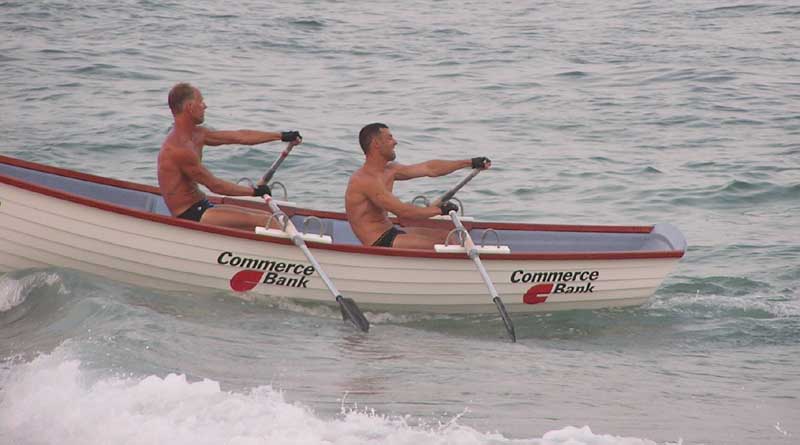 The Iron Man Medley was a turning point event for the tournament. After a fantastic swim by Darren, Ross paddled the Surf City medley team into first place. Mike and I managed to maintain the lead that Darren and Ross handed us for Surf City's only first place finish in the tournament. Now Surf City was in first place with 19 points. Barnegat Light and LBT were tied for second with 18 points, and Ortley was in third with 17 points; it was close! The winner of the first Epic tournament would be decided by the final event, the Run-Row.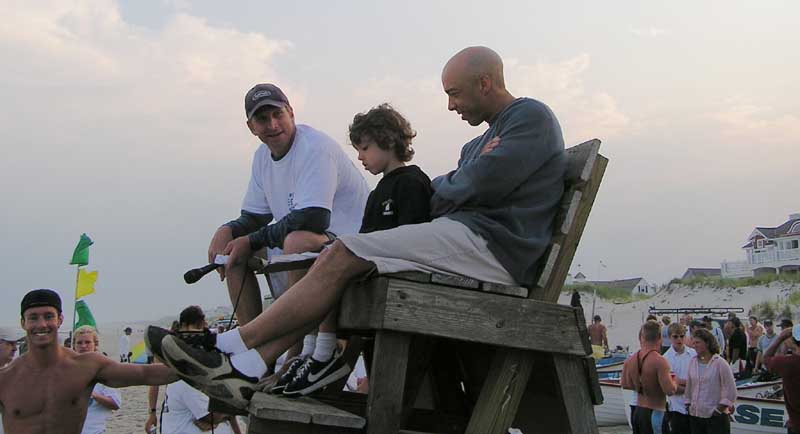 Although Ship Bottom won the Run-Row (good job guys), we managed to finish second for a first place overall for Surf City. Congratulations to all of the competitors of the first annual Epic tournament. Finally, I'd like to send out a special thanks to our MC, Mike Nitti, and head judge, Joe Bembry for taking time out of their busy schedules to help make the tournament a great success. I'm sure all of the teams will be back next year with even stronger teams!


We also received some great press from the tournament:
Asbury Park Press
Times Beacom page 1 Times Beacon page 2
(I suggest downloading the above files as they need to be viewed magnified to be readable)
Lavallette Tournament - Tuesday,July 13 2004
The 6 person Lavallette is always a tough tournament, and this year was no different. Murphy's law came into effect pretty strong for us on this night. First, we arrived late and missed the first event, the Iron Man, entirely. Ross, Adam, Darren, and Mike brought home some points with a 4th place in the 4x500' swim relay. Next, we kept our undefeated Iron Man Medley steak alive with a 1st place. Once again Darren and Ross handed me and Mike a lead that we held onto for the row. I also want to note that this is the first time in my 21 years on the patrol that Surf City won an off-island event. Hey, maybe our luck is changing after our no-show first event debacle. . .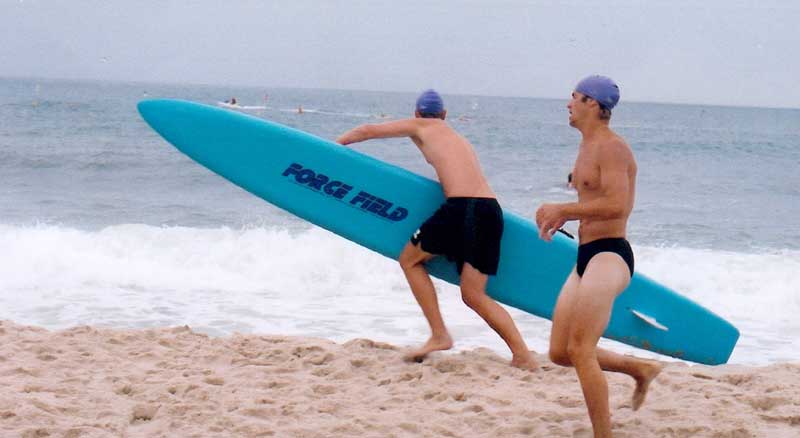 Or perhaps not. Unfortunately, the line belt came unsecured during the swim portion of the line-pull and we were effectively out of another event. The row-out swim-in and paddle relay were tough events with the paddle relay finishing a very close 5th, just out of the points. Due to large surf the boat relay was replaced with a paddle rescue. Ross and Taylor brought the board back to shore with a 2nd place finish to end the night. Sorry, but I don't have the final point standings for that tournament.
Sandy Hook "All-Women's Lifeguard Tournament" - Wednesday, July 14th, 2004
Another first for Surf City as Lt. Pretre organizes a Surf City team entry for the first time in the annual Sandy Hook All-Woman's lifeguard tournament. I know that all of the women on the squad did a lot of training for this tournament, even if some didn't get to go and compete. I want to thank all of the women for the hard work they put into preparing for this tournament.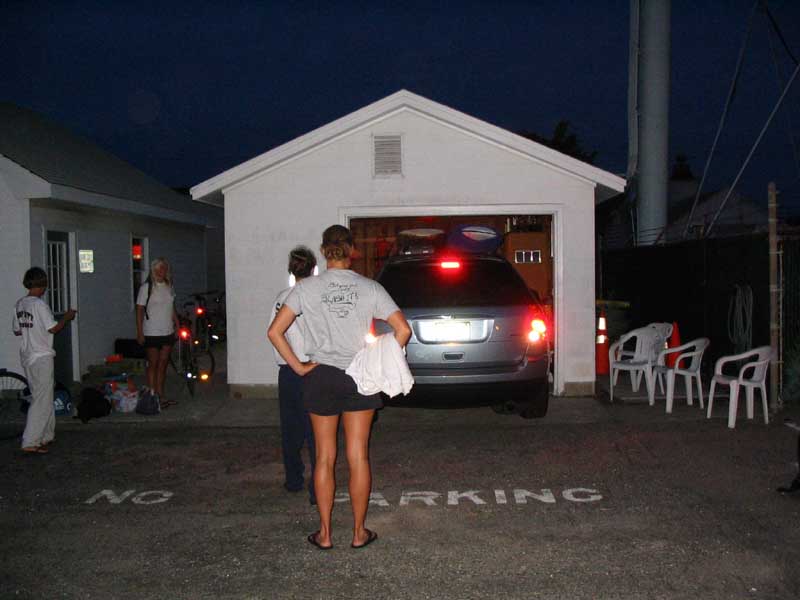 It was early in the morning when "Mom Mom's" car backed out of the lifeguard garage for the trip up to Sandy hook carrying 6 sleepy, yet raring to go competitors.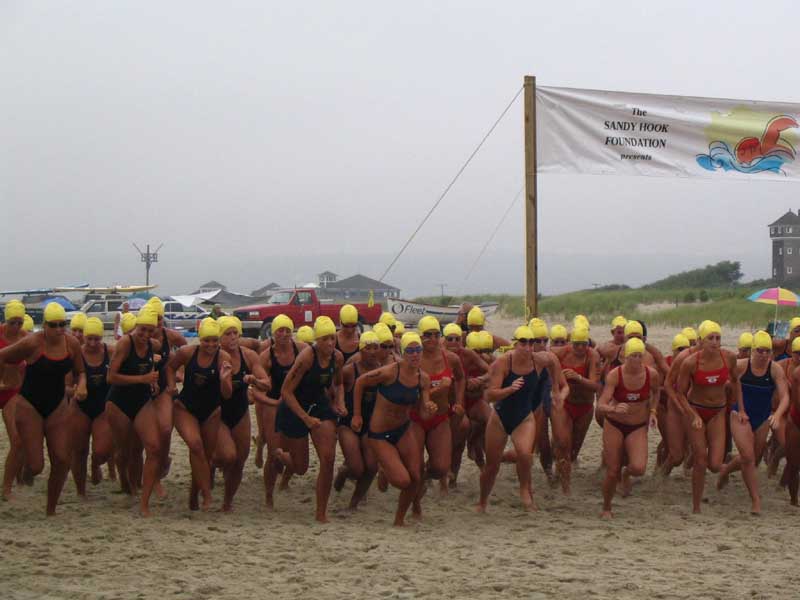 Jenn and Collette showed their stuff with a third place overall finish in the doubles surf boat race. I should also add that they were the 1st Van Duyne boat. 1st and 2nd overall were the faster and lighter self bailing type of lifeboats. I also know that Kate, Ashley, and Collette had a great time with the run-swim-run since Collette was telling me how much fun it was until late into the night!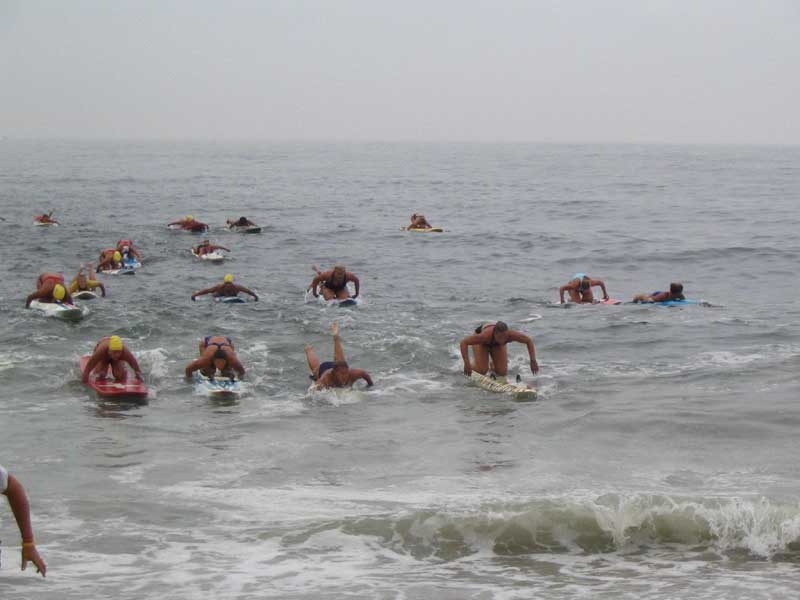 Jenn and Lindsey in the run-paddle-run.


Cat competing in beach flags.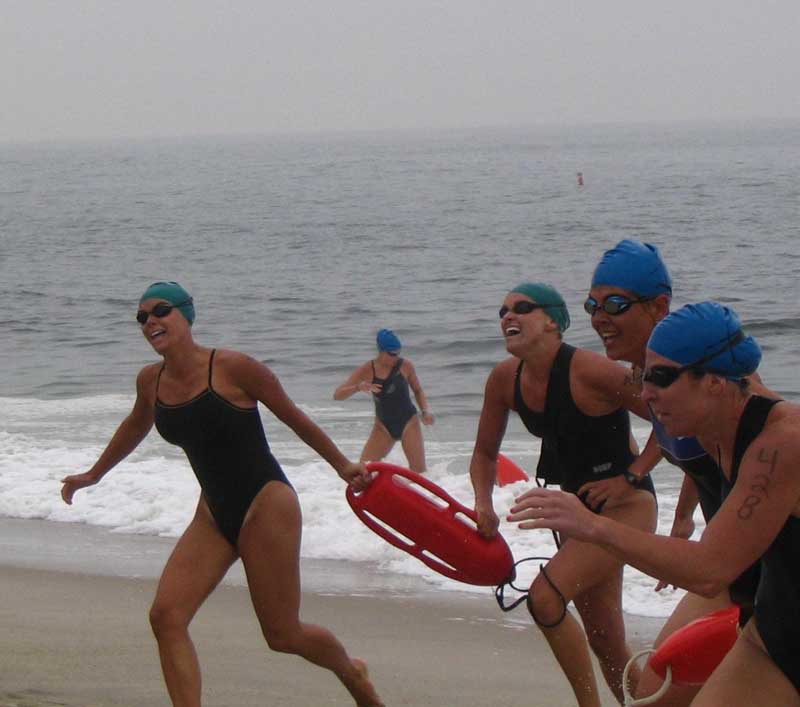 Everyone was telling me that Kate and Ashley came in a very close second in the buoy rescue. I didn't know just how close until I saw this picture! Wow, it doesn't get any closer than that. Keep in mind that many of the best women lifeguards from the East Coast were at this tournament and since Surf City has more than 10 female guards, we were competing in the most difficult division.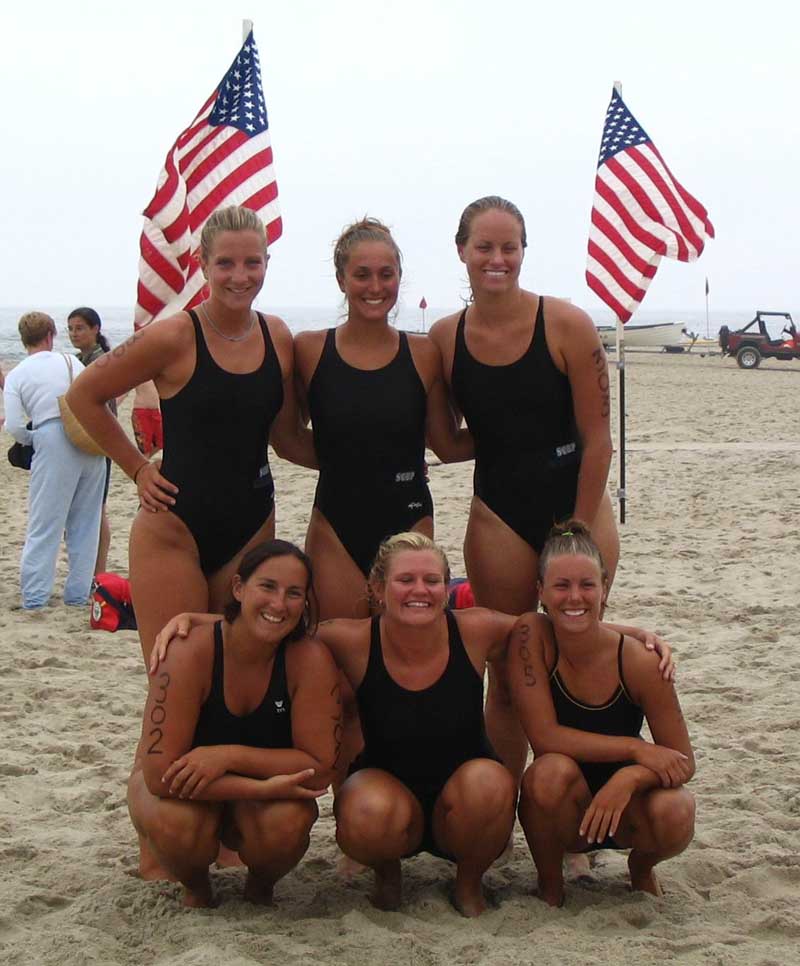 Surf City 2004 Sandy Hook Competition Team
Seaside Park Open Lifeguard Tournament - Monday, August 2, 2004
It had been quite a few years since we've attended the Seaside Park tournament. Actually, I think 1991 was the last time we were there. Although it was s fun tournament, things never seemed to really "click" for the team this year at Seaside Park. Don't get me wrong, we had a lot of mid-pack finishes, and everyone had a great time, but even our normally strong Iron Man Medley team finished 7th overall. Ross and Taylor did come through once again with a 3rd place finish in the paddle rescue.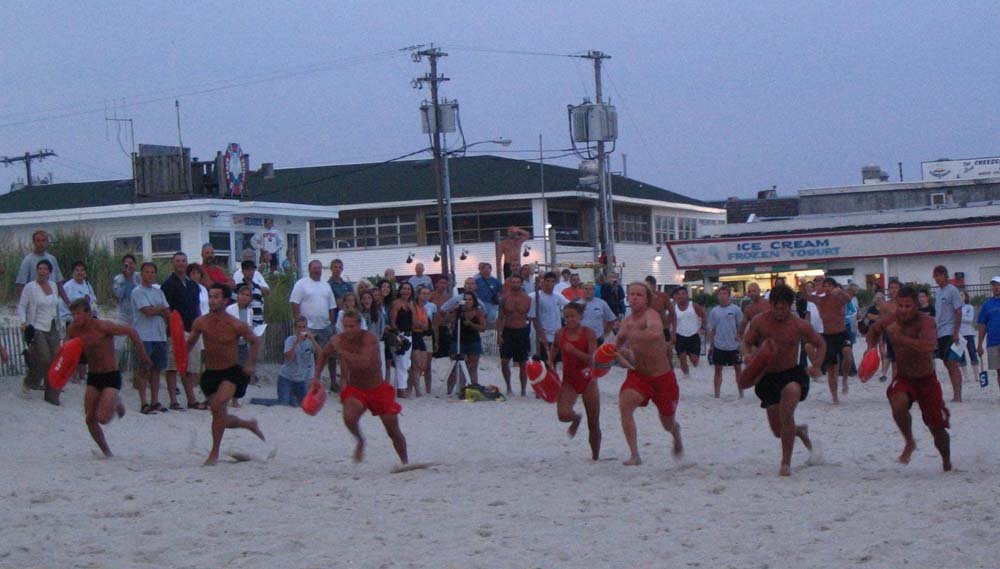 Seaside Park Women's Lifeguard Tournament - Tuesday, August 3, 2004
After receiving late notification that the Seaside Park Women's tournament has been rescheduled for the day after the men's tournament we scrambled to get a team together at 4:00PM on the day of the tournament! Jenn, Maggie, Collette, Cat, Lindsey, and Alyssa were up for it even though it was a last minute thing, and they didn't even know what the events would be! So we packed up the old blue truck, boat, and race board and headed yet again for Seaside Park.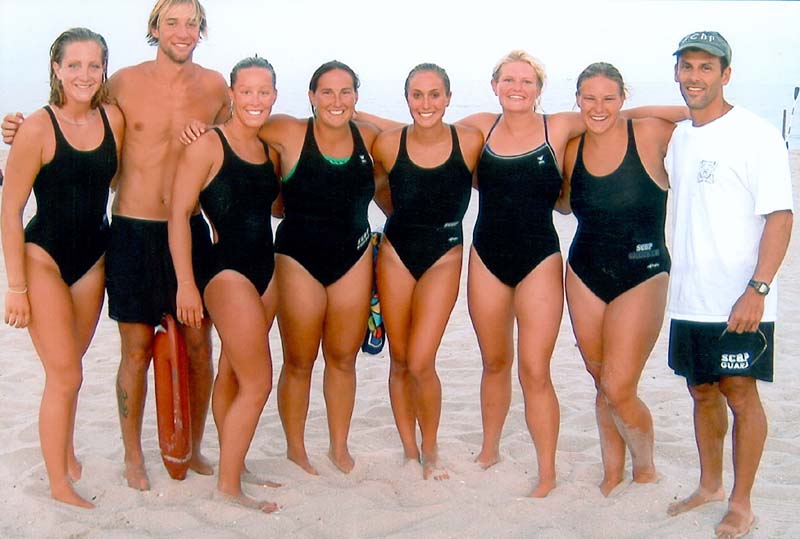 I was impressed by how great all of our the women did; they really went after each and every event. I especially enjoyed watching Jenn and Collette absolutely destroy the field in the 1000' surfboat race. Easily handling a very strong 2nd place team from Lavallette, and proving once again that they are the team to beat. I am very much looking forward to seeing our women compete in this tournament again next year! And special thanks to Gavin for helping out.
Midway Beach Lifeguard Tournament - Thursday, August 5th, 2004
It started out unassuming enough when Ross, Mike, Gavin, and Brett finished 4th in the paddle relay. Then Mike and I came in 4th in the Boat Pick-Up. But then something happened. I don't know exactly how, what, or why, but things finally came together for Surf City. If anybody has any good Midway Tournament photos please send them to me since I don't have any.
Adam, Kate, Ashley, and Darren began the Surf City roll with a 1st place finish in the swim relay. And let me tell you it was a site to behold. Each of the legs put in one of the gutsiest performances I've ever seen to solidly defeat the rest of the field, most of which were all men relays. Their effort was contagious because in the next event, the boat relay, Mark/Mike, Rip/Tony, and Ross/Brett brought home another 1st place for Surf City. Now it was getting serious, we were in this thing, we could win it! Forget about never winning an off-island tournament in my 21 years on the patrol. Until a few weeks before we'd never even won an event. Now we just won two in a row.
The next event was the row-out swim-in and Darren and Rip kept us in the overall lead (or close to it) with a 2nd place finish. It all came down to the final event, the run relay. I don't know exactly how we had to do or who we had to beat, but I did know that aided by a serious dose of speed from Mike Szymanski and Danny Holloway the run relay earned Surf City yet another first place finish. That wrapped it up, Surf City had won it's first off-island tournament in over 20 years! 3 first place finishes, 1 second place finish, 2 fourth place finishes, and an overall team win. Not a bad night at all, and definitely something to talk about later that night at Woodies!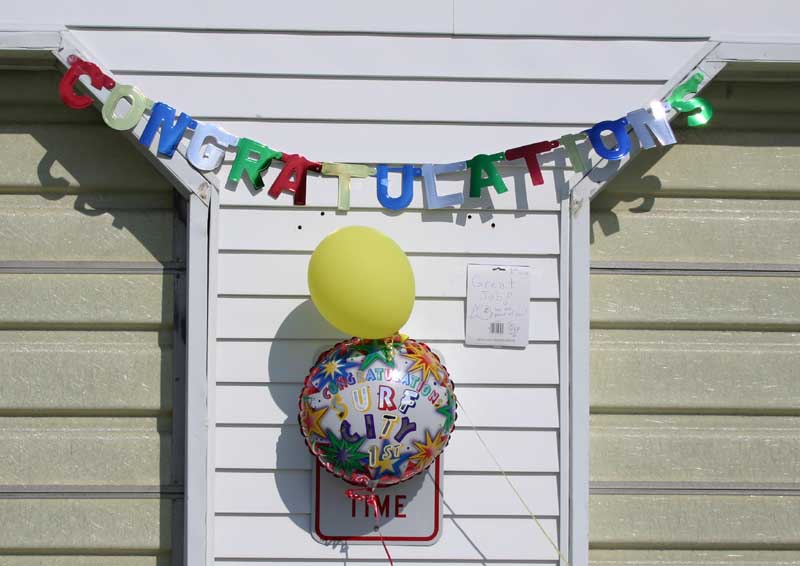 I'm not sure how, but by the time we got back to the Borough Collette had already put up custom decorations!
Island Beach Lifeguard Tournament - Monday, August 9th, 2004
After our great team performance at Midway beach we were ready for the extremely competitive Island Beach Tournament. This tournament is HUGE! I don't remember exactly, but I think there were 14 or 15 lanes, that's a lot of boats, swimmers, and paddlers. Unfortunately, I didn't record our finishes, but I do remember that we generally place among the top 4 or 5 teams in most of the events.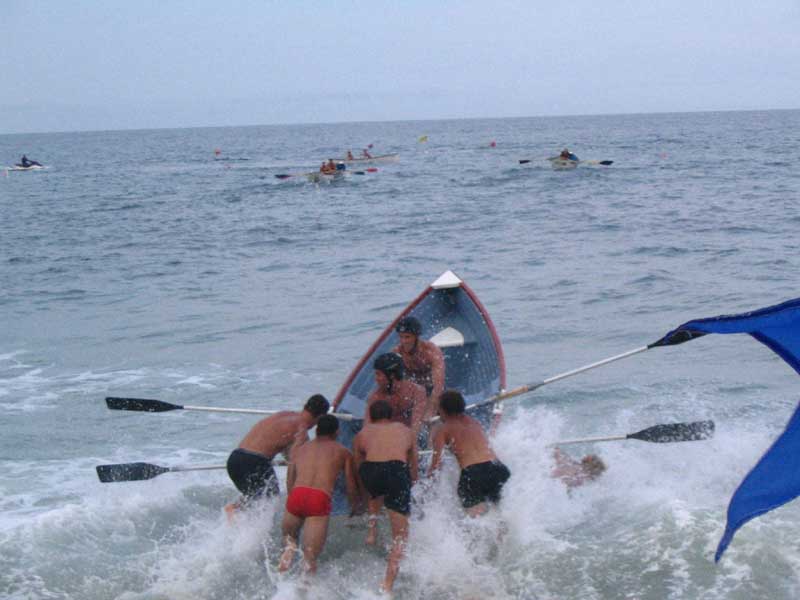 Ross and Matt head out in the 8-Person boat relay.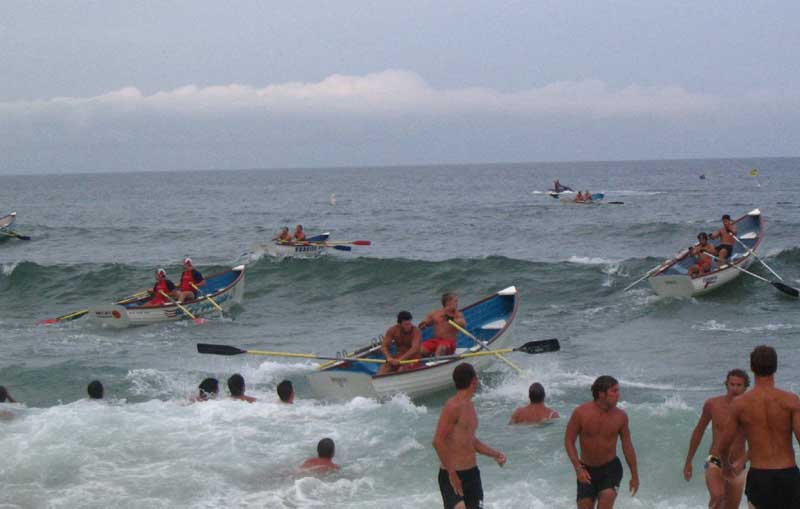 Mike and I in the Iron Man Medley. You can get an idea of just how many teams were at this tournament from this picture. Just in this photo alone, showing the North end of the lanes, you can see 7 boats!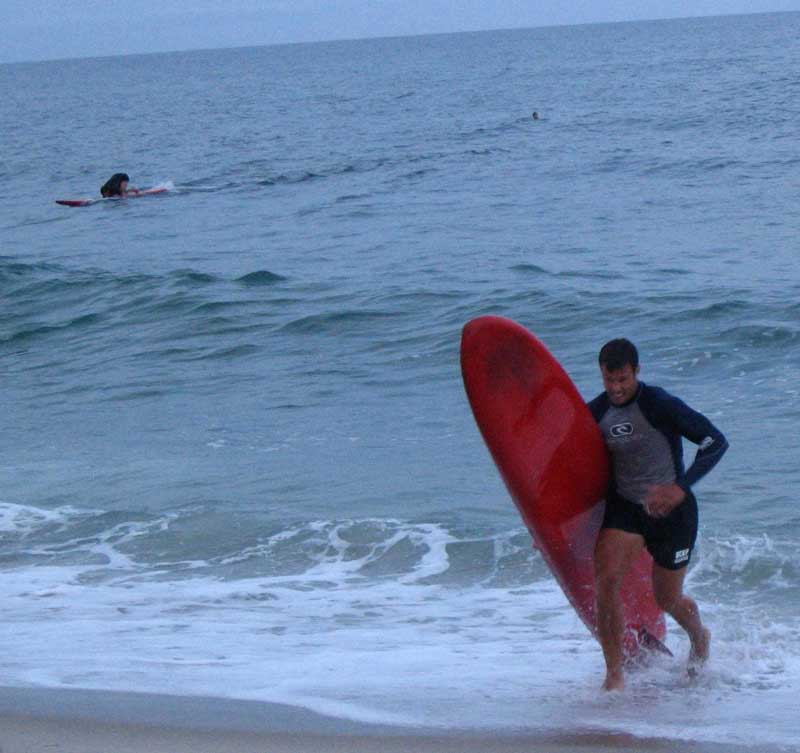 Mike dragging that HEAVY Marine Rescue board out of the surf in the paddle relay.
4th Annual D'Angelis Pre-Race Pasta Party - Tuesday, August 10, 2004
Always a highlight of the summer, the pasta party had an added attraction this summer, an especially entertaining song written and performed by Brett and Gavin.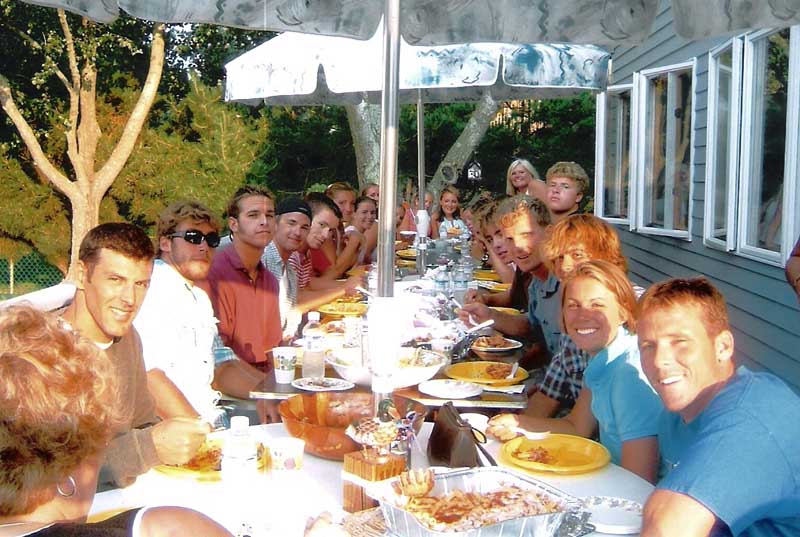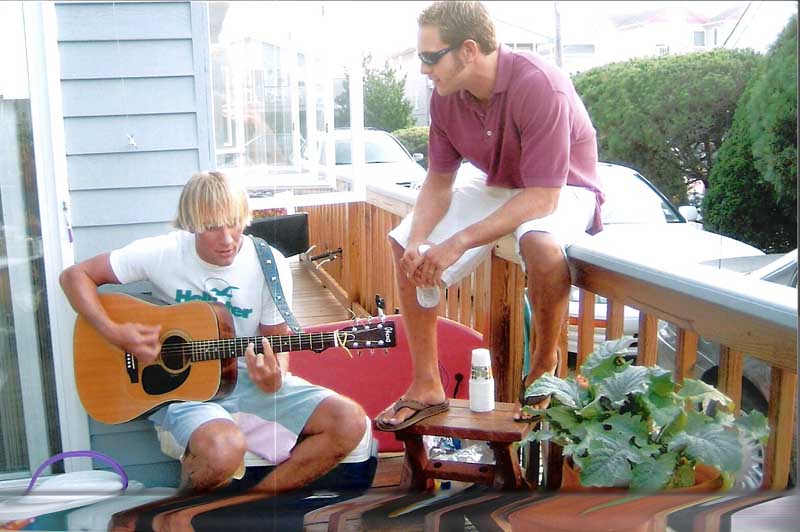 Long Beach Island Beach Patrol Association Tournament - Thursday/Friday, August 13/14, 2004
As is always the case, the culminating event for every Long Beach Island beach patrol is the annual 2 day Island lifeguard tournament, or "Islands." After being in first place after the first night of the tournament last year, and being "in it" up until the very last event, expectations were high for 2004. The tournament was supposed to start on Wednesday but was cancelled due to very strong winds. Unfortunately, although the wind subsided a bit by Thursday, the surf grew larger, making for a dangerous tournament for the boating events.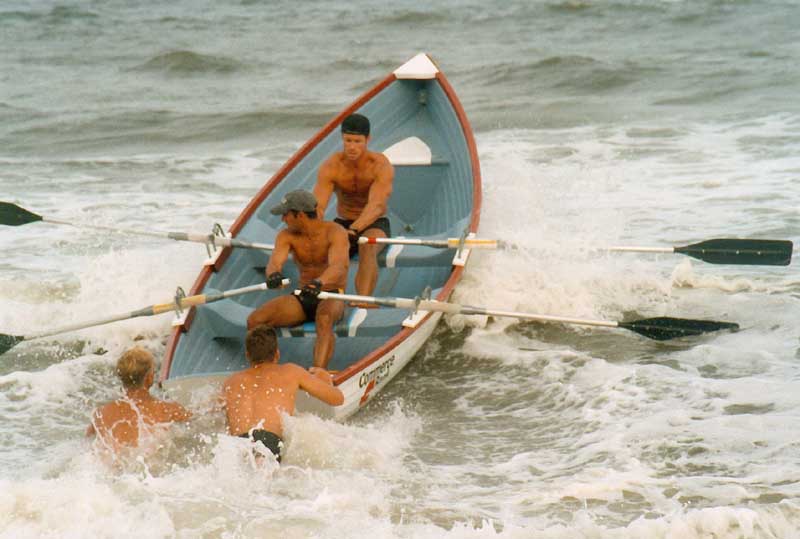 As usual, the tournament opened up with the mile row and we were ready. But so was a very strong team from LBT, and it turned out to be an unbelievably close race between Surf City and LBT. It came down to the wire, but Mike managed to out-hustle the rower from LBT for a Surf City first in the mile row.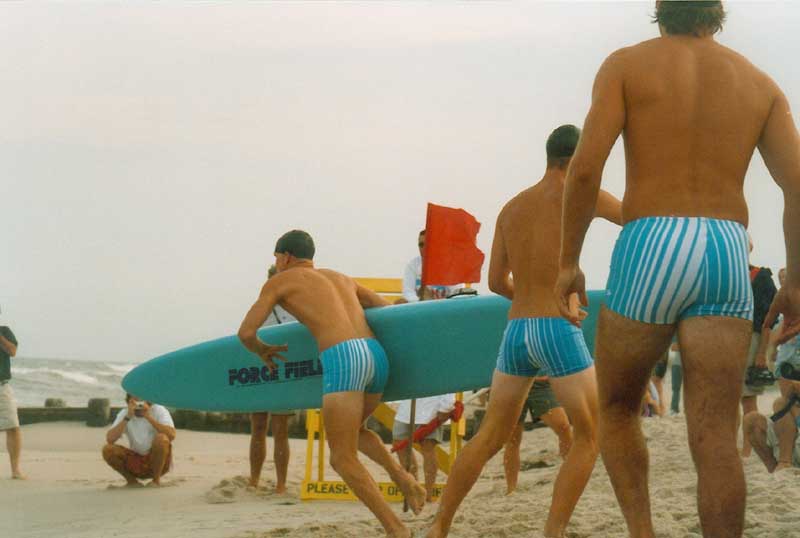 While mile row was taking place Lindsey was going head-to-head with the top women paddlers on the island. Last year she came in 3rd in this event, this year she topped that performance with a 2nd place finish. Next up were Kate and Yvette in the buoy rescue and Brett, Steve, Taylor, and Ryan in the paddle rescue. Kate and Yvette put in a determined effort in a very talented field.
Surf City definitely had a tough lane in the paddle rescue, being in the South most lane, but the guys battled their way to a 4th place finish.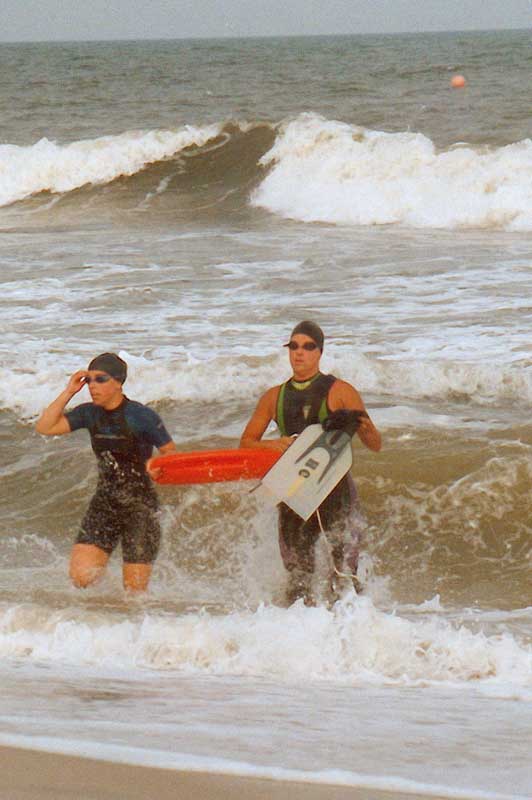 Yvette and Kate run it up in the buoy rescue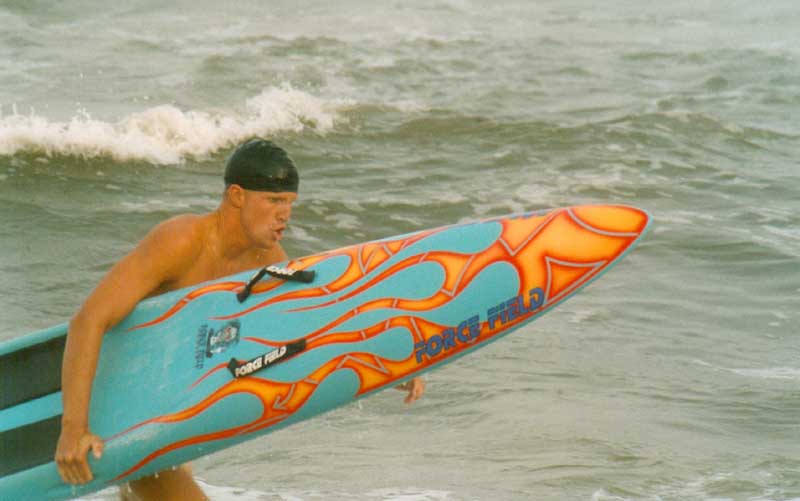 Steve in the paddle relay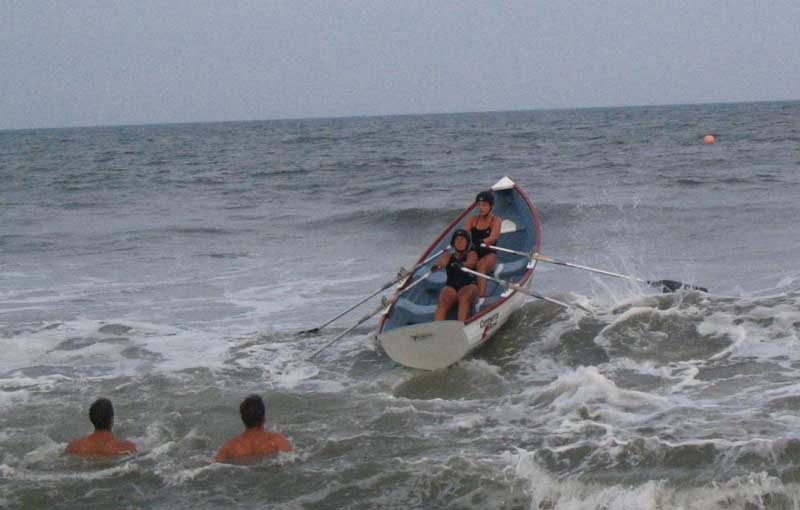 Next up was the Women's Doubles row, and this one deserves a play-by-play. Collette and Jenn have been unchallenged in this race for the past two seasons, easily winning it by a wide margin in 2002 and 2003. Their win at Seaside Park confirmed their dominance in the boat. They got off to a great launch, halfway to the mark they had at least a 5 second lead on the 2nd place LBT boat. Coming out of the turn they increased that lead to 15 seconds, an eternity in a boat race. But then the unthinkable happened. A giant wave came up out of nowhere (don't they always?) and flipped the boat. Since they were so far ahead they were the only boat affected by this wave. Testament to how far in the lead they were is the fact that they still finished 2nd, and actually still almost won the race, even after having to swim to shore. I have a saying when these things happen, "sometimes you get the wave and sometimes the wave gets you." I told Collette and Jenn that after the race and it would come back to haunt me 24 hours later...
The final two events of the first night were the boat pick-up and the Iron Man. Darren and Rip finished up with a 4th in the Boat Pick-Up while Adam hung tough in the Iron Man in conditions that were simply awful, not to mention the fact that it was getting dark. Kudos to Adam for stepping up and taking on the Iron Man, and seeing it through despite the tough conditions.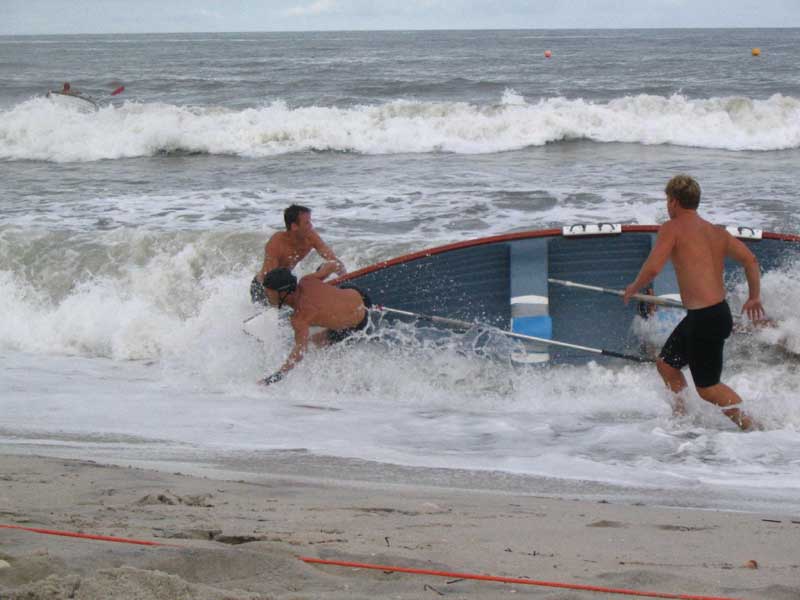 The second night started out with the returning gold medal team, Rip and Tony, aiming to defend their title in the 1000' doubles row. The waves once again came into play. Rip and Tony came out with a 2nd for Surf City and 6 desperately needed team points.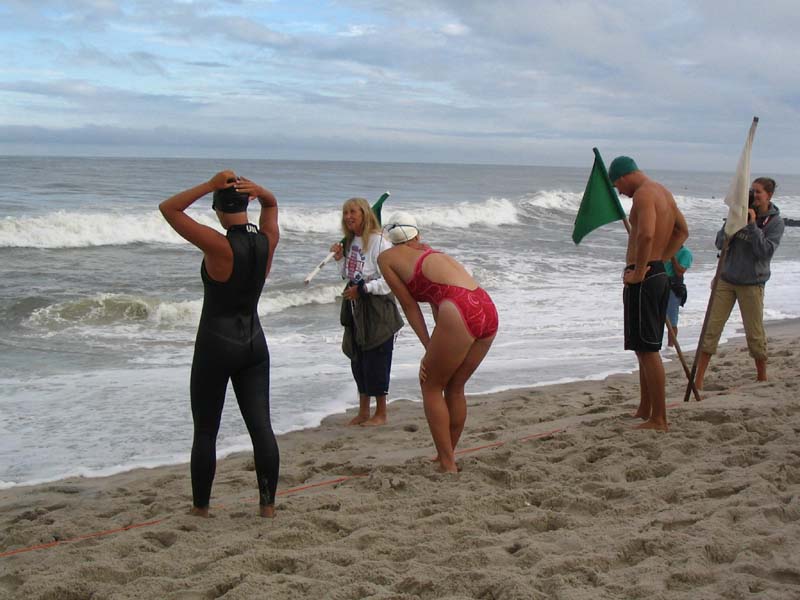 Next up were the 1000' Women's and Open swims. Over the years the competition in these races has progressed from tough to unbelievable, making Kate's 2nd place finish in the Women's Swim and Ashley's 3rd place finish in the Open swim all the more impressive.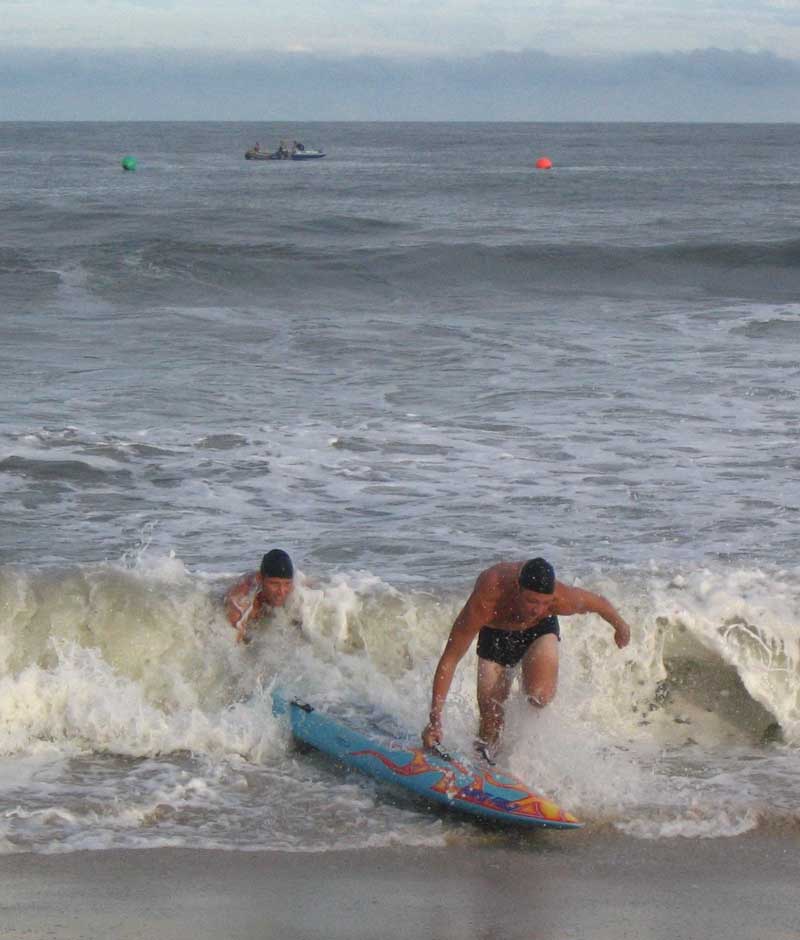 Ross and Taylor were up next in the paddleboard rescue and added 6 more points to the Surf City team total with a 2nd place finish. It was a very tight race between 1st and 2nd.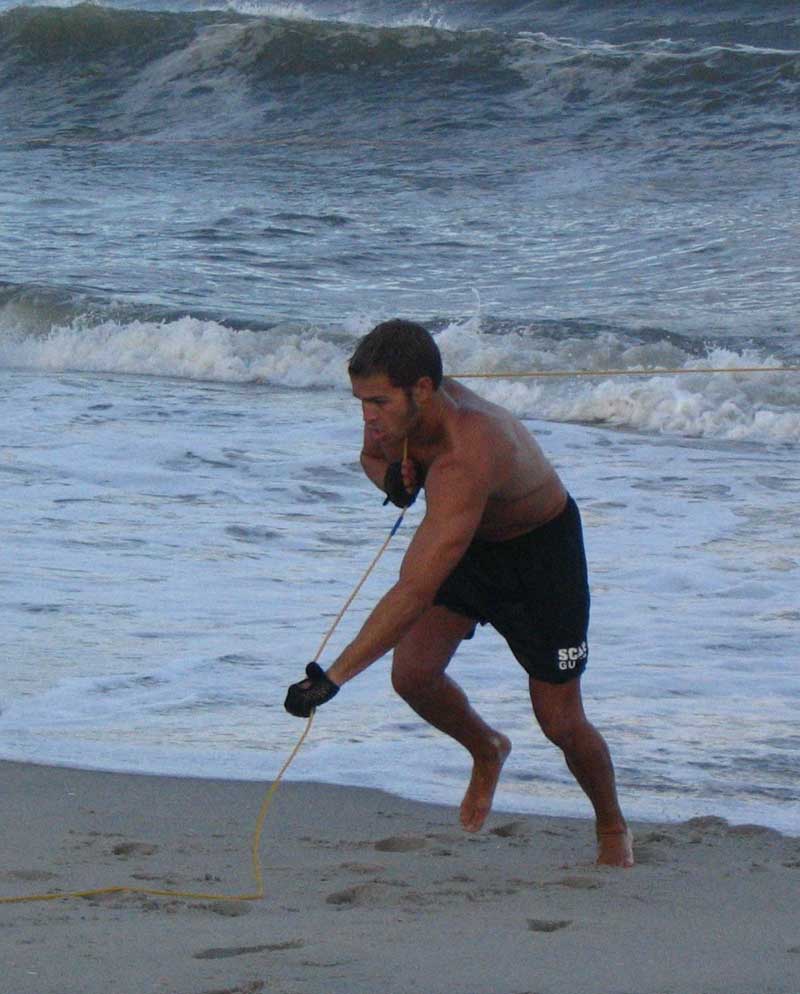 Darren, Matt, and Brett took a 3rd in the line race.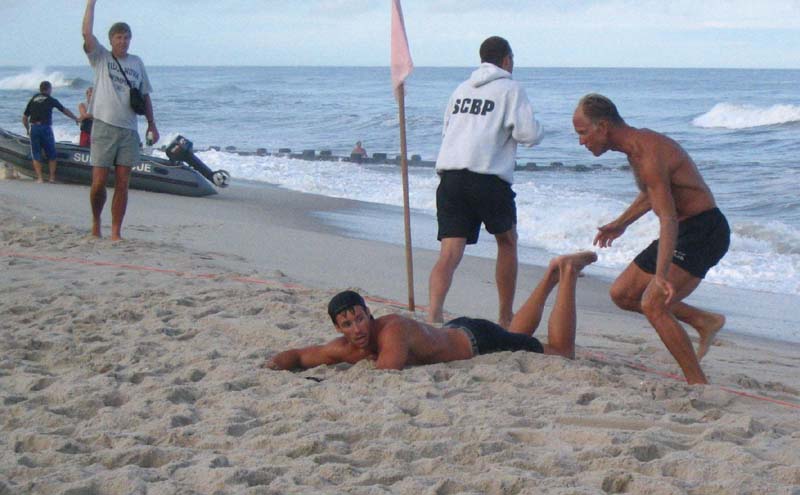 "Double golds" are very hard to come by in the Island Tournament, but this was Mike Dunn's year and he added a gold in the Singles Row to his Mile Row gold medal. In addition, he gets "the quote" of the tournament award.
Rip - "You won!"
Mike - "I won?"
Remember that wave I told you about in the Women's Double's row? Well it hit the shore, proceeded out to sea for 12 hours turned around and caught me and Collette in the Mixed Doubles the next night. Yes, the wave sure did get us this time! But don't worry, "we'll be back."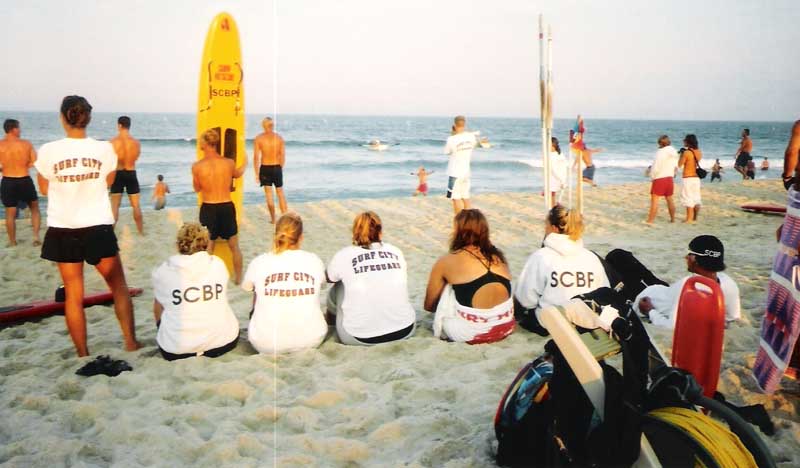 The final two events of the tournament were the 1500' paddleboard race and the surf dash relay. Ross paddled to 4th in a tough paddleboard relay field. Long Beach Island is becoming known for paddlers and the six best on the island were in this race. Andre, Ashley, and Adam closed out the tournament with a Surf City 3rd in the Surf Dash Relay, putting Surf City in third for the tournament.
So, it was a another good competition season in Surf City. We hosted and won our own tournament, won the Midway beach tournament, and were in the Island Tournament yet again up to the final events.
As a former US President used to say, "Not bad, not bad at all."
Surf City Beach Patrol, 813 Long Beach Boulevard, Surf City, NJ 08008
Surf City Borough Hall (609) 494-3064 dileomd1@gmail.com