Surf City Beach Patrol
Home Surf City Beach FAQ Pre-Season Testing/Training
Lifeguard Tryout FAQ Yearbooks Hall-Of-Fame Lifeguard-In-Training
Surf City 2014 Yearbook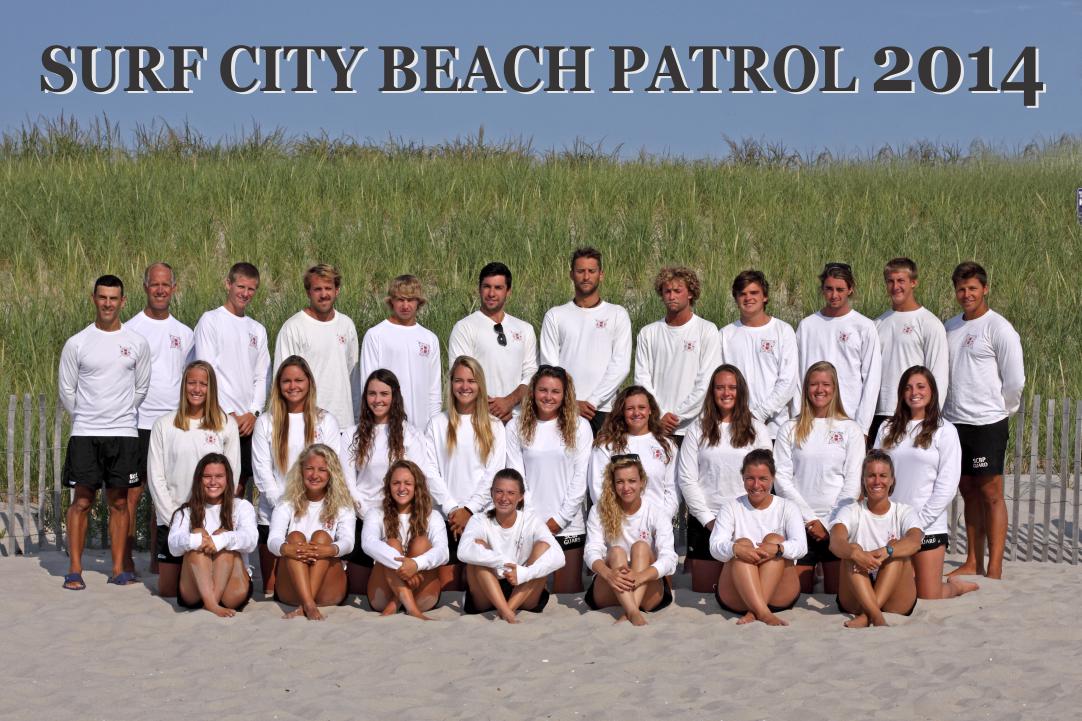 You can download a high resolution photo with names here. Password is Collette's last name.
2014 Surf City Beach Patrol season statistics:
Total Rescues – 210
Missing Persons Recovered by the Patrol – 19
First Aid Responses/EMS Response – 13
Total Estimated Beach Population – 195,800
Average Water Temperature – 67.3 degrees Fahrenheit
Green Flags - 51 days
Yellow over Green Flags (Limited Bathing) - 12 days
Yellow Flags (Restricted Bathing) - 10 days
Red Flags (No Bathing) - 0 days
For the first time in quite a few years the ocean was warm enough on our first day for us to train in it. It was in the upper '60's for our first week on the beach, became cold for a few weeks and then by the middle of July was back to "swimmable" temperatures. In fact, I remember during one of our early June training sessions we were able to train in the ocean. I asked Anna to run up to the beach and check the ocean. She came back soaked (she obviously jumped in) and said "yeah, it's beautiful!" While there weren't a lot of extremely rough days the water was a little rougher than usual and this probably accounted for the 210 rescues we recorded.
I knew it had to happen sooner or later and this was the year of the big mass exodus of veteran guards from the patrol. We had 16 new lifeguards! Since a complete compliment of full-time lifeguards is 31 that's over half of the squad being replaced. We welcomed Lauren C., Ethan F., Kellie G., Dan G., Taylor G., Gabriella H., Kelsey H., Ally J., Meghan L., Mariah M., Kristiana O., Breana P., Rick P., Dillon R., Matt T., and Alexis T. to the patrol this year. As can be expected there was a lot of training to be done and all of the new guards did a great job on the beach. I'm hoping to see everybody back next year.
Having such a young squad and all of the training that goes along with it we had to put the tournaments on the back burner while all of the new people were brought up to speed. Despite that fact it was another banner year for the Surf City women. For the third year in a row and Island Beach State Park tournament.
Surf City 2014 - Most Valuable Competitor - Lauren R.

This year 1st place is worth 4 points, 2nd place is worth 2 points, and 3rd place worth 1 points. Also since it is our big show, a 1st place in the island tournament is worth 8 points.
Congratulations Lauren!
1. Lauren R. - 13 points
2. Jenn W. - 12 points
3. Kim S. - 11 points
4/5. Mark/Rick (tie) - 10 points
6. Emily - 9 points
7. Ally - 8 points
8/9. - Beth/Kristi - 6 points
10. - Alexis - 4 points
Long Beach Island Lifeguard Championship - Friday/Saturday August 1/2, 2014
1st Place Mile Row - Rick P./Mark D.
2nd Place Women's 1500' Paddle - Lauren R.
3rd Place Paddle Relay - Mitchell G./Eric G./Joe P./Mike G.
2nd Place Doubles Row - Rick P./Mark D.
3rd Place Paddleboard Rescue - Mitchell G./John H.
2nd Place Mixed Doubles Row - Jenn W./Conner M.
1st Place Women's Paddle Relay - Beth H./Emily R./Kristi O./Lauren R.
Island Beach State Park Women's Tournament - Thursday August 14, 2014
1st Place Double Boat - Jenn W./Ally J.
2nd Place Rescue Race - Emily R.(w/fins)/Kim S.
2nd Place Paddle Pick-Up - Lauren R./Kim S.
1st Place Surf Medley - Alexis T. (run)/Kim S. (swim-paddle pick-up)/Lauren R. (paddle pick-up), Jenn W./Ally J. (row)
2nd Place Line-Pull - Emily R. (swim rescuer), Kelsey H. (victim), Beth H./Gaby H./Kristi O. (pull)
2nd Place Boat Swim - Kim S. (swim/row), Jenn W. (row)
3rd Place Swim Relay - Emily R./Lauren R./Gaby H./Kim S.
Memories from the 2014 Season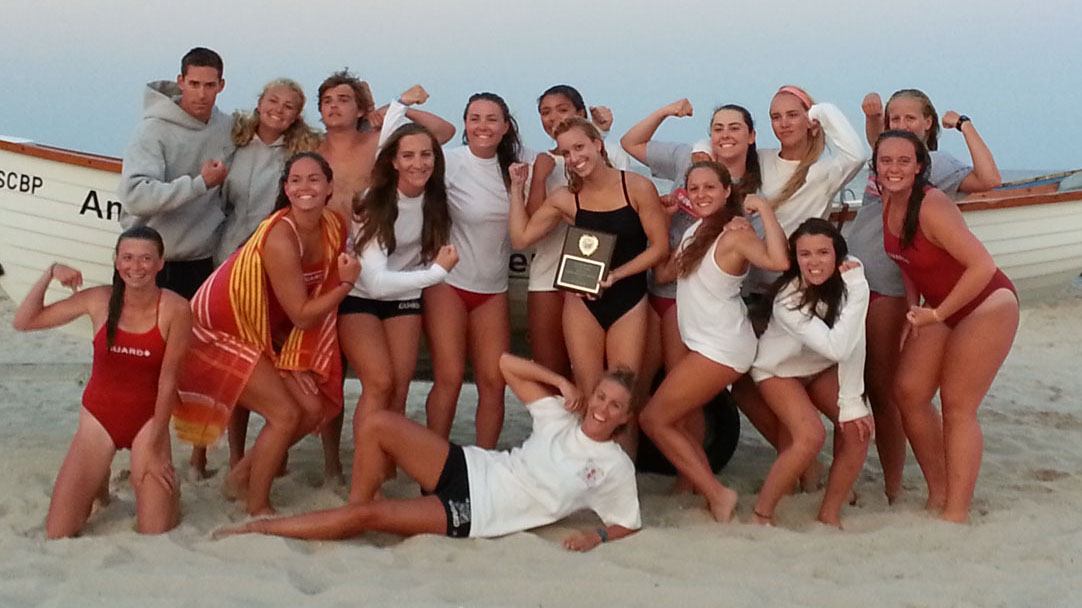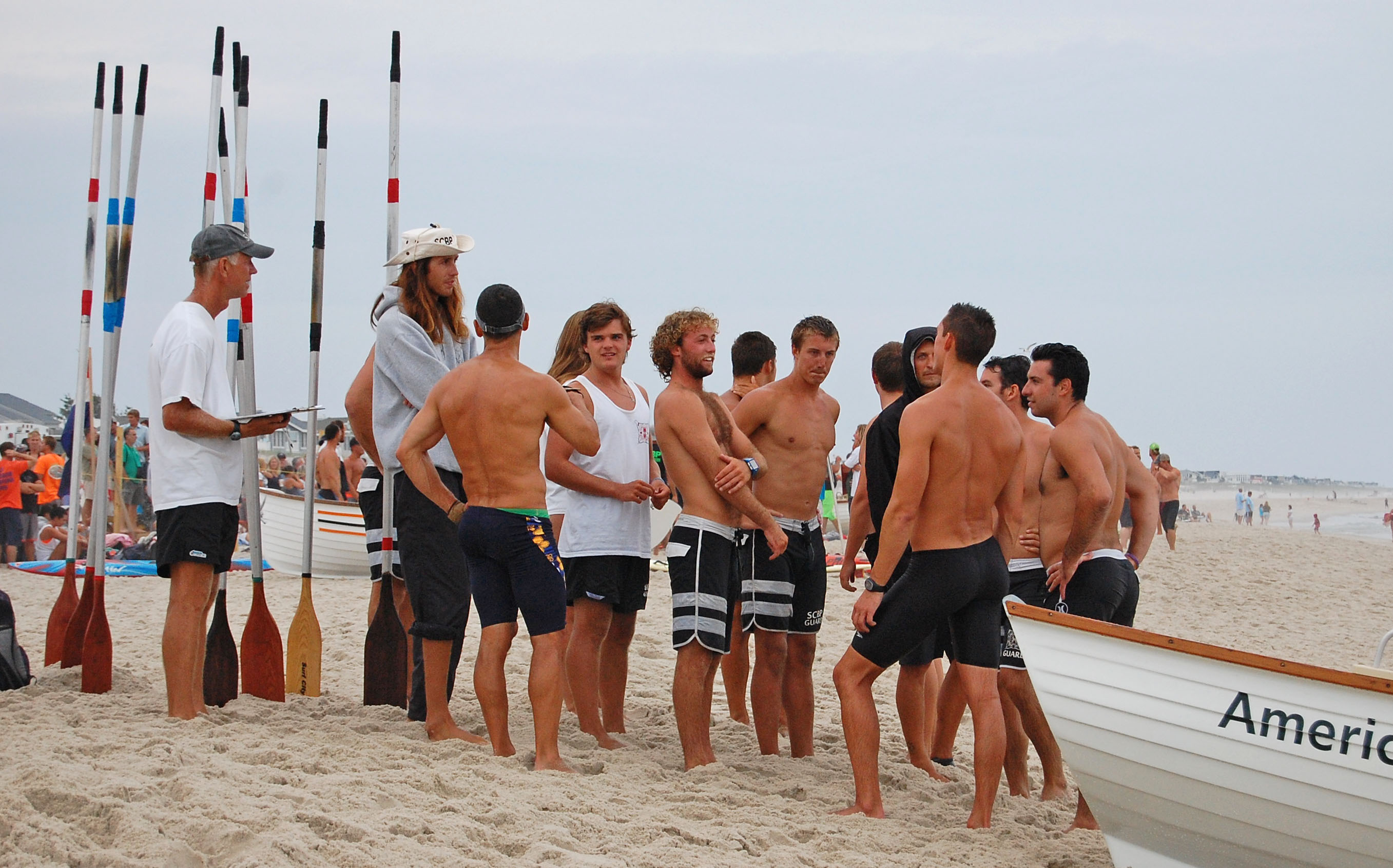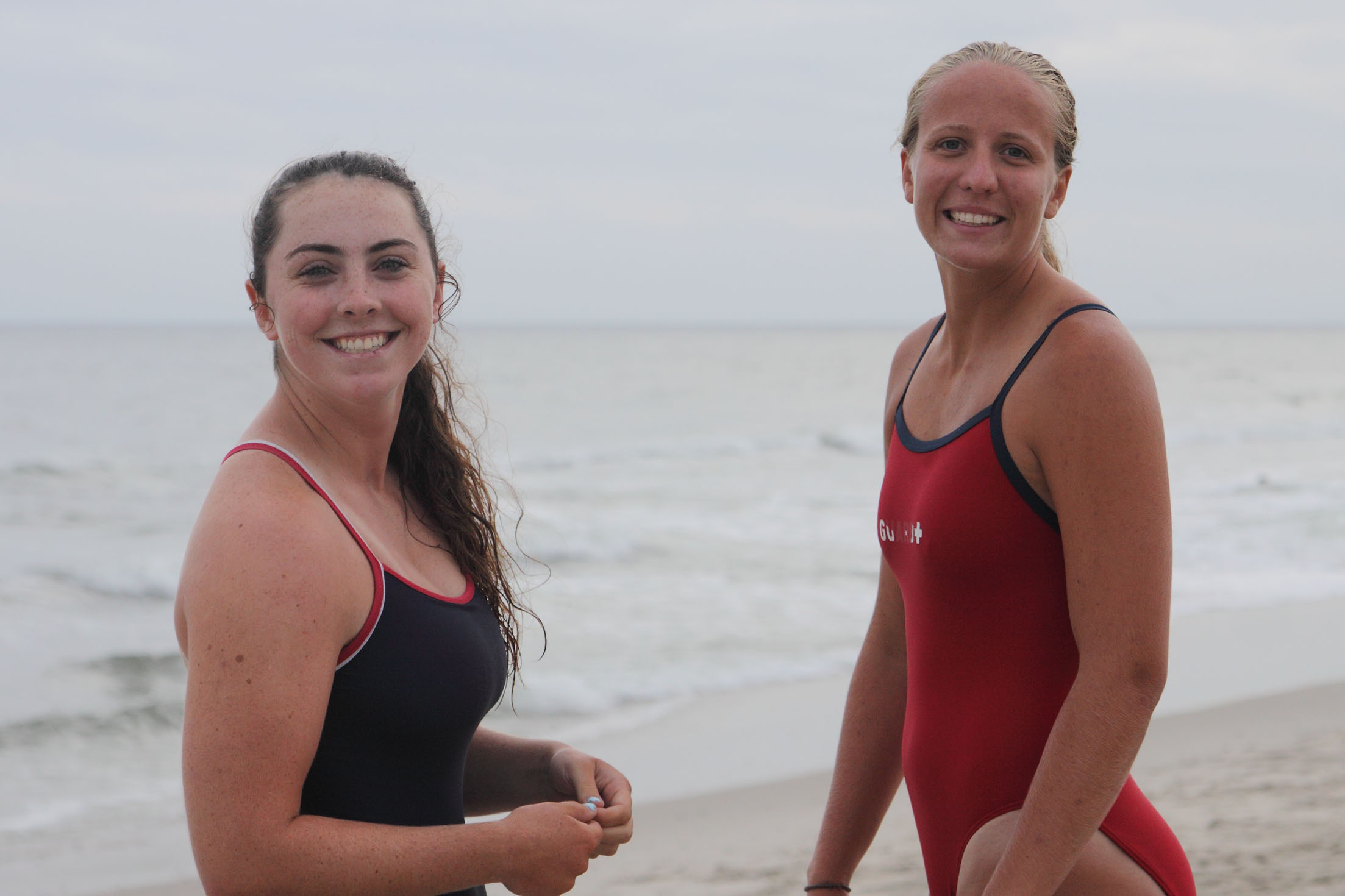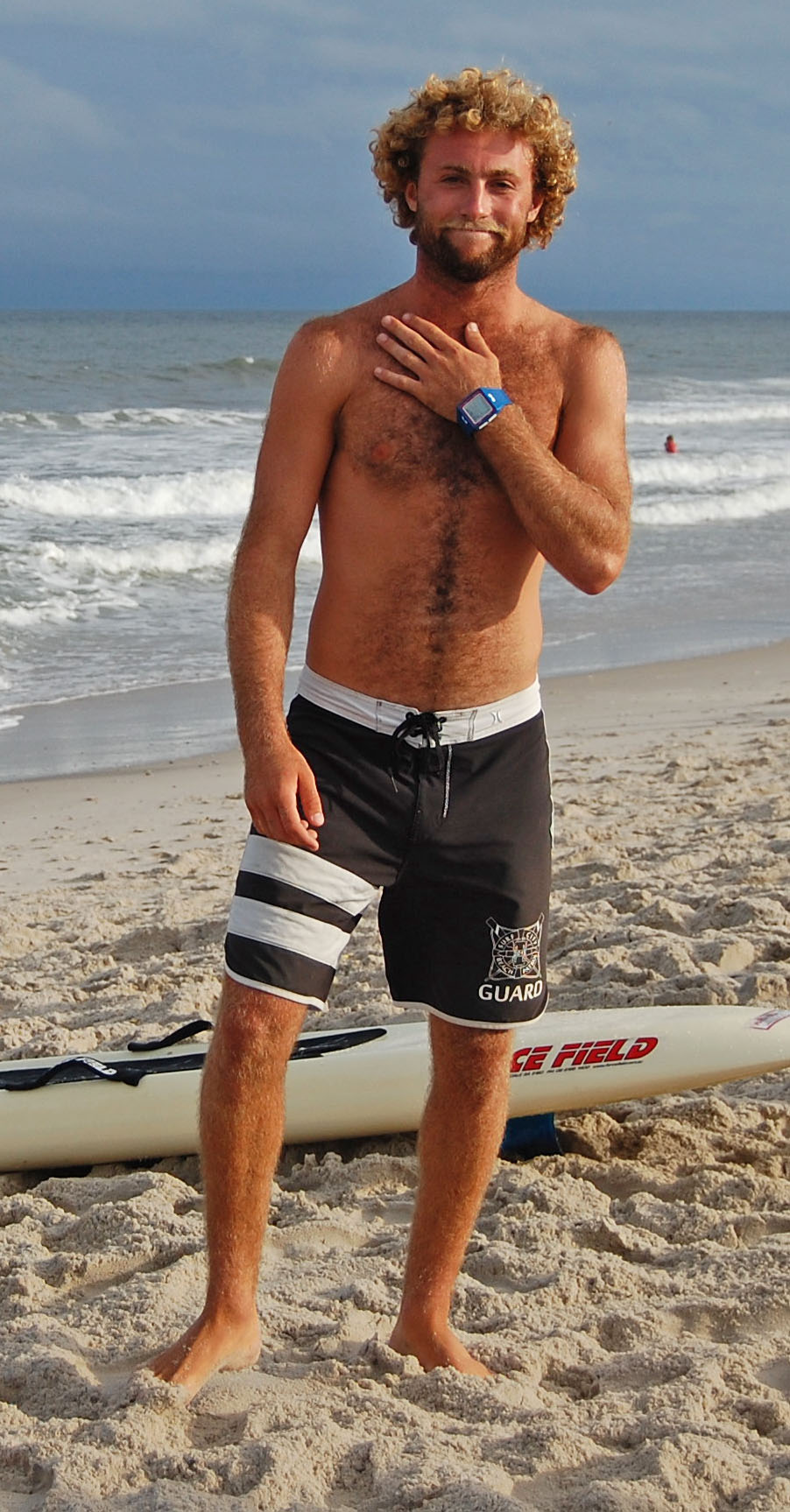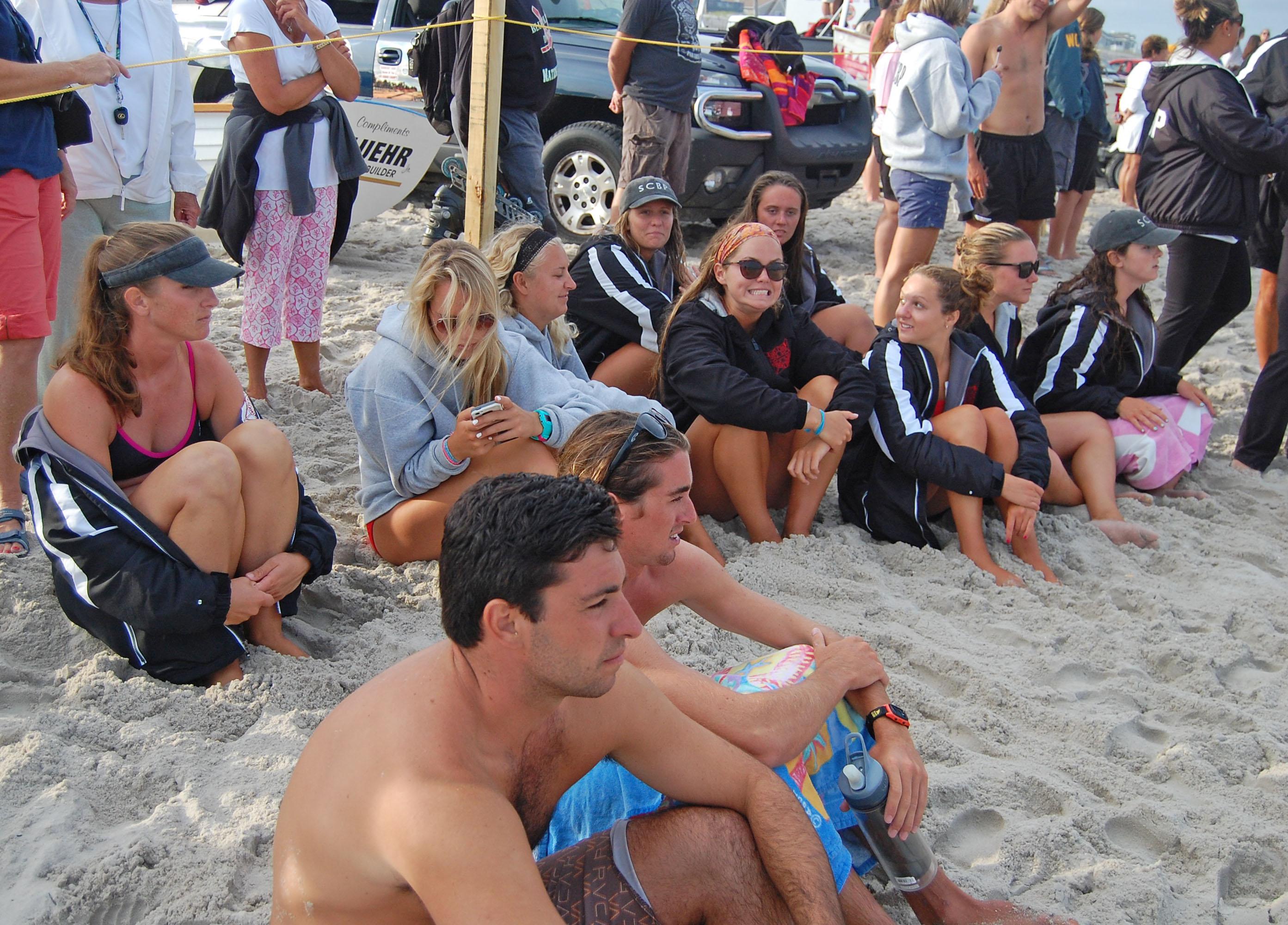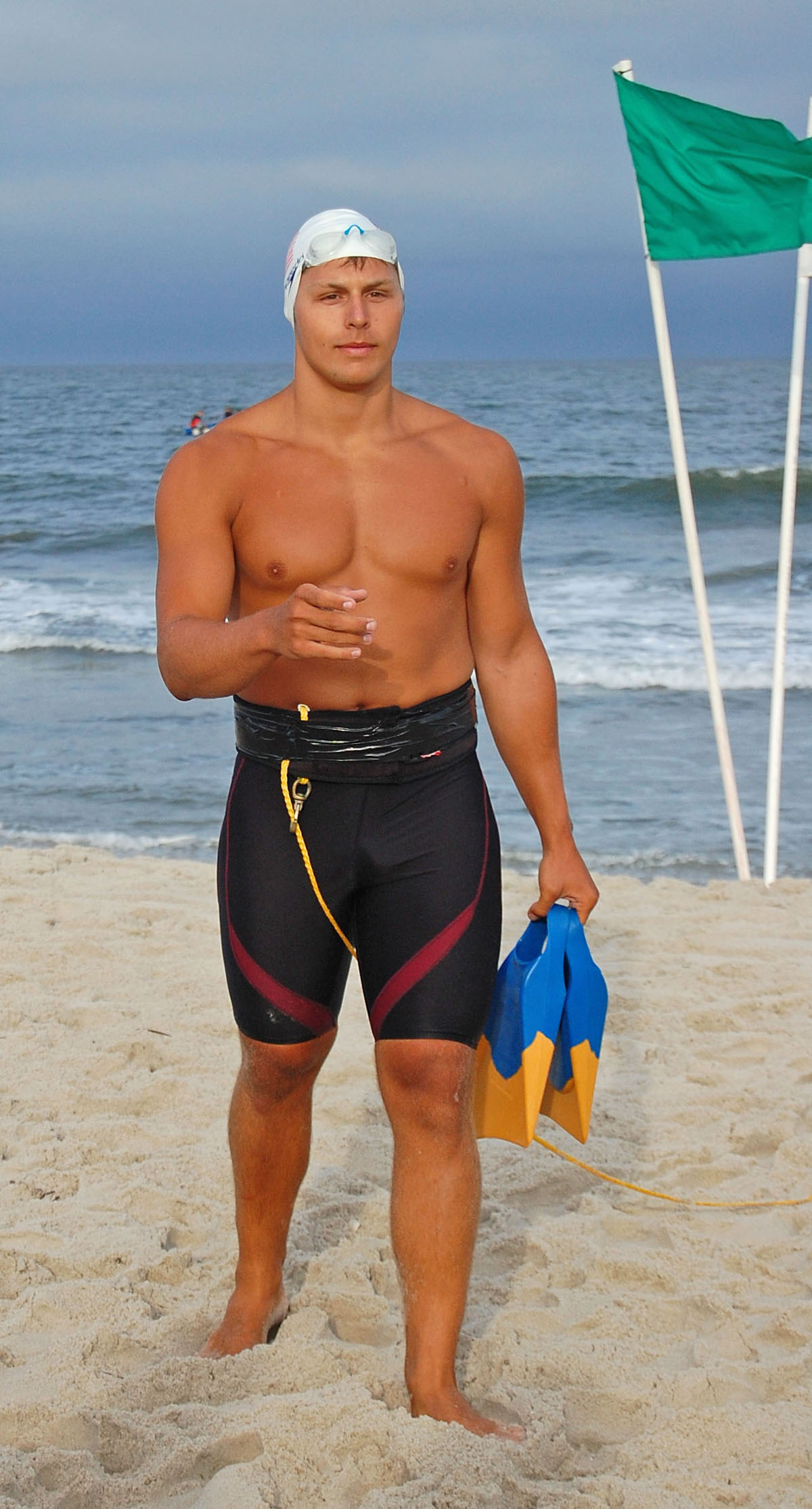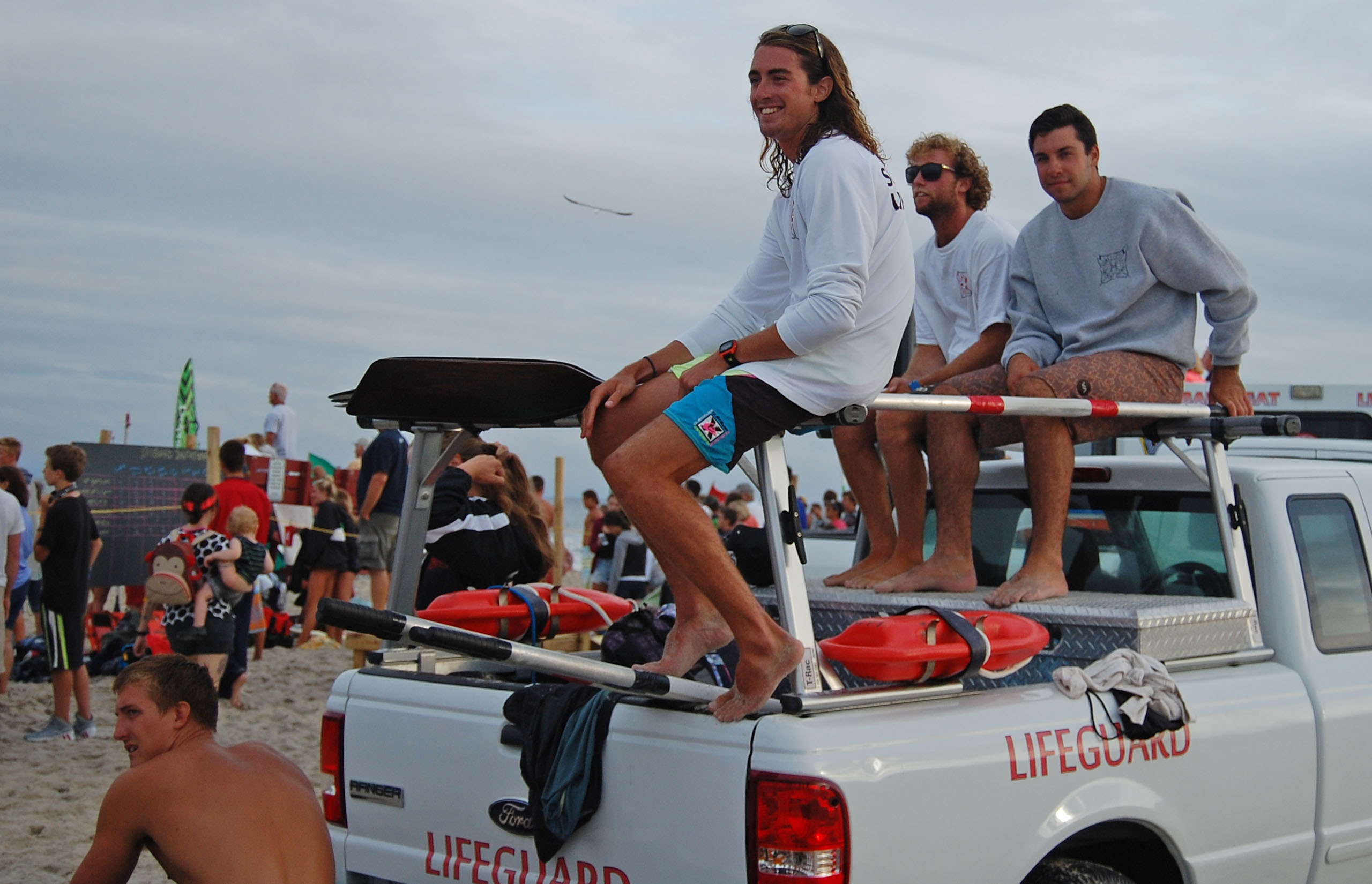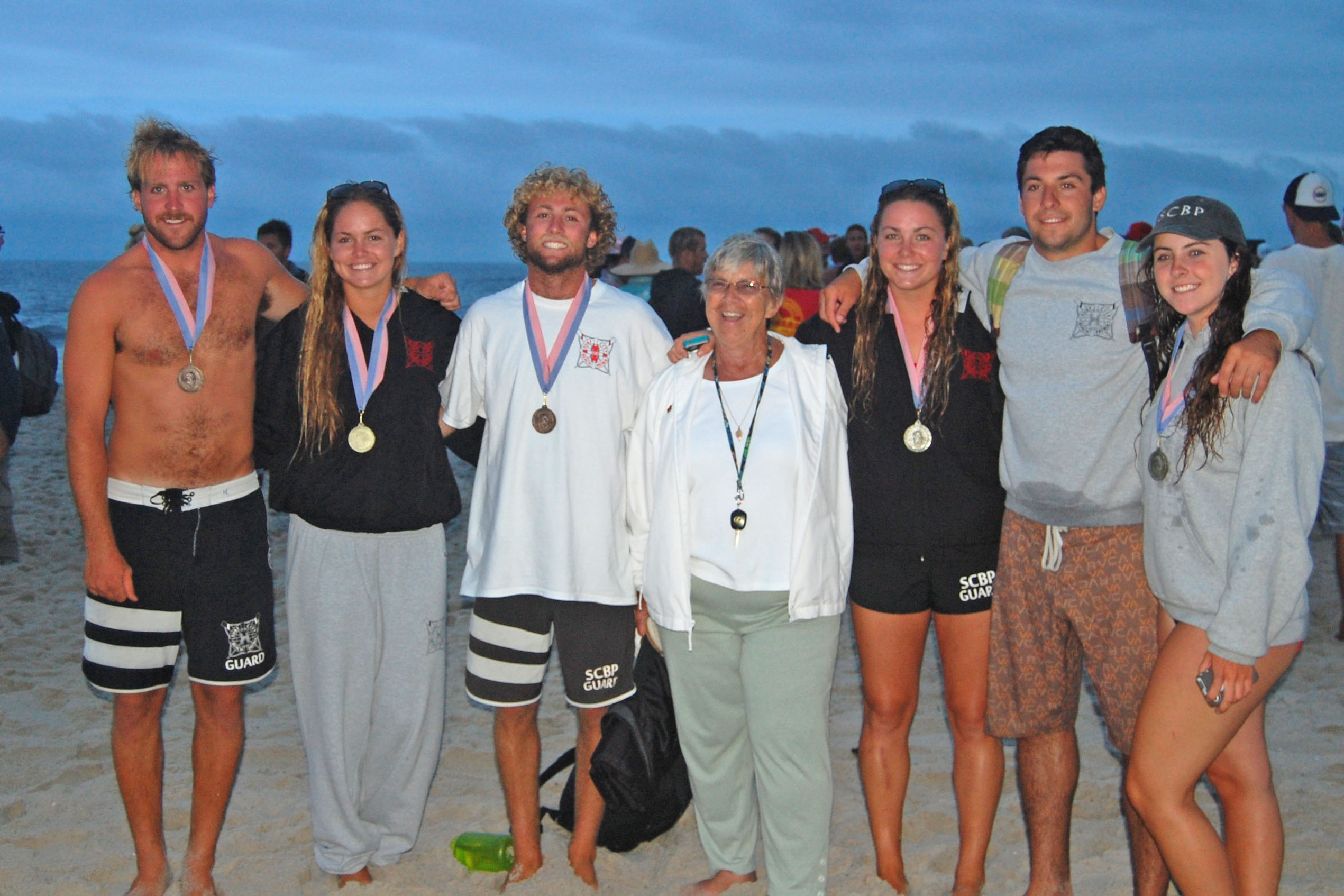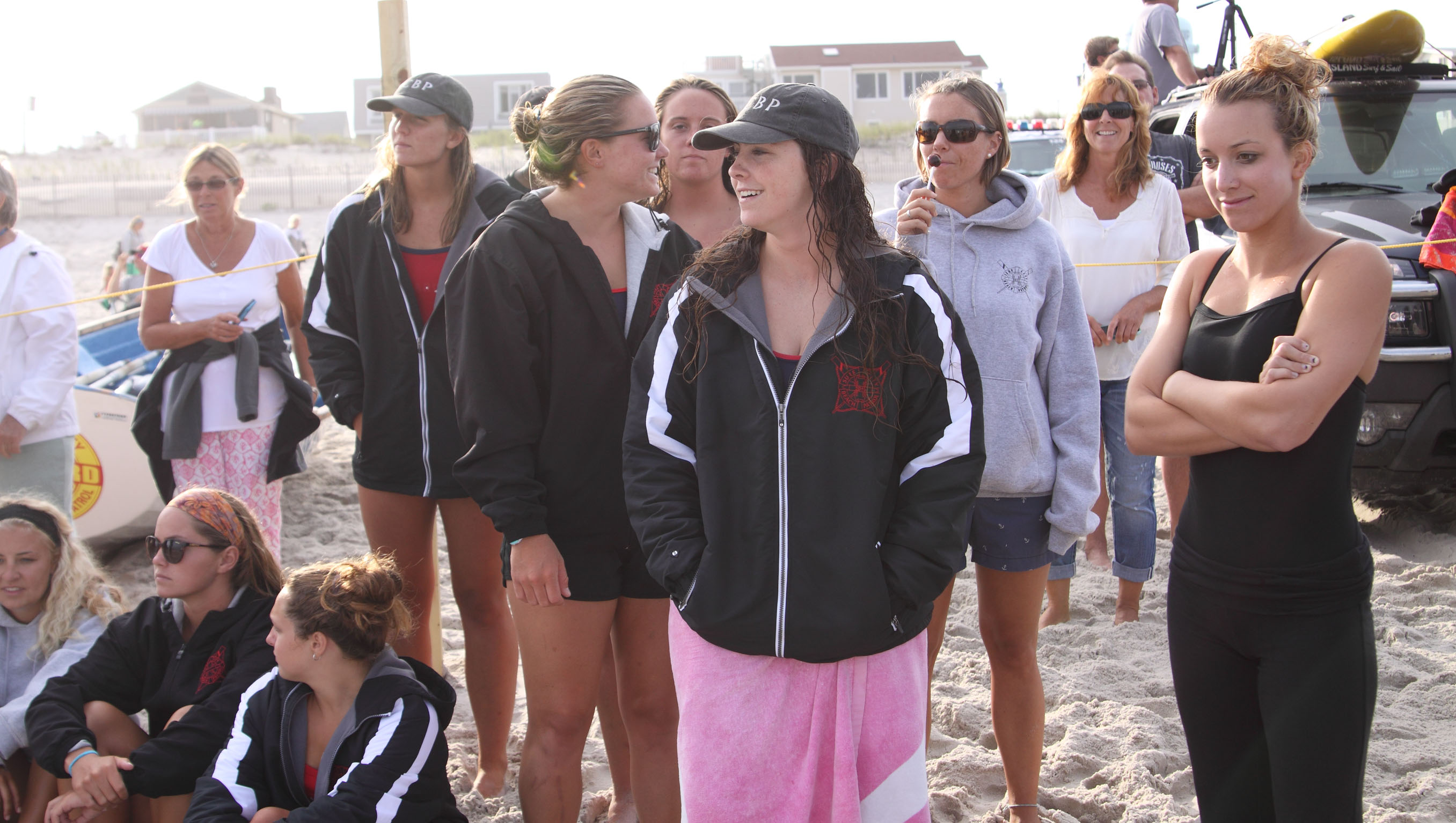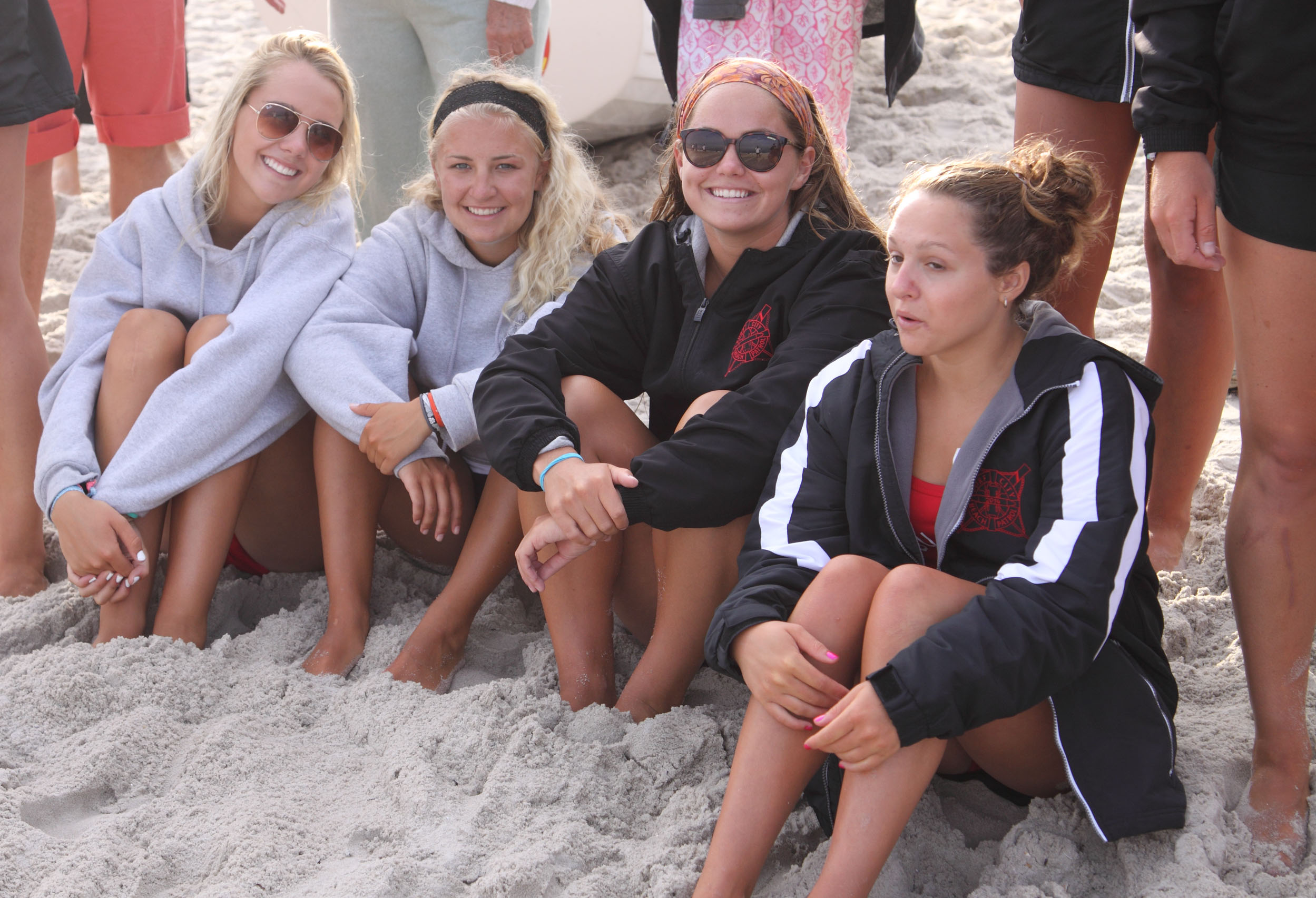 Thursday July 3, 2015 - Make Your Best Dish
Once again Collette hosted her "Make Your Best Dish" dinner.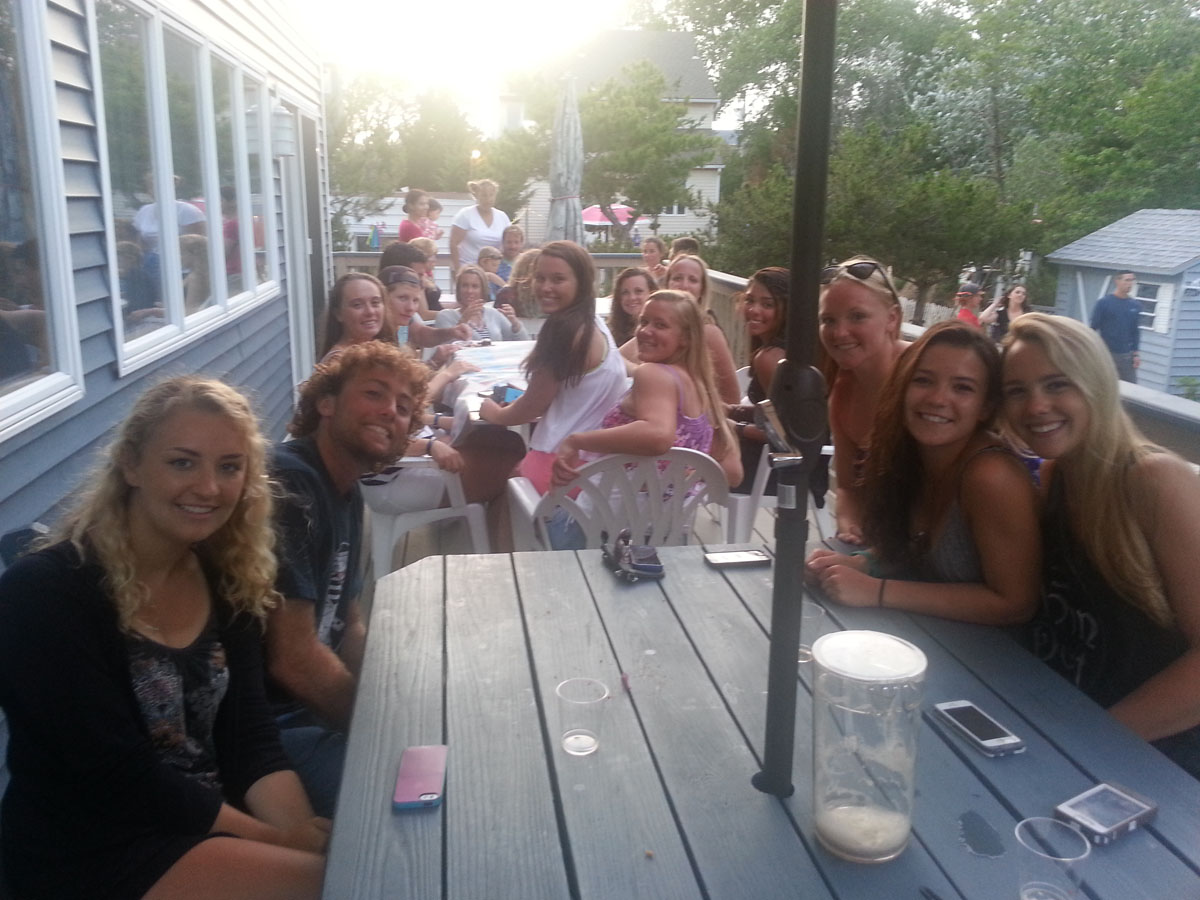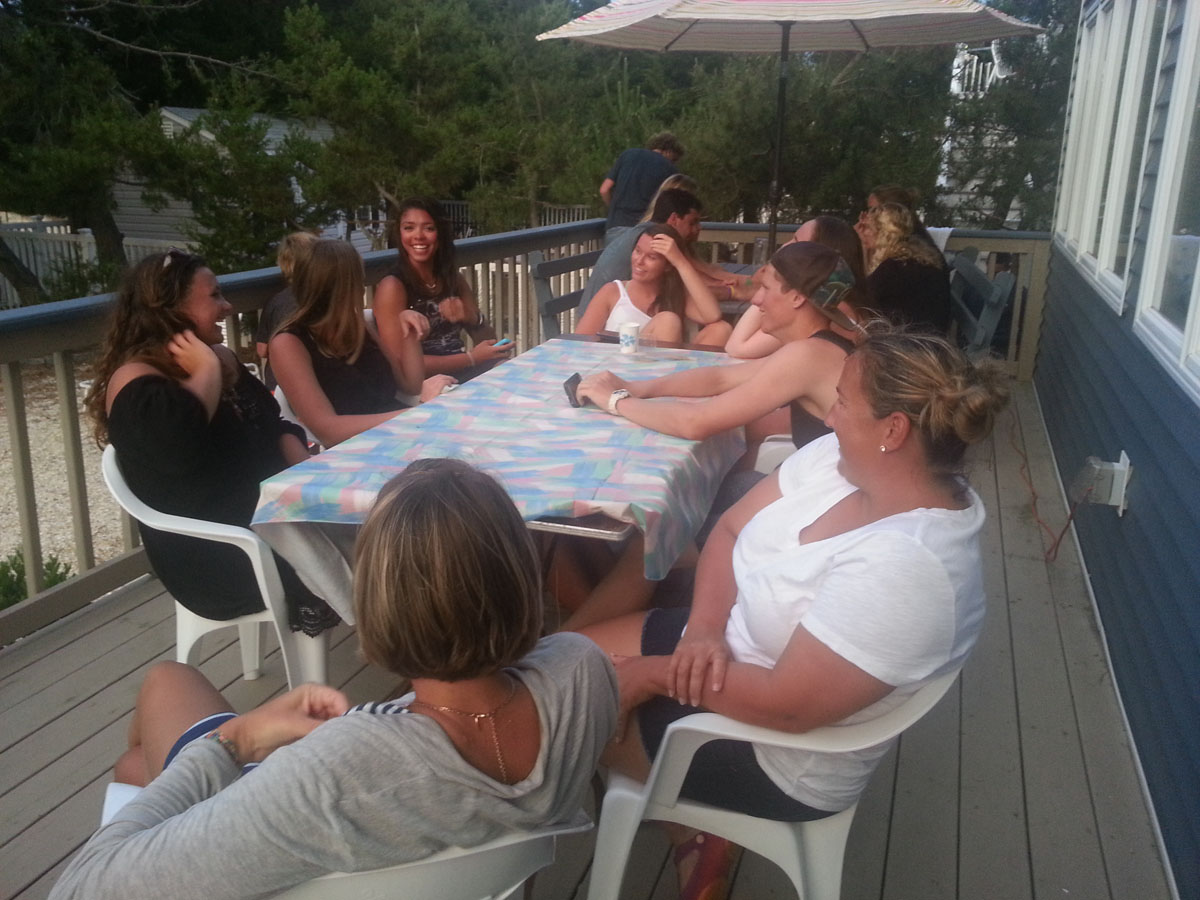 Monday July 21, 2014 - Upper Township 7 Mile Row

After a solid 6 weeks of training in the boat with Rick it was time for our first race. We had a great time and a good race finishing 10th out of 42 boats.

Wednesday July 23, 2014 – Ship Bottom Lifeguard Tournament

While we didn't have top finishes in the Ship Bottom Tournament this year it was a great opportunity for many of the new lifeguards to now only see but also participate in their first lifeguard tournament.

Friday and Sunday, August 1 and 3, Long Beach Island Lifeguard Championship

The first night of the Long Beach Island Tournament opened with moderate surf and threatening clouds. It did rain lightly later in the night, but not enough to concern either the competitors or the spectators.

Lauren R. was up first in the Women's 1500' paddle and as usual I didn't see it since I was rowing the Mile at the time. But I heard that Lauren had an outstanding race and it came down to her and the competitor from Barnegat Light on a wave at the end of the race with Lauren finishing in 2nd place. Rick and I got out to a good start in the mile row despite hitting some pretty good whitewater on the launch. Mike G., Matt G., Eric, and Garrett gave us a fantastic launch. We kept the pressure on the oars and were able to finish up in 1st place.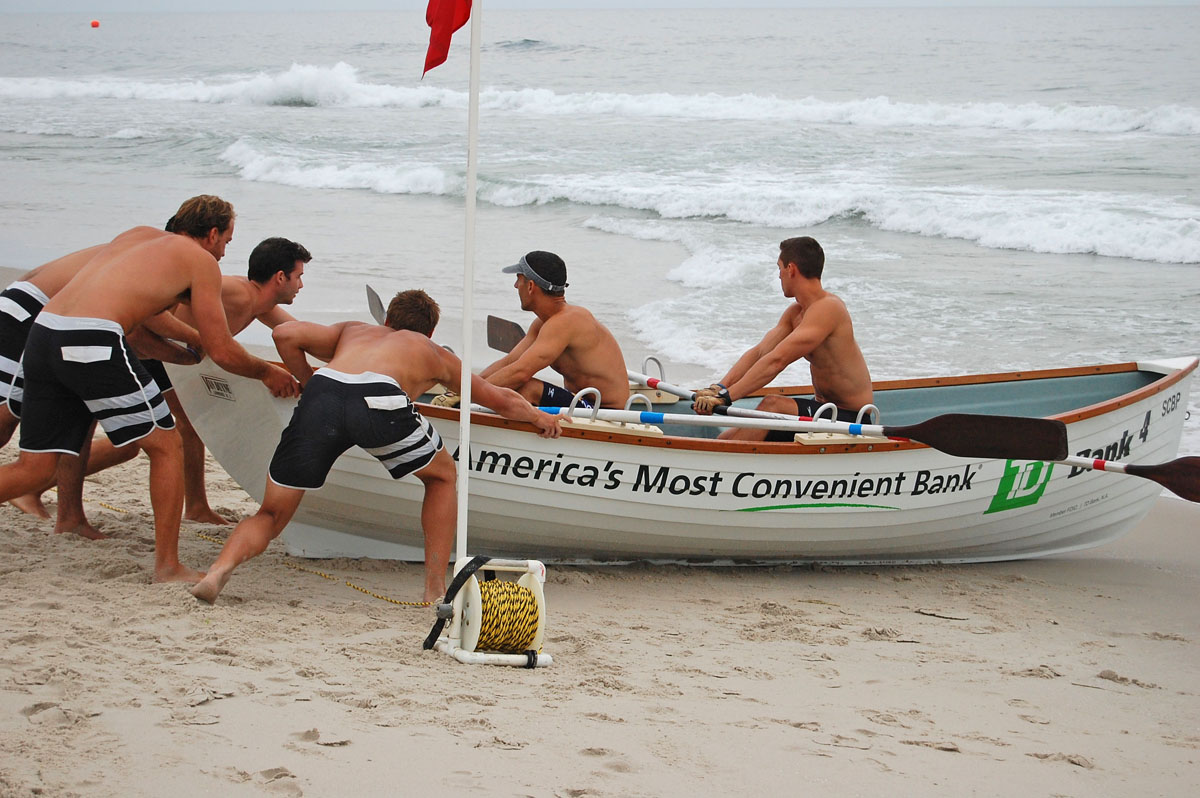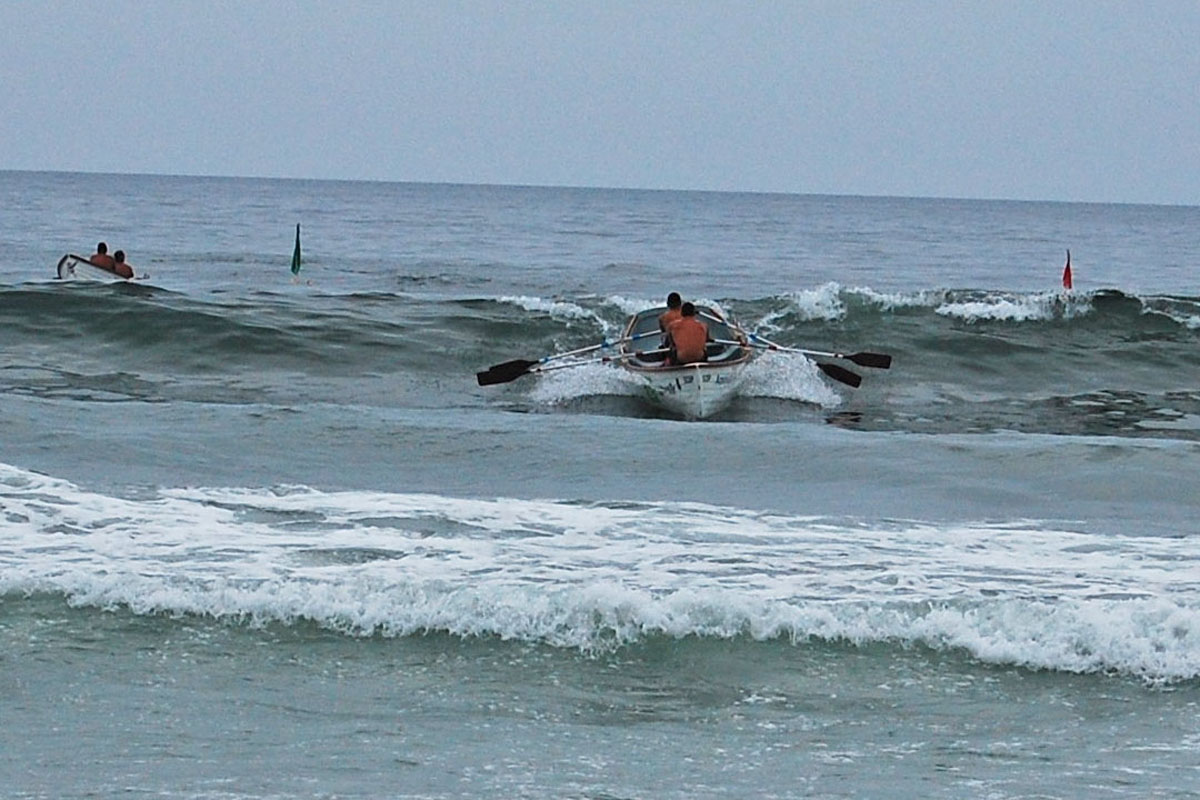 I think I need to work on my posture;)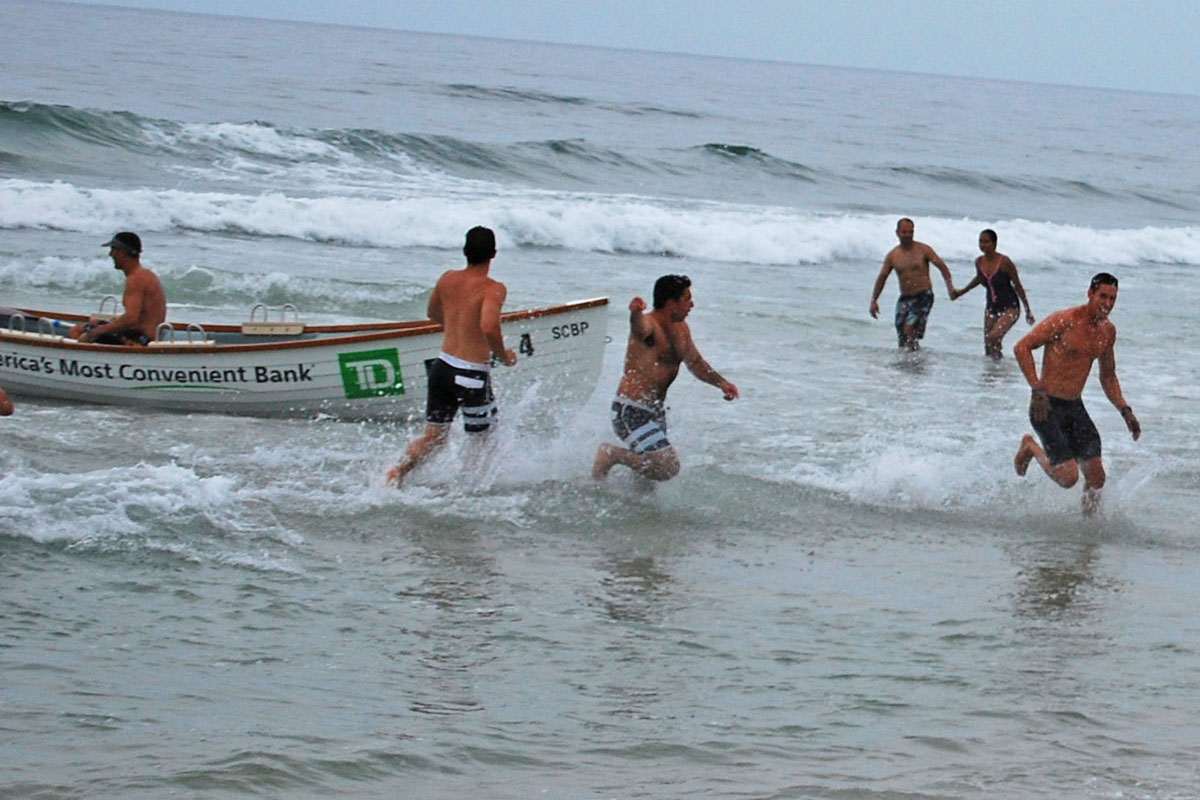 Okay so I think this picture is really interesting. But probably not for the reason you might be thinking.
Yeah, we're finishing the race and Matt is yelling for Rick to get to the finish line... But look at the couple
strolling down the beach in the low tide area holding hands! Walking right through out tournament!
It's classic. I can just imagine their conversation. "Oh look honey I think we've stumbled onto a
lifeguard tournament! Isn't it exciting? Hundreds of spectators on the beach, boats and boards
coming to the beach all around us! What a vacation!"
Emily R. and Kim S. were up next in the buoy rescue and came in 4th place in an always super competitive field. The paddle relay was really exciting and when it was all over the team of Mitchell G., Mike G., Eric G., and Joe P. came away with a 4rd place finish for Surf City.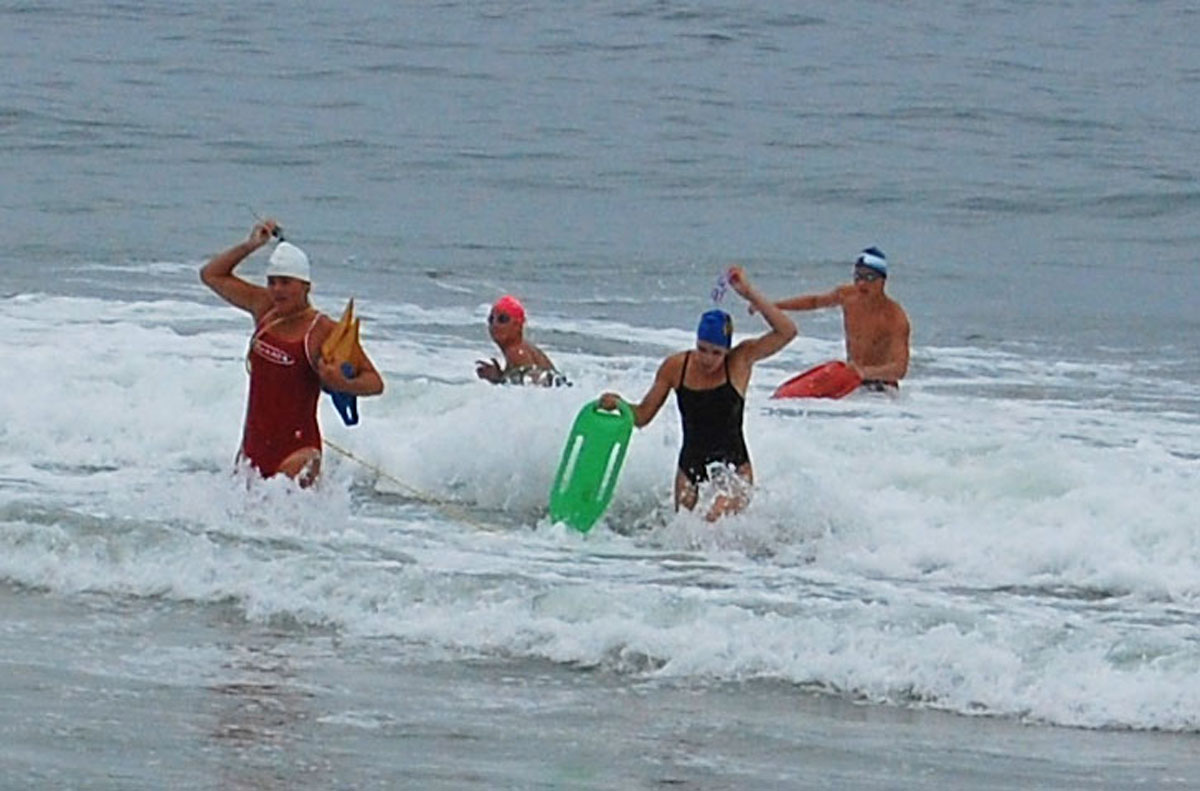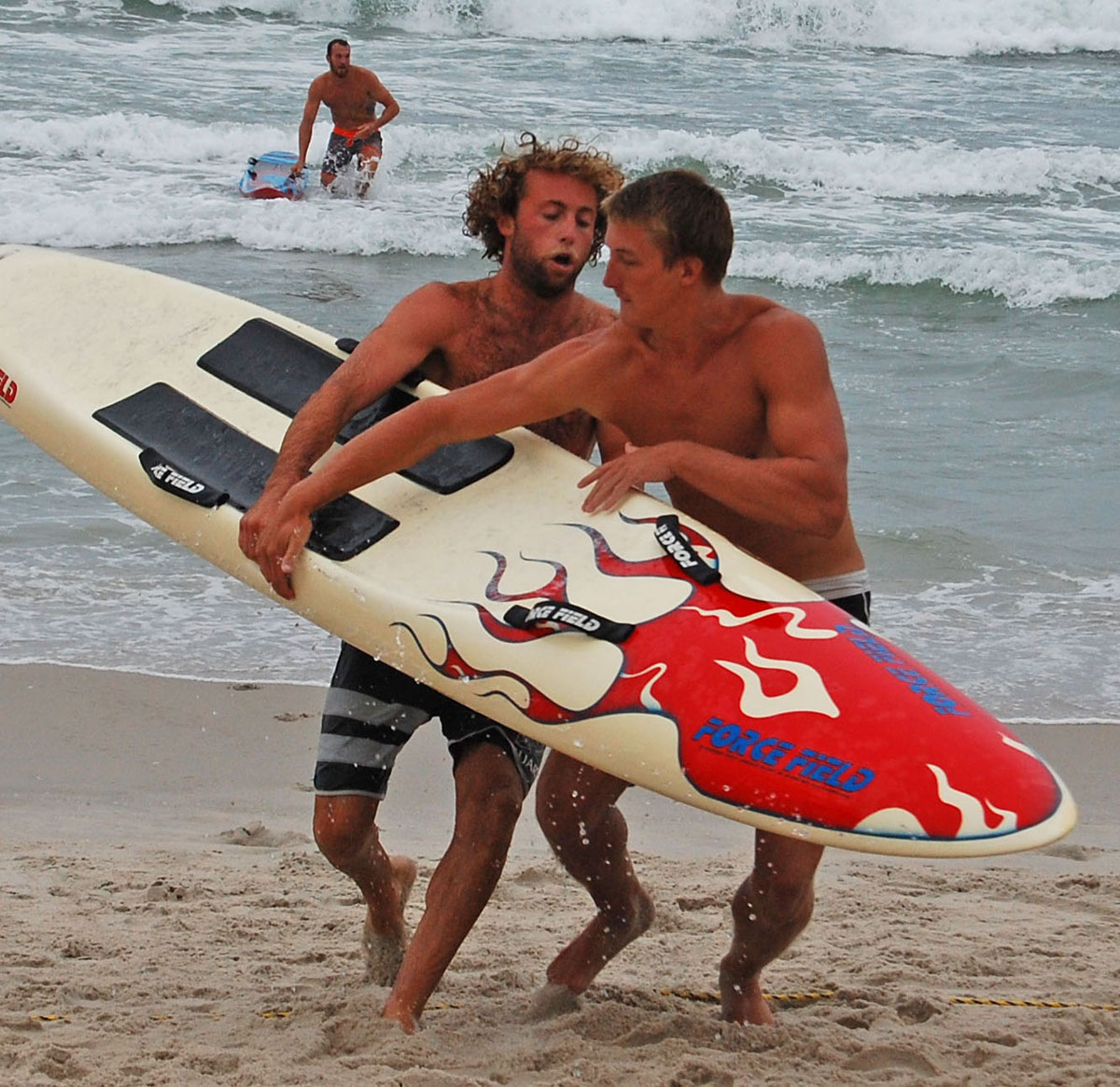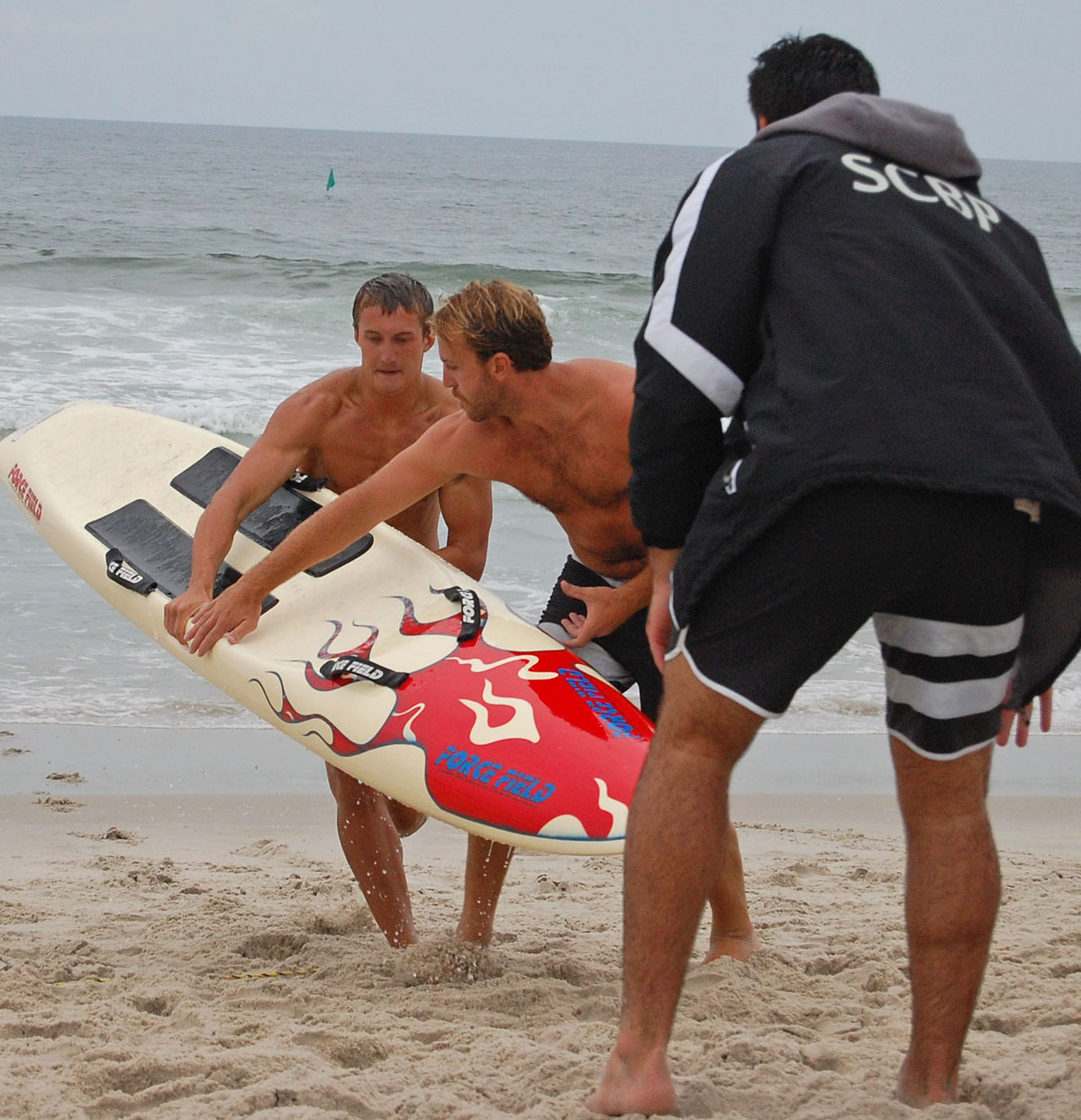 Jenn W. and Ally J. were launched into a terrible set in the women's doubles and after getting through three of four of them they hit one right in the impact zone, dumping a lot of water in the boat. Unless you've ever rowed a boat with water in it you can't understand how difficult it is to get the boat moving and keep it moving because as you pull on the oars the water moves in the opposite direction. Despite their water laden boat they still managed to pull off a 4th place finish.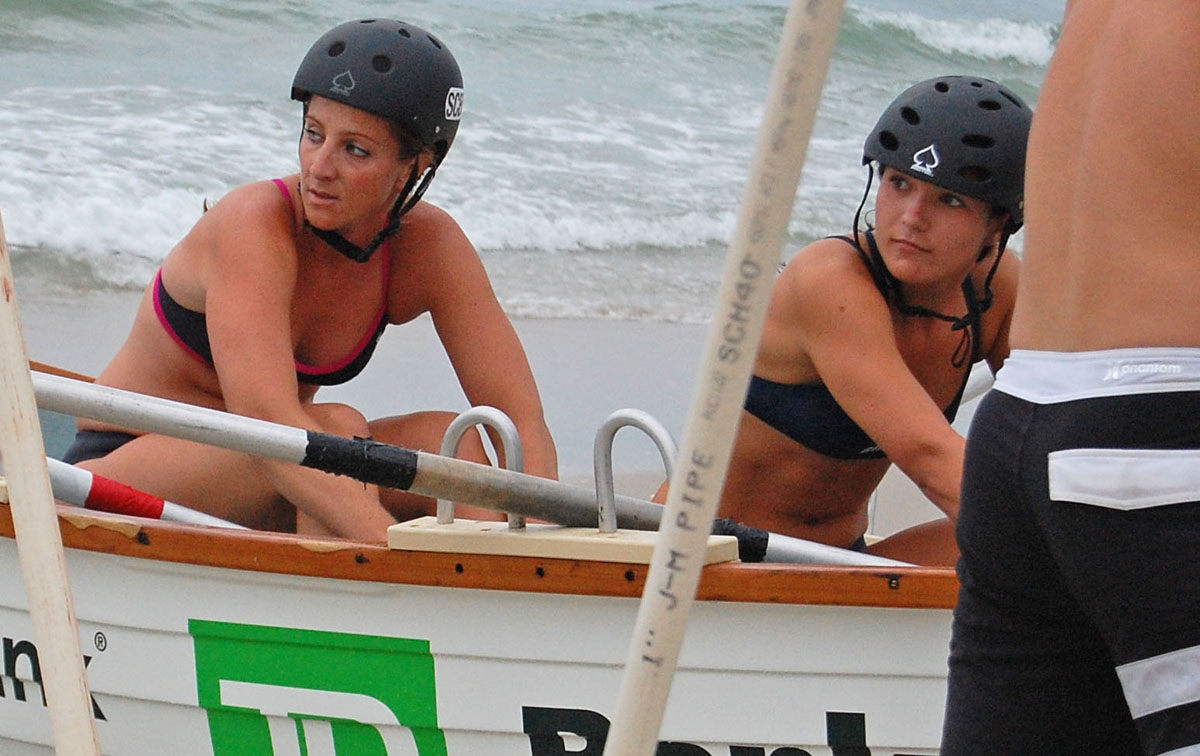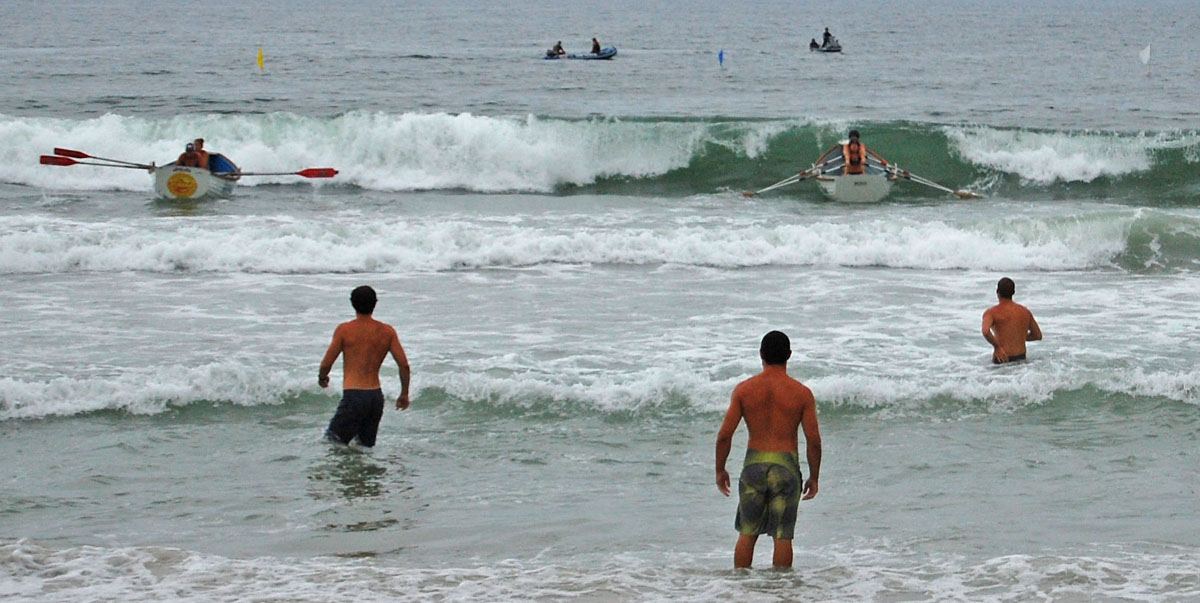 It's ironic that in a boating race sometimes being the fastest boat can work against you. If they were even with
the boat to the left they would have cleared the impact zone and not gotten any water in the boat. See below.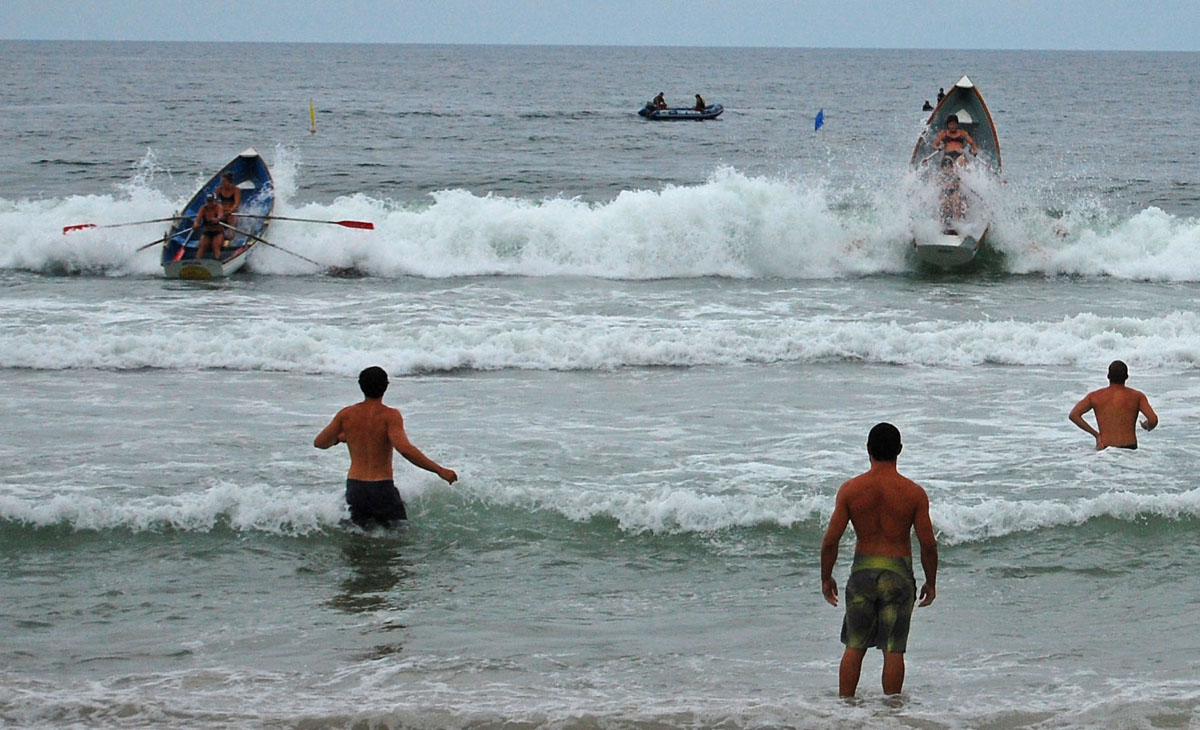 But in the end you generally have to row to beat the wave as that gives the best chance of a good finish.
Conner did a great job in the Iron Man expertly moving from the run to the swim to the paddle to the row and completing a clean and well executed race. Well done. The last event of the night was the row relay consisting of Rick P./Mark, Jenn/Ally, and Conner/Matt T.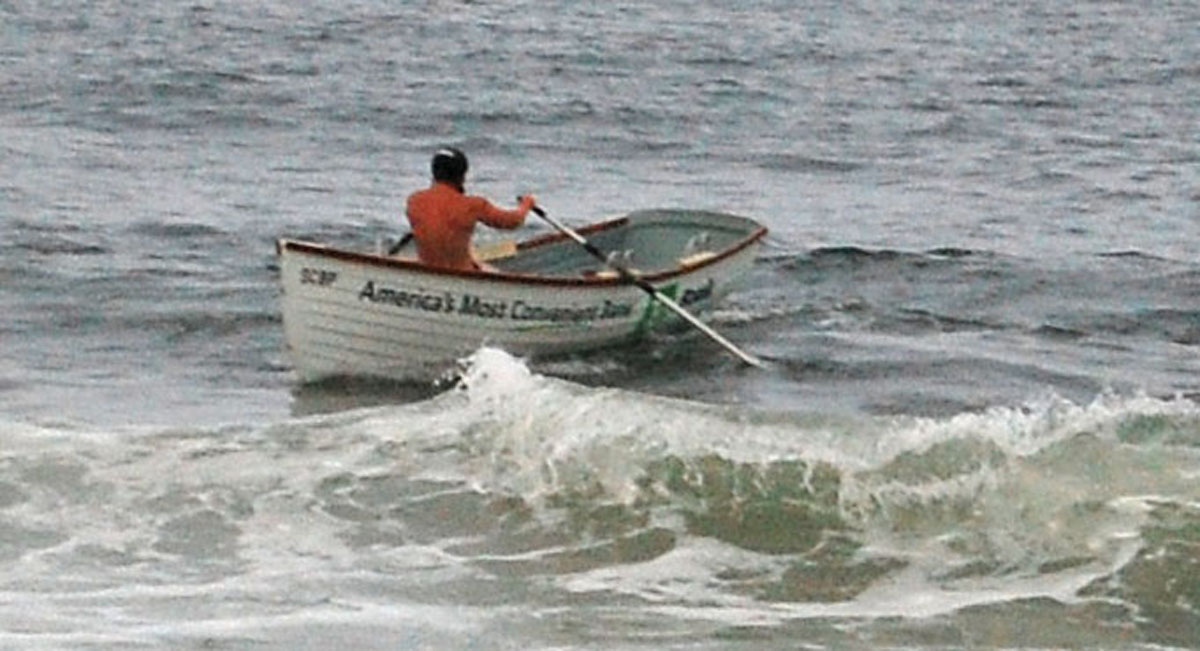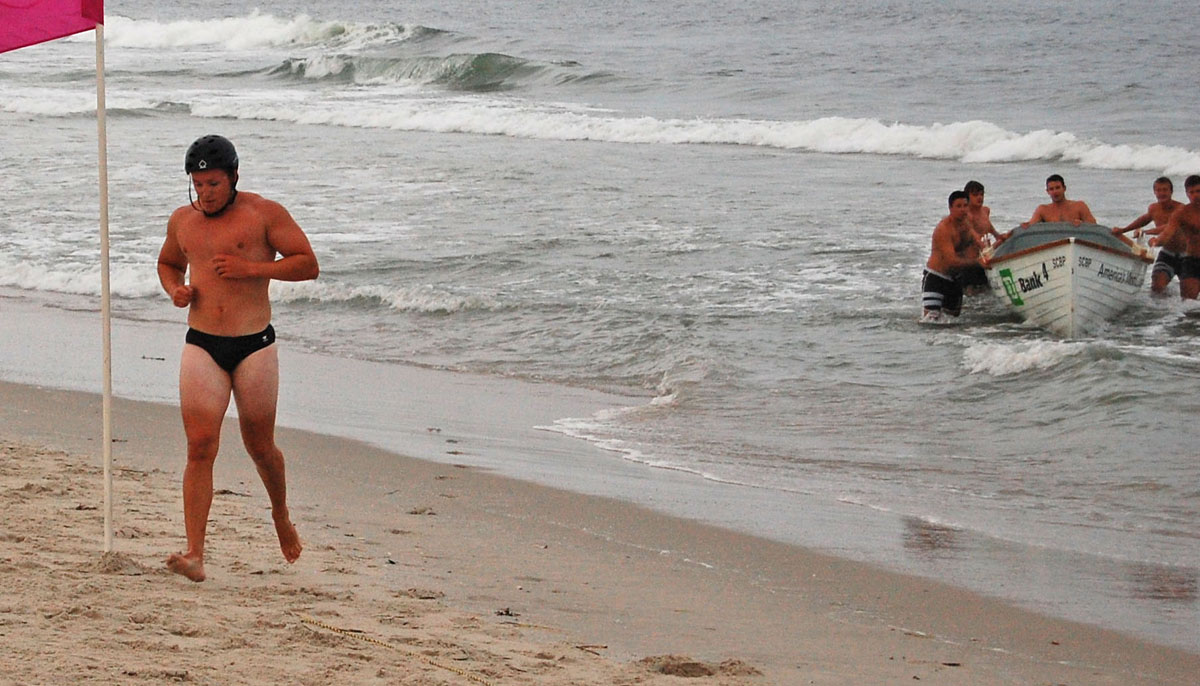 The second night of the tournament was postponed until Sunday due to strong winds and "washing machine" surf as I like to describe it. The surf Sunday morning didn't look all that inviting either but by early afternoon the wind and surf calmed down quite a bit and the second night of the races were on.
Rick and I opened the night with the 1000' Doubles row. The launch was good but we missed a few costly strokes just a few seconds after the launch. We hit the buoy in 2nd and had an okay turn. The row back to the beach was solid and Rick jumped out of the boat just a second or two early where the water was still a little deep. We lost the foot race to the line by a second or two and had to settle for a second place in this one.
Next up were Gaby and Kim in the open and women's 1000' swim. Both ladies had a great swim but ended up out of the medals. Mitchell got off to a great start in the paddle rescue getting out to the buoy to pick up John with the leaders of the race. It was an exciting race on the way in with the three leading teams coming in very close to one another. As it usually does it came down to who caught the wave and we had to settle for a very respectable third place finish in a very competitive field.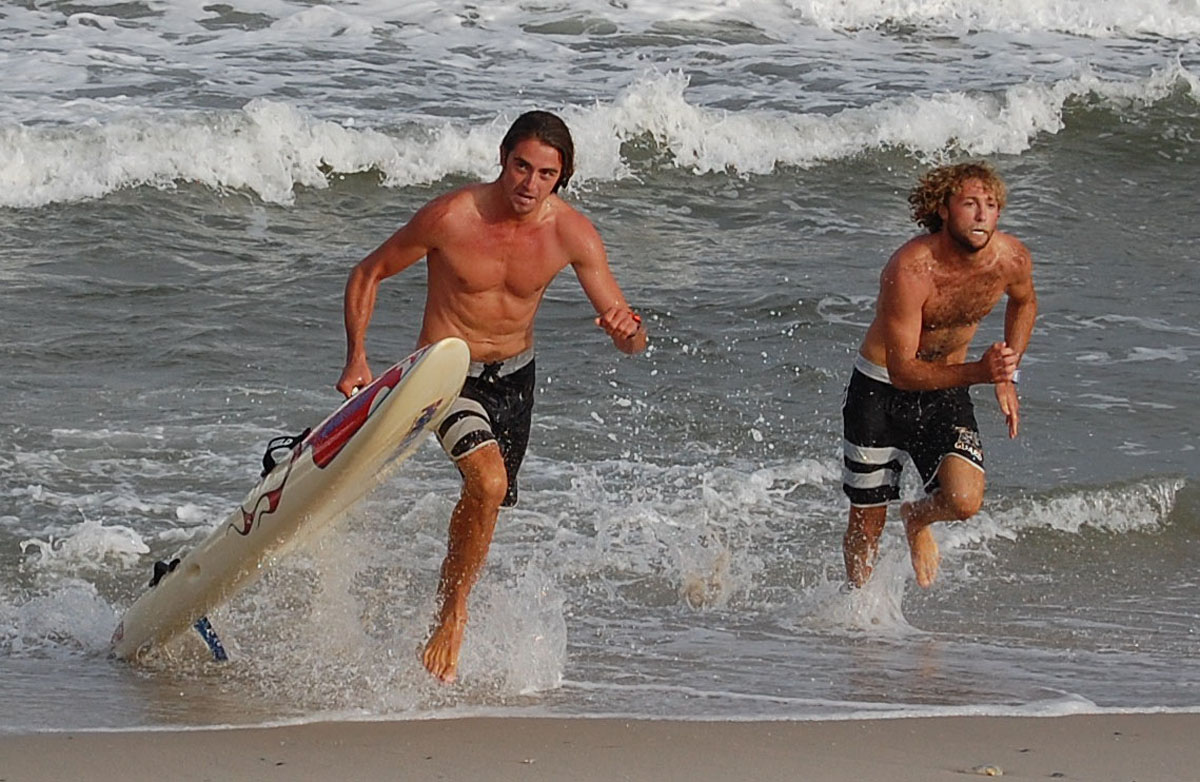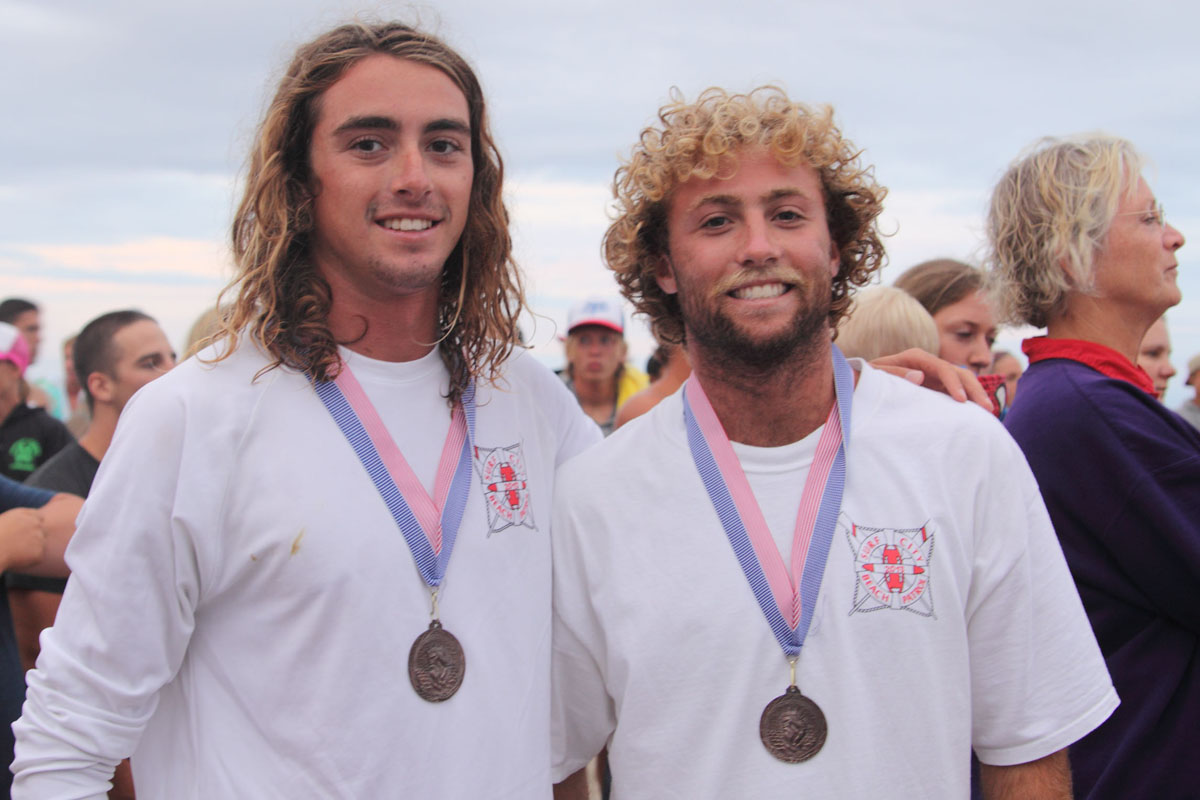 Matt T., Ethan F. and Eric G. were our line pull team and as always it was a grueling event.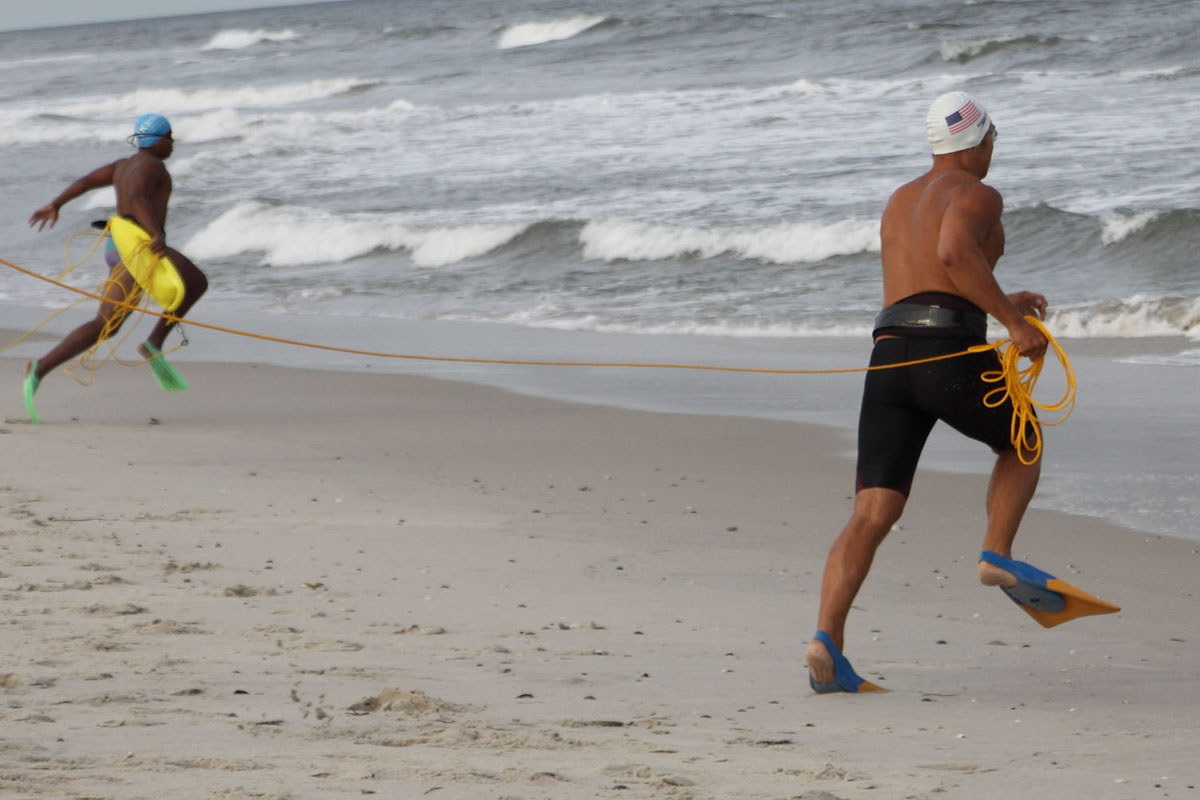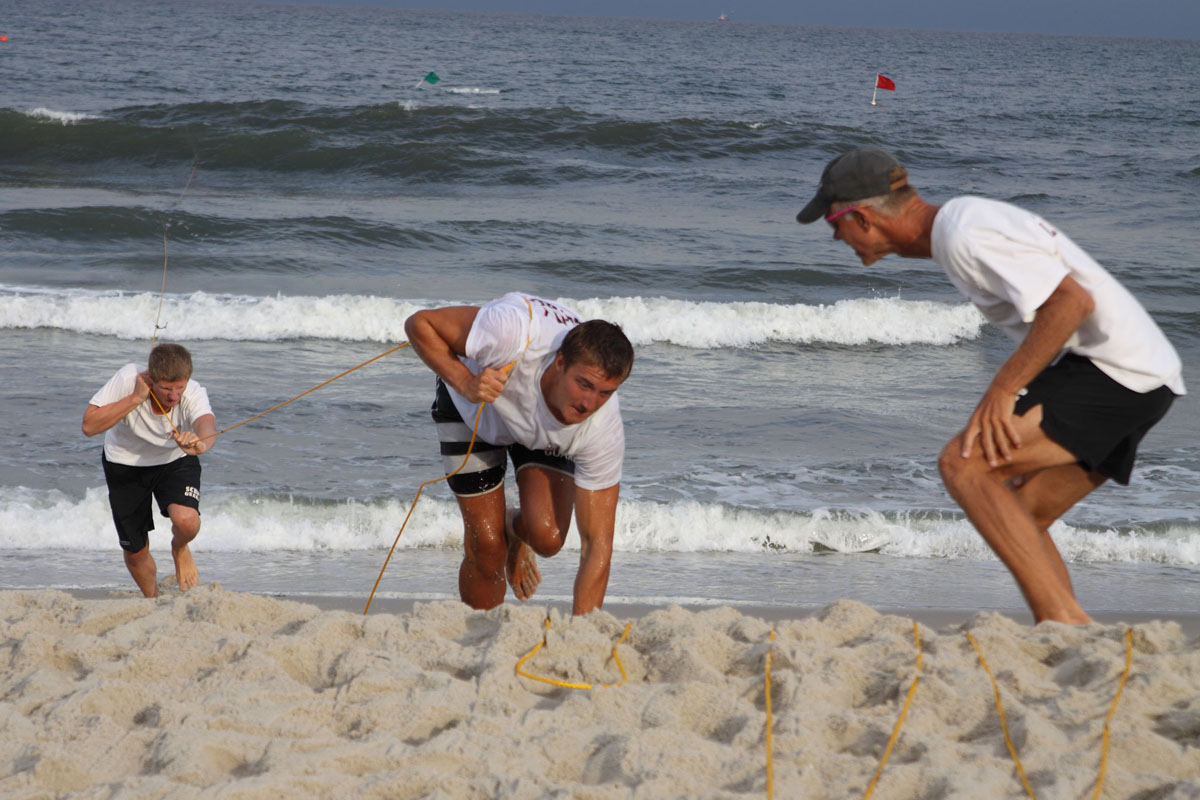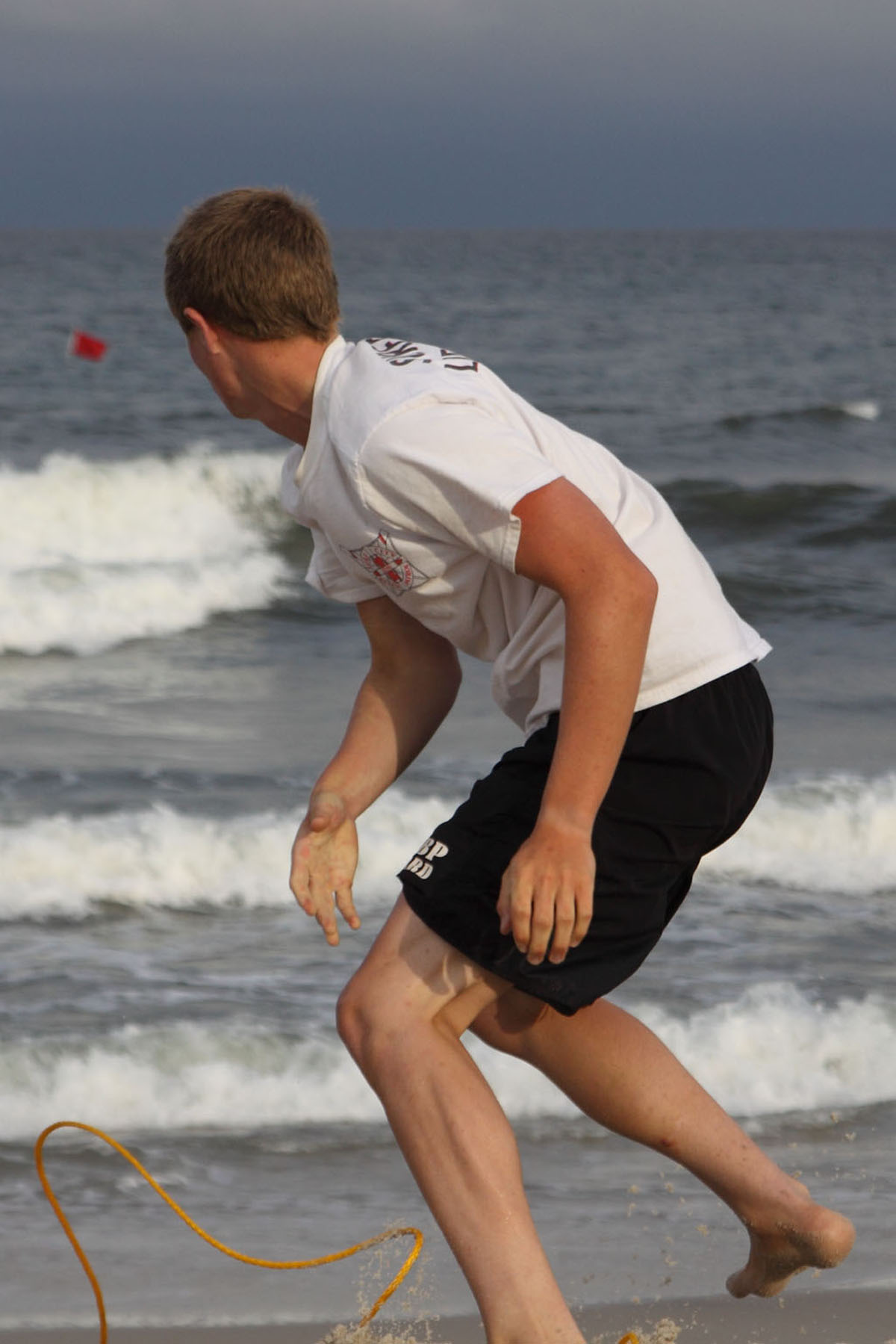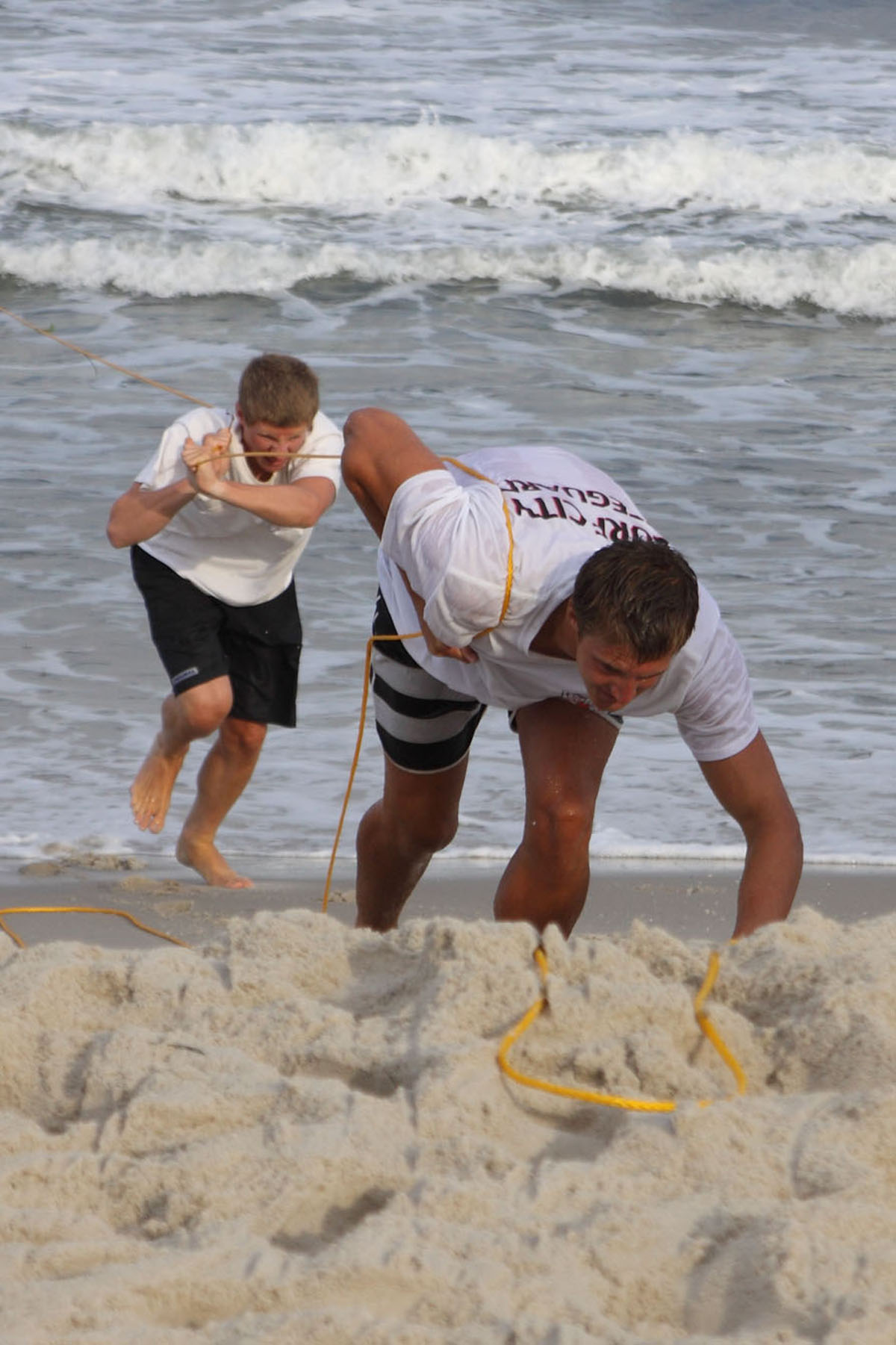 Jenn and Conner also had a very exciting race in the mixed doubles row catching a nice wave on the way to the beach and finishing in second place.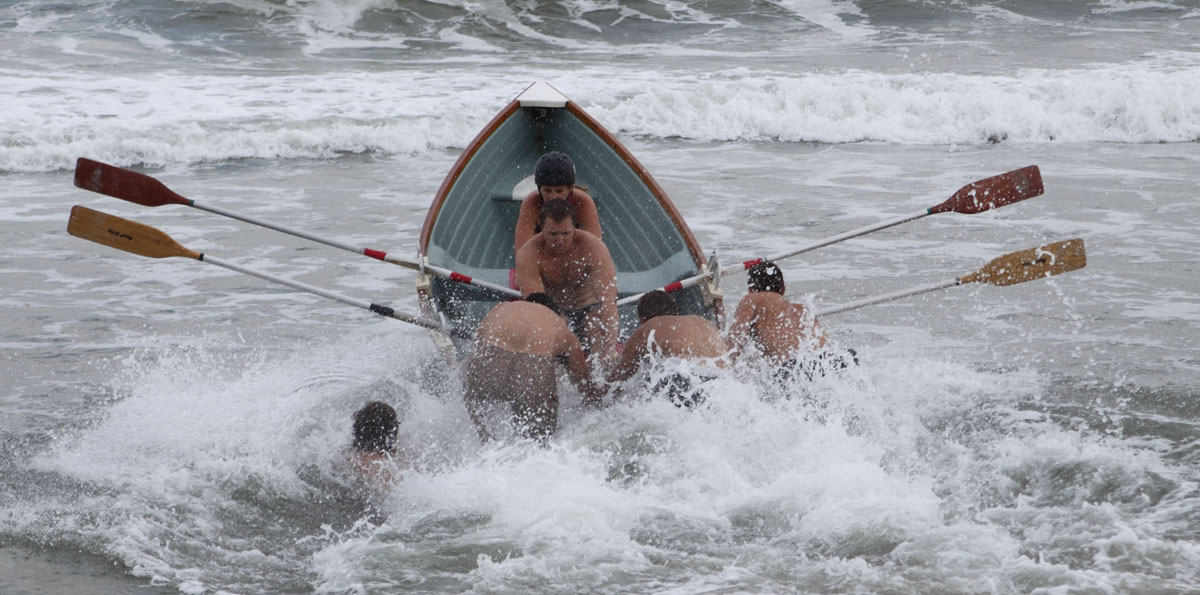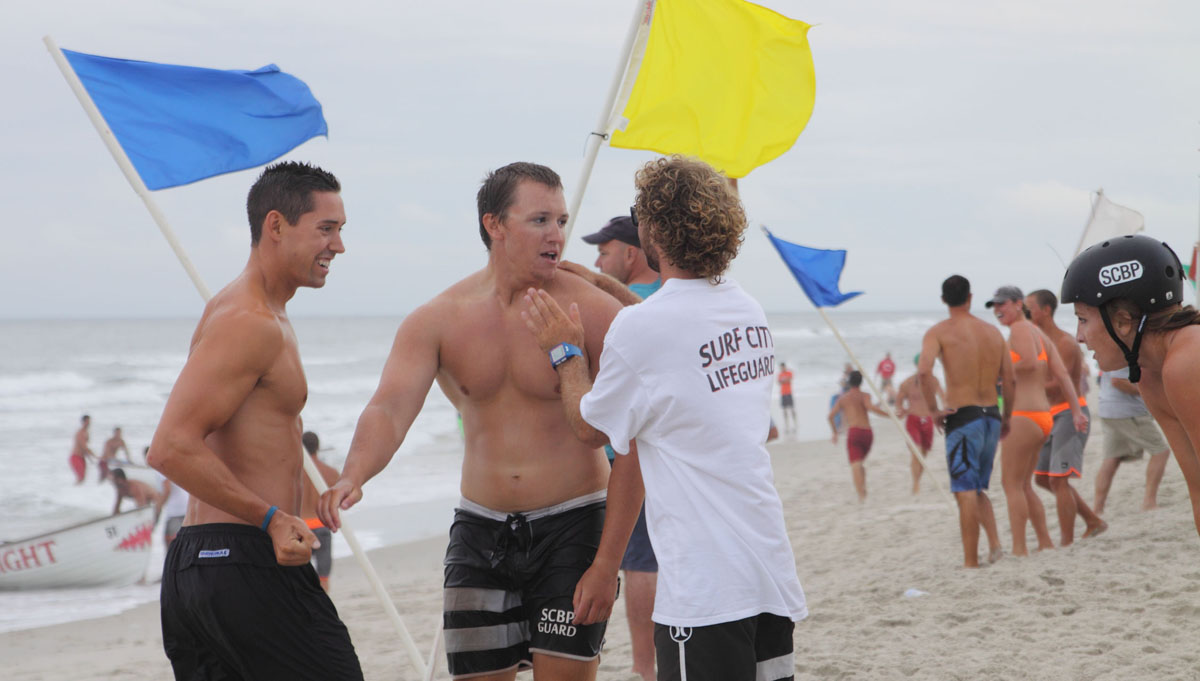 Joe P. was up next in the 2000' paddle in a field of guys that could probably be ranked nationally!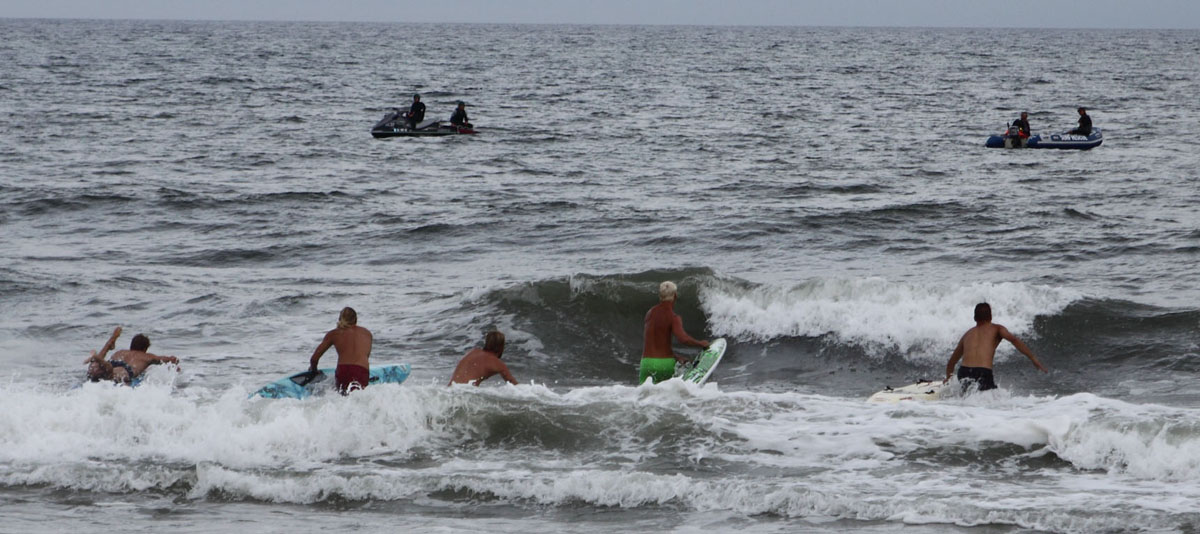 I had a feeling the women's paddle relay team of Beth, Emily, Kristi, and Lauren were going to do very well. Beth had a good start and got to the buoy in third place, handing the board to Emily who came to the beach in a very close second place before handing the board to Kristi. Kristi had a great paddle, catching the first place paddler before handing the board to Lauren. It was a great race to the beach between first and second. Both women caught a wave but the other paddler wiped out while Lauren rode the wave to the beach to secure a first place finish for the paddle team!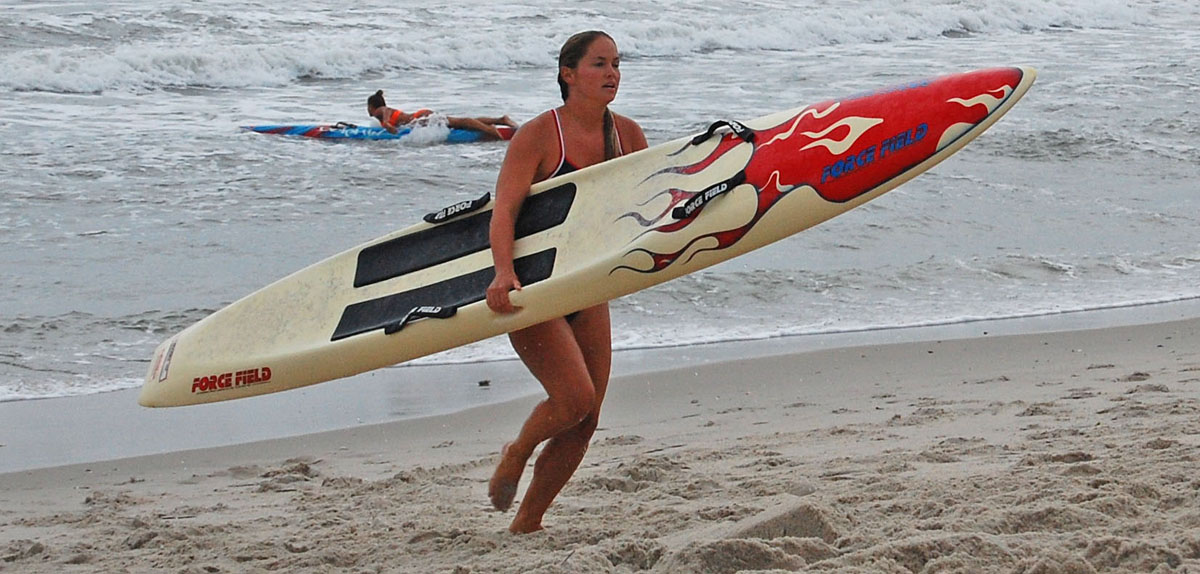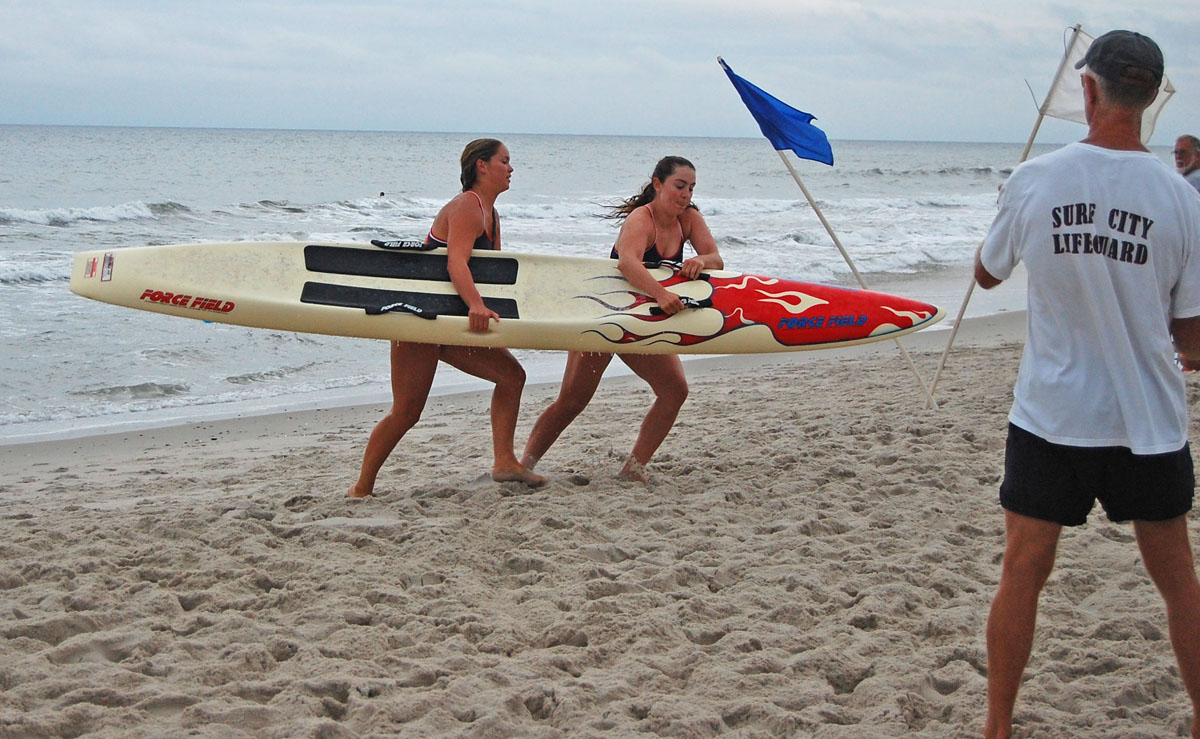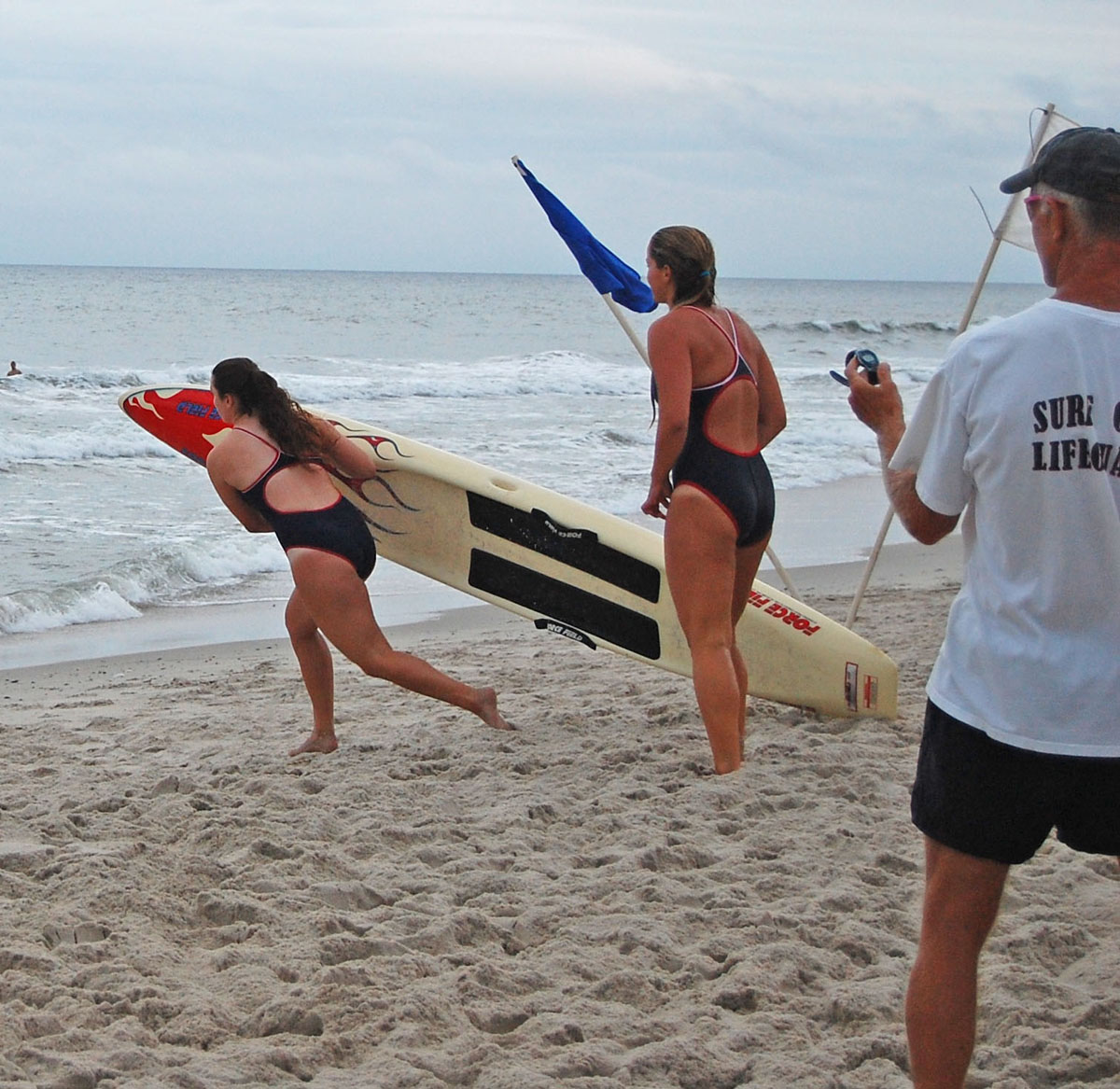 Lauren battling for 1st place... Sometimes you get the wave and unfortunately for the other team...


Sometimes the wave gets you.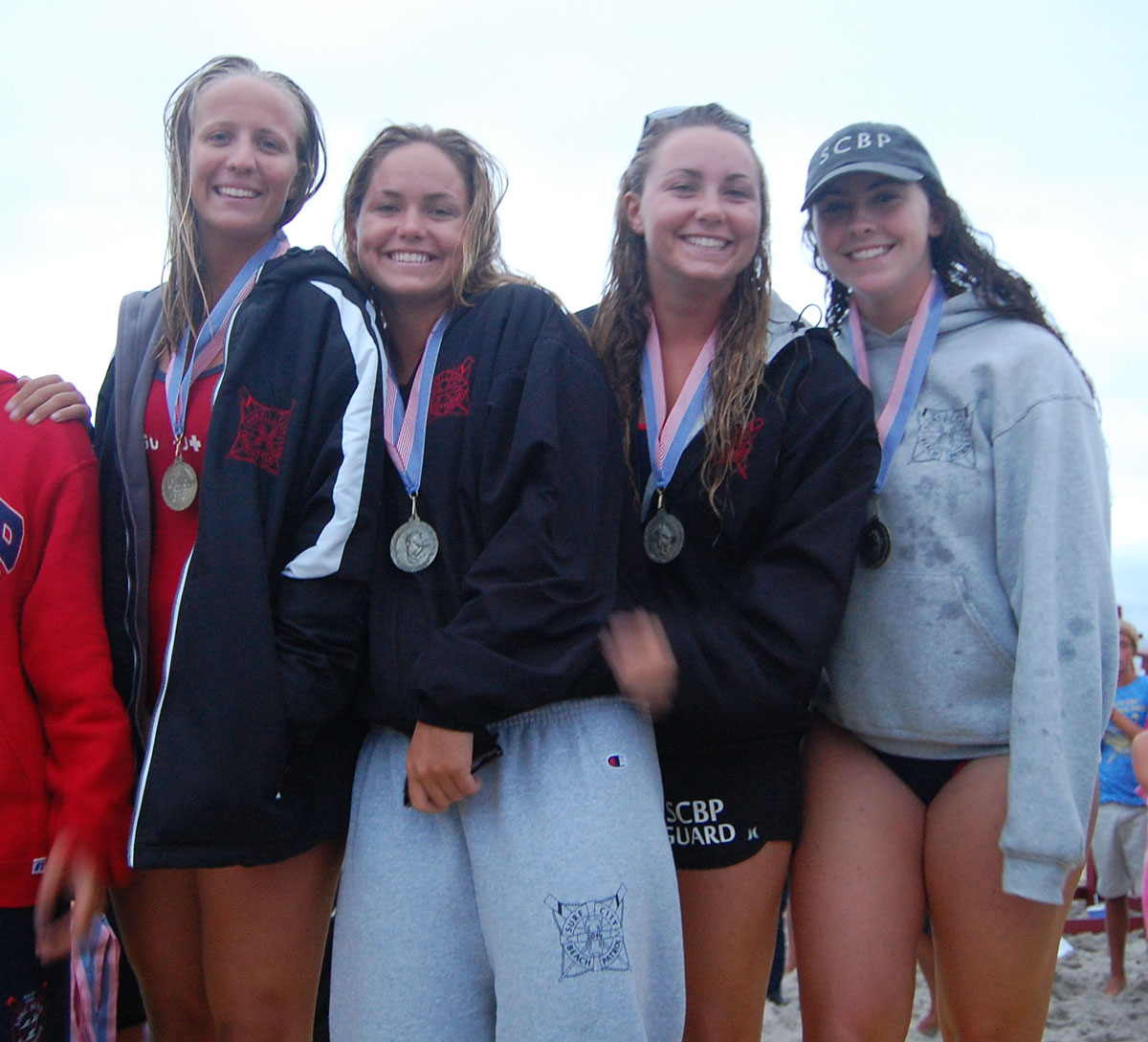 Surf City wins the inaugural women's paddle relay
As always the final event of the night was the surf dash. This year the team of Matt T., Kim S., and Mike G., did a great job of representing Surf City in the surf dash. Congratulations to everybody on the Surf City squad for a great job at the Island Tournament.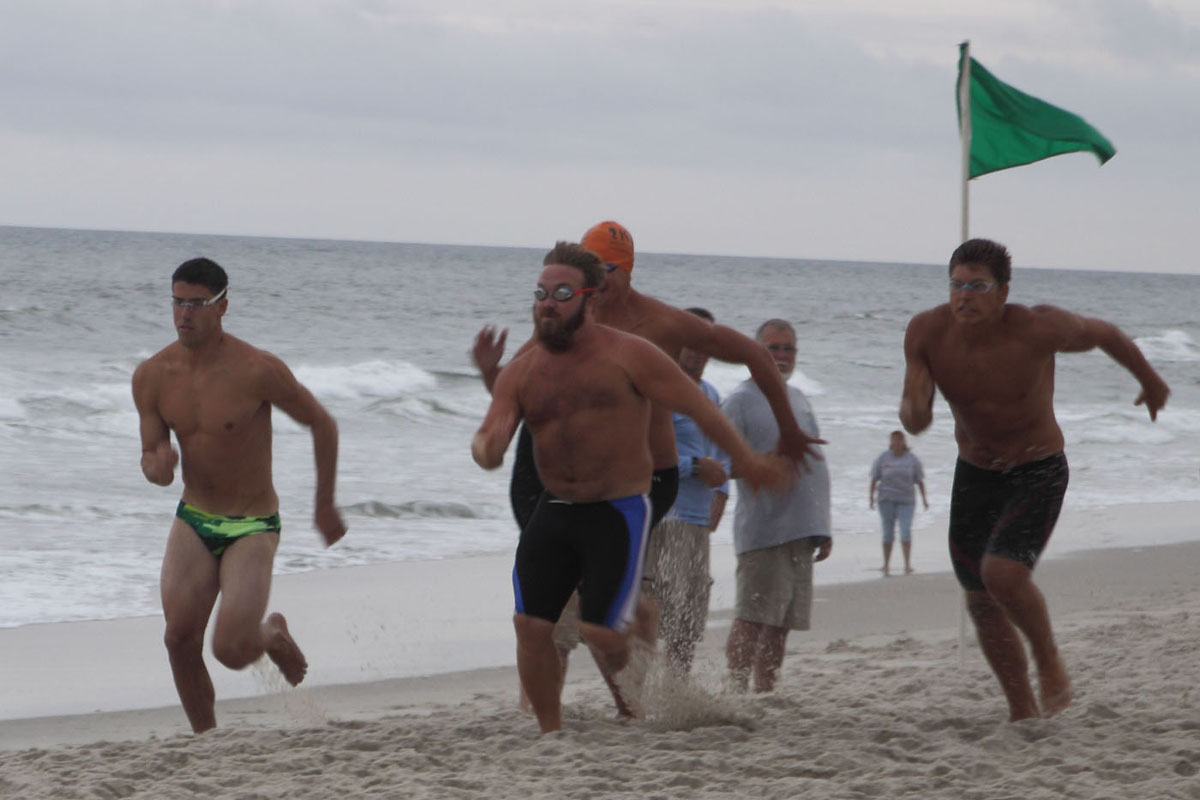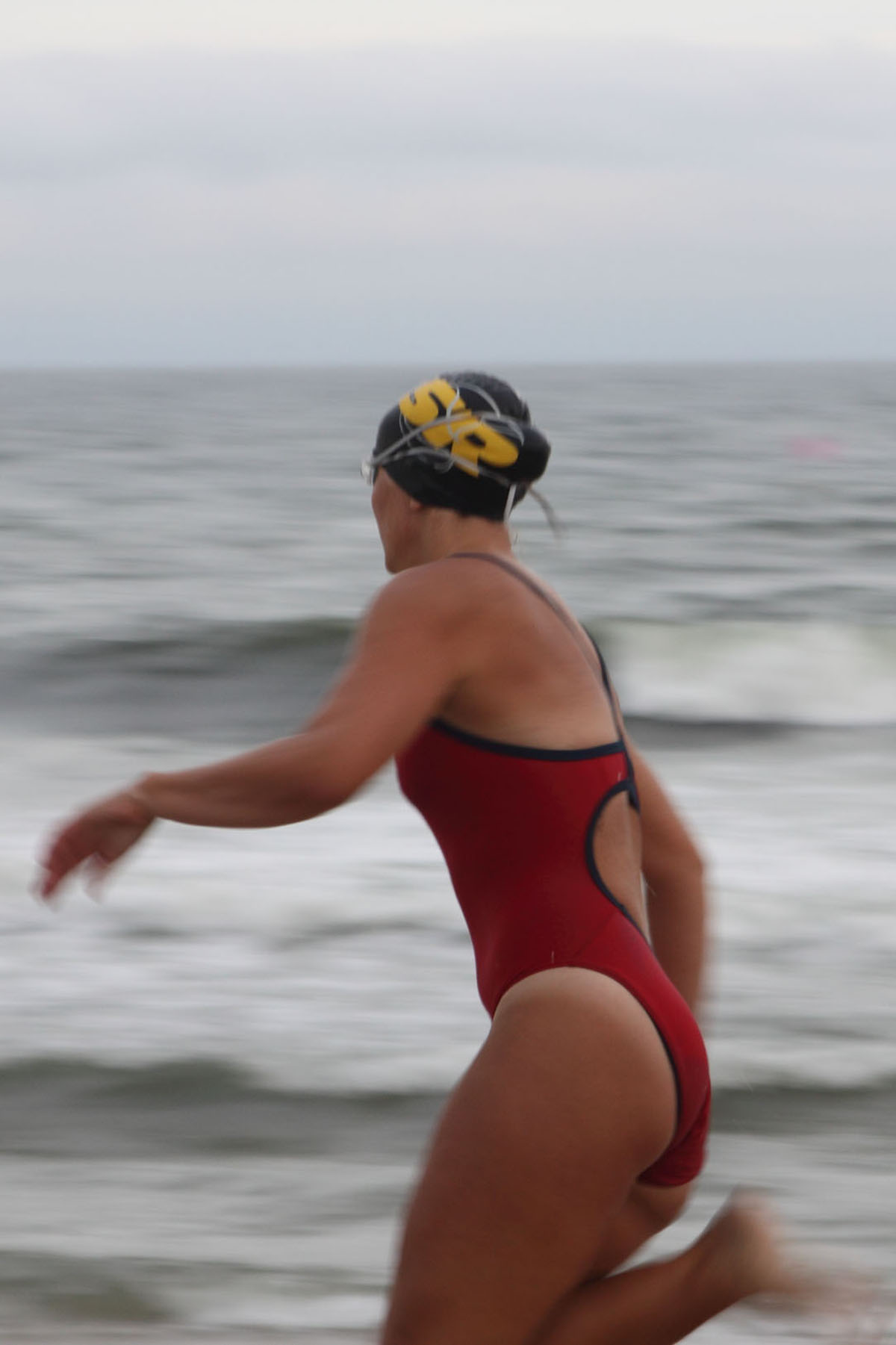 Thursday August 14, 2014 - Island Beach State Park Women's Tournament
The Surf City women had won the Island Beach tournament in fairly dominant fashion in 2012 and 2013. Could they make the three-peat happen? Unfortunately I couldn't make the tournament since the original date was postponed and I had family obligations on the rescheduled date so I don't have a detailed account of what happened but I'll do my best to fill in the blanks from what I remember hearing.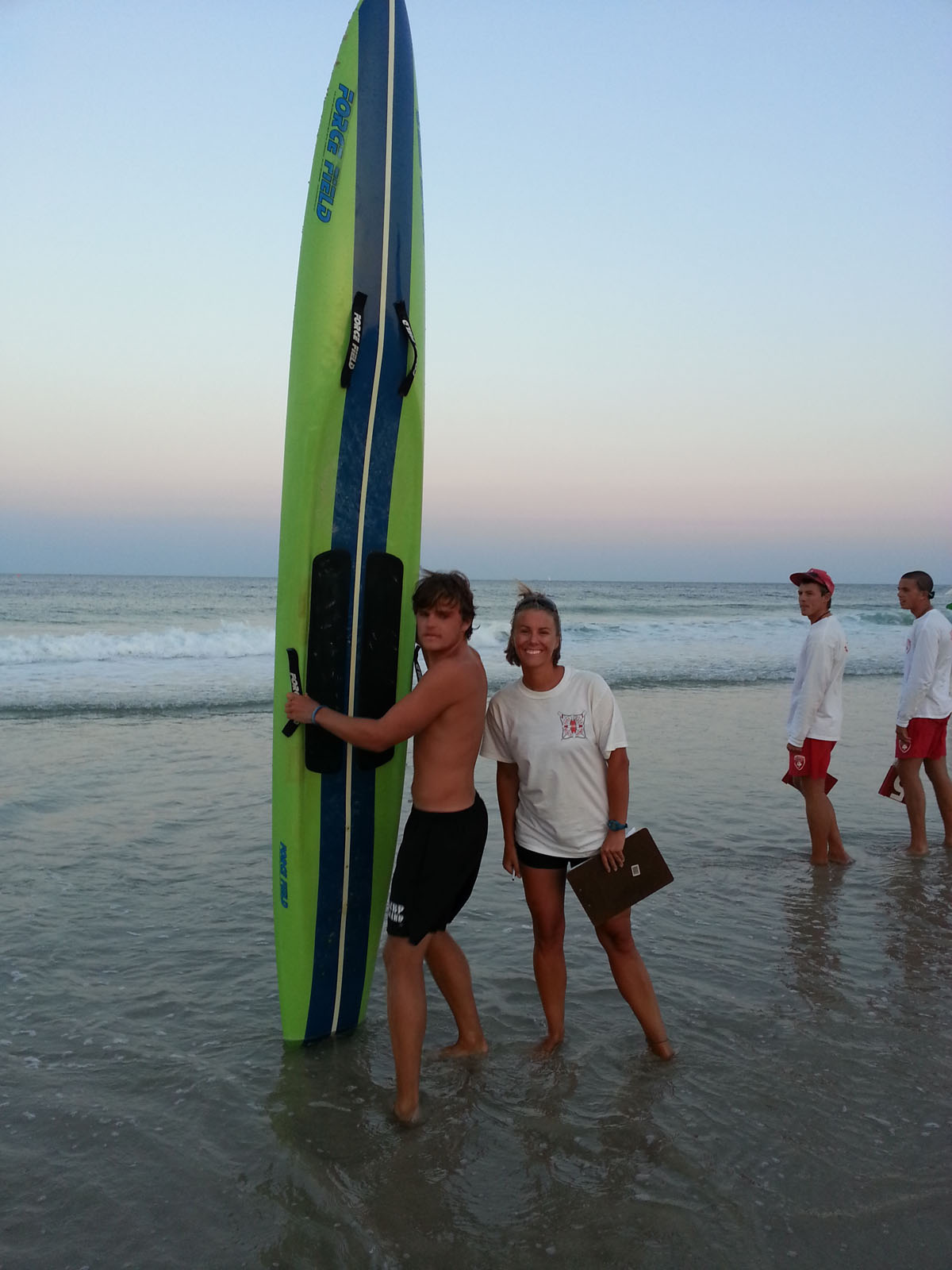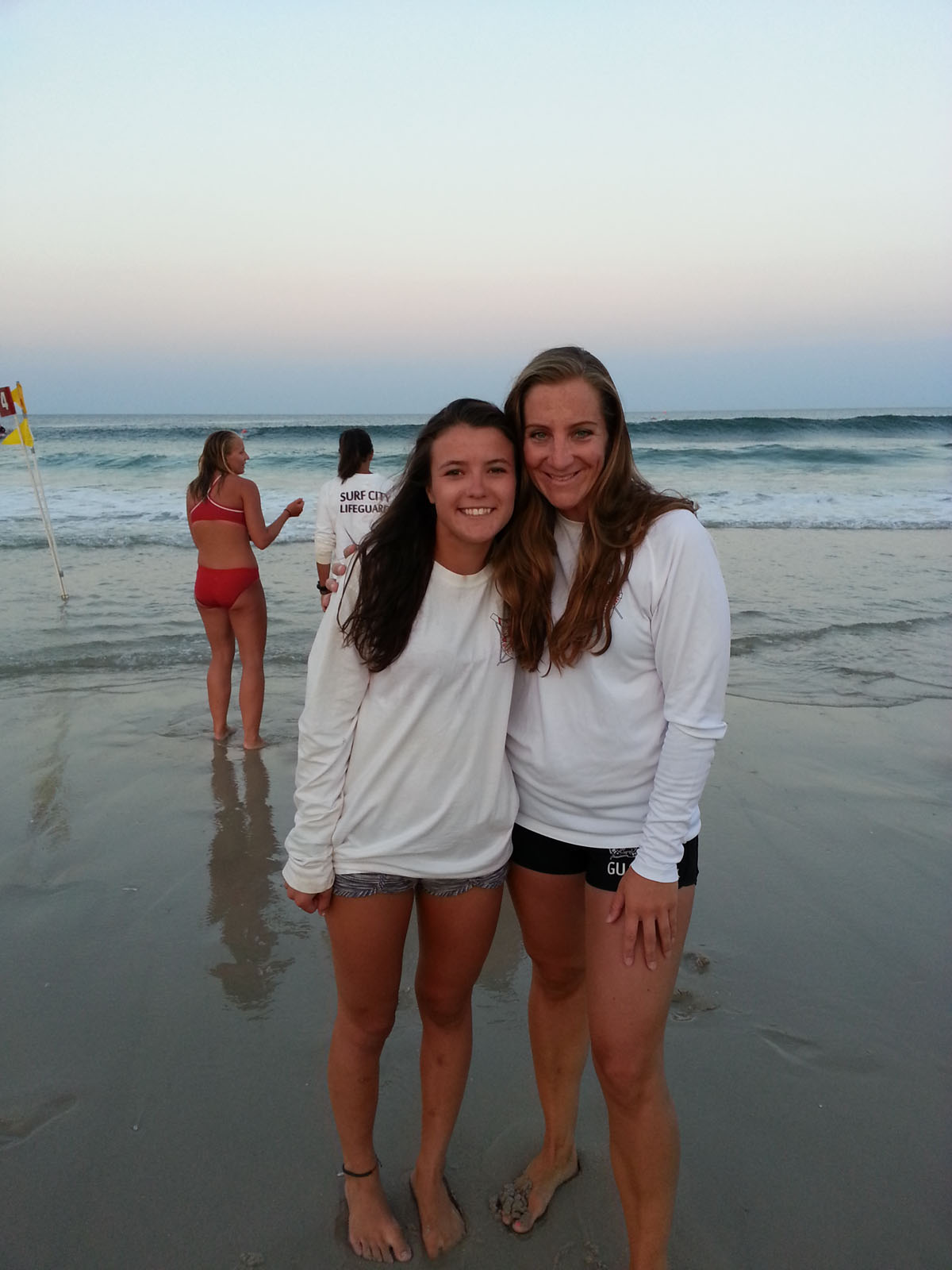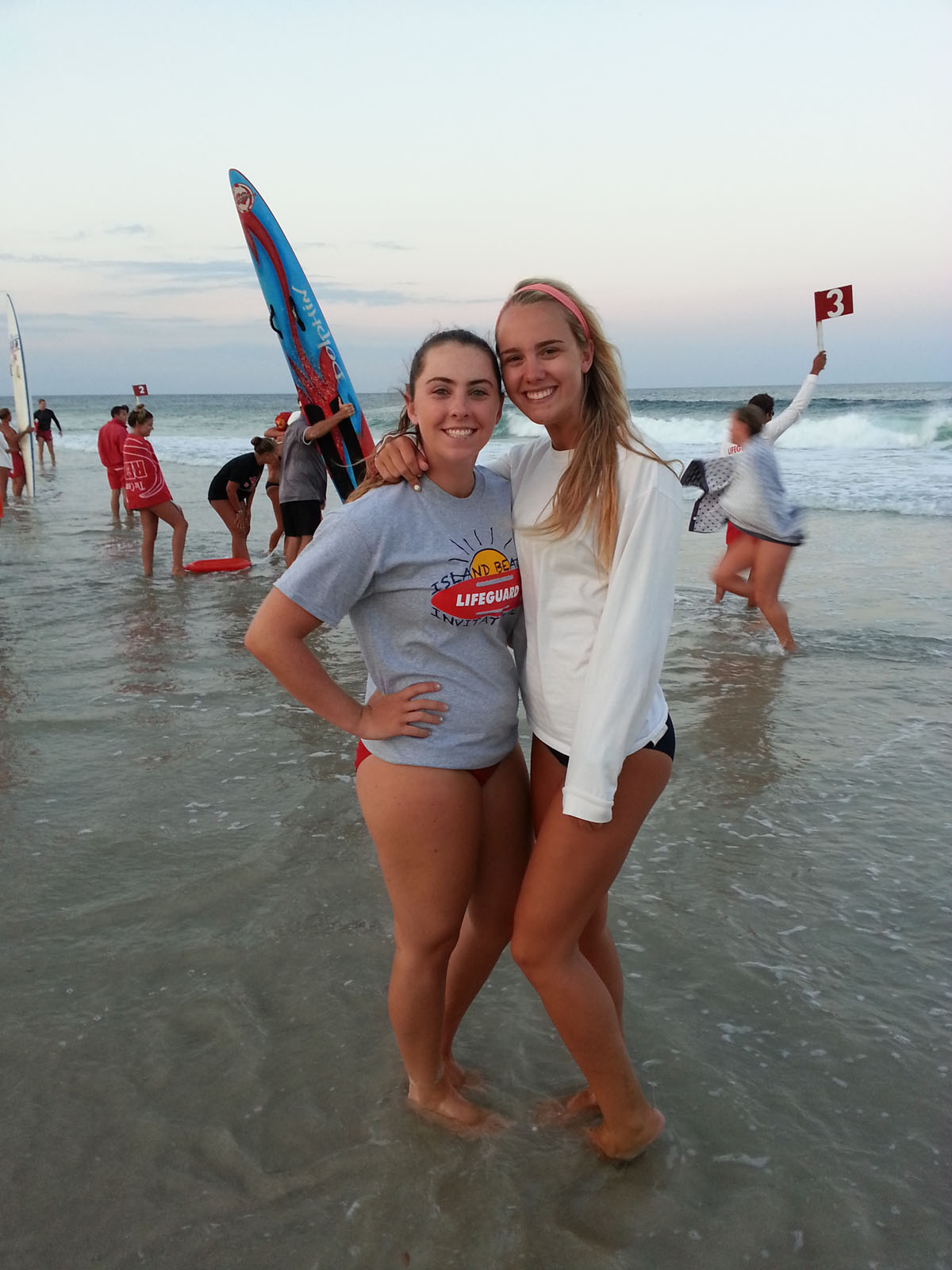 In the 1000' doubles boat race Jenn and Ally finally got the chance to show the efforts of their training and came away with a convincing 1st place finish.
Emily and Kim came in 2nd in the buoy rescue as did Lauren and Kim in the paddle rescue. Back-to-back events for Kim!
Surf City really showed the depth of their team in the medley race with a 1st place finish. Alexis ran, Kim swam out (back-to-back-to-back events!) to be picked up by Lauren on the board, and finally Jenn and Ally sealed the deal with another 1000' double boat leg.
In the line-race Emily was the line swimmer with Kelsey being the victim. Gaby, Kristi, and Beth were the pullers and the women finished second in this one. I'm sure it was a super close and exciting race.
After getting one event to rest Kim was up again with Jenn in the row-out/swim-in. Another 2nd place finish for Surf City.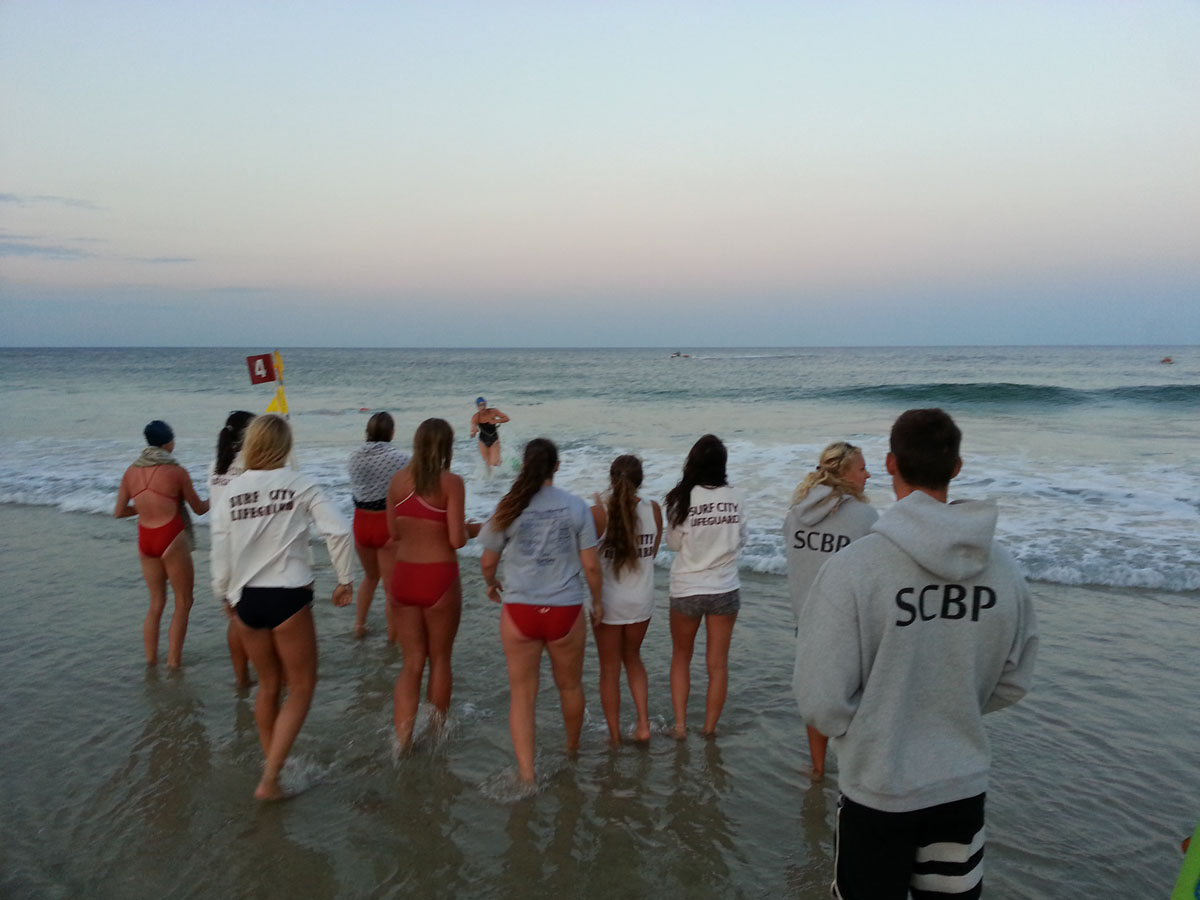 The final event with the swim relay with Emily, Gaby, Lauren, and .. yes... wait for it Kim swimming. Got to hand it to Kim competing in 5 of the 7 events in the tournament!
When the scores were tallied Surf City once again won the tournament with the always strong Lavallette team in second place. Nice job on the three-peat ladies. I also want to thank Rick and Dillon for going to the tournament to launch and help out with the boats and other gear.